Strangers No More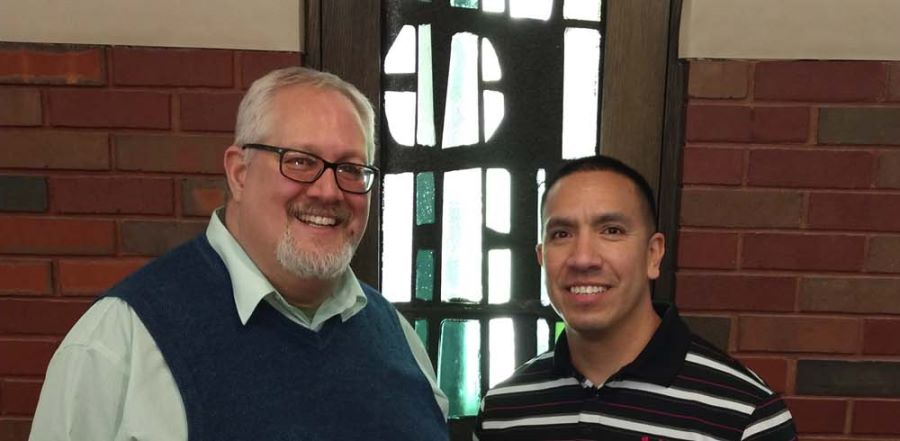 Don't miss any stories. Follow AG News!
Marvin J. Miller, pastor of Wellington First Assembly (WFA) in Kansas, had no idea that his mentoring ministry would link him to Matthew R. Maestas, a fellow student whom he never met while attending the Assemblies of God Theological Seminary. They both graduated from the Springfield, Missouri, school in 2016. Miller received a Doctor of Ministry degree and Maestas earned a Master of Divinity degree.
After traveling different paths, the two met for the first time a year later. Maestas, 38, needed additional pastoral experience to fulfill a requirement for U.S. Missions Chaplaincy Ministries to become an endorsed military chaplain.
He responded to a WFA advertisement that Miller had placed with the Kansas Ministries Network seeking a youth director. Although that position had been filled already, Miller invited Maestas to join WFA's pastoral team with a $400 monthly stipend.
Maestas accepted the mentoring offer, still knowing that he had to support his wife, Melissa, and their three children. "God provided in mysterious ways to pay our bills," he recalls.
Miller and his wife, Teresa, joined WFA in 2014 to revitalize the then-82-year-old church about to close. Located in a wheat and cotton farming community of 7,990 people 40 miles south of Wichita, WFA's funds had dried up with no money for salaries.
"I saw this as a challenge from God to pick up the pieces," Miller says. "Rural churches deserve our best efforts."
The few remaining congregants determined to sacrifice with Miller, 49. They learned God's faithfulness by plugging into the community, including ministering to autistic children and accommodating those with disabilities. Families facing similar challenges felt welcomed.
Miller understands special needs families. His daughter Lillian, an active teenager, has Down syndrome. Beyond that, he is a bivocational pastor who teaches mathematics full time in the Haysville, Kansas, school district.
As WFA began healing with 50 congregants attending regularly, Miller invited Maestas to come on board for mentoring in preaching, organizing, and personal care ministry. They agreed on a learning goals plan developed by Miller with input from Scott McChrystal, AG Chaplaincy Ministries military representative and endorser.
Maestas sharpened his preaching via video, taping sermons for regular critiquing sessions with Miller at the local Starbucks. He also assisted the men's Bible study and conducted parenting classes. In addition, he managed Convoy of Hope's local Rural Compassion shoe giveaway program to needy students.
"Matthew is someone with raw gifts and talents created by God to do ministry," Miller says. "I'm going to miss him."
In May 2018, Maestas enrolled in the Clinical Pastoral Education (CPE) internship program at the Wesley Medical Center in Wichita. Gaining experience ministering to terminally ill patients has enhanced his chaplaincy credentials.
The new opportunity meant leaving his bivocational sales job. Yet God provided. For example, the mother of a teammate on his son's baseball team posted his family's needs on Facebook. Within a short time, she arrived at their front door with 10 bags of new children's clothing and $150 for shoes and school supplies. "My wife and I were humbled," Maestas says.
Maestas took his oath as a commissioned a U.S. Navy chaplain and officer, lieutenant junior grade, on Jan. 29 at Evangel University in Springfield, Missouri.
"Matt has demonstrated great perseverance throughout his journey toward becoming an active duty U.S. Navy chaplain," McChrystal says.
Maestas will report to the U.S. Navy Officer Development School in Newport, Rhode Island, in March. After this training, he will join Coronado Navy Base in San Diego for shore duty.