Superhero Sunday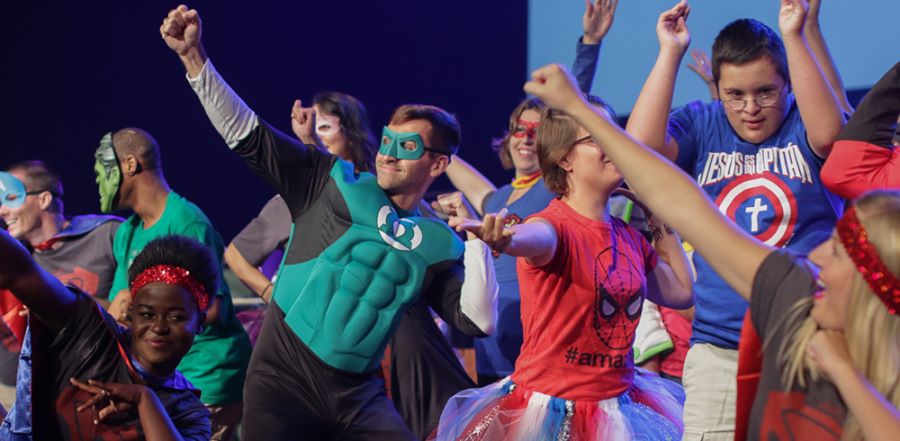 Don't miss any stories. Follow AG News!
Special needs children and adults are always treated like champions at Rockford First, but on Aug. 14 they became superheroes at the Assemblies of God megachurch in Illinois.
The inaugural Superhero Sunday benefited Champions Club, a ministry for families who have children with special needs. Events included the fourth annual Superhero Dash, which is an adventure race featuring obstacles of varying degrees of difficulty, food vendors, inflatables, and a dunk tank.
The day began with a sermon by Lead Pastor Jeremy DeWeerdt on overcoming obstacles and being victorious. DeWeerdt shared openly about his own experience five years ago when Jen, his wife and fellow lead pastor, gave birth to their son, Paxton, who has Down syndrome.
The couple launched the ministry to help meet the spiritual, developmental, and intellectual needs of children and families impacted by special needs.
On Aug. 14, members of the congregation showed their support for the ministry by dressing up as superheroes, and children and adults with special needs served as ushers and greeters.
A highlight of the service was a dance by approximately 100 children and adults with special needs and their coaches, as confetti exploded onto the stage.
"It was simple, but the kids lived it up," says Chris Merz, director of operations for Rockford First Kids. "It was just another way to show our church and community that our kids and adults with special needs don't shy away from something that might seem bigger than them. They can still defeat these challenges that are in front of them every day."
Following the service, attendees headed out to the outdoor track to participate in the day's activities. The event culminated with a parade, as over 300 people including "champions," their coaches and families, local police and fire department personnel marched around the track to the song "We Are the Champions" amid thunderous applause.
During the celebration, two skydivers from Chicagoland Skydiving Center surprised the crowd by flying in dressed as Spiderman and Batman. After landing in front of the children, they placed medals around their necks and told the kids they were champions.
"They felt so special at that moment," says Merz. "I really believe that the hearts of many of our champions and congregation were changed."
Though it is the ministry's biggest and only fundraising event of the year, Merz says celebrating children and adults with special needs is something done routinely at Rockford First.
"Our church got behind this mission of reaching out to children and families that are affected by special needs," says Merz. "Superhero Sunday was really the evidence of how much Rockford First loves these families, kids, and adults."