Sweet Joy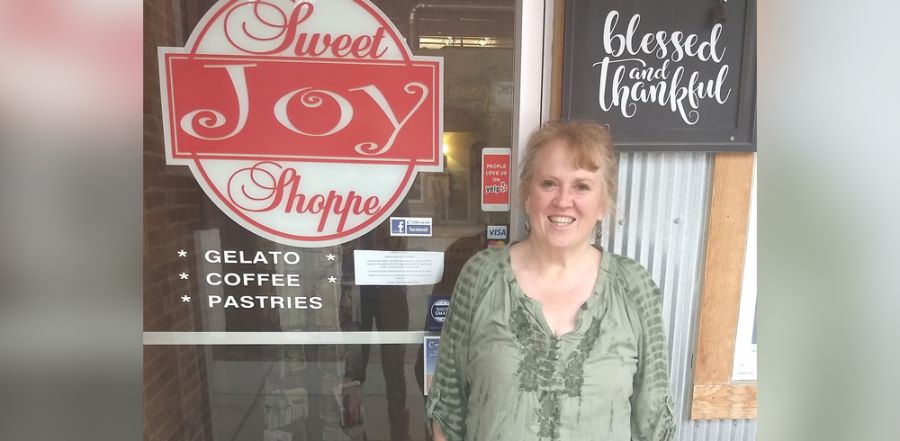 Don't miss any stories. Follow AG News!
In a season of transition and unknowns, Wendy Schulz dreamed about a place of joy and peace for her family. Today her dream is a reality, as she owns and operates Sweet Joy Shoppe, an eclectic eatery, store, and ministry hub in Atlantic, a southwestern Iowa town of 6,900.
In 2011, Schulz and her husband, Daniel, lived in Colorado. However, Daniel's work required a move to Iowa, which proved problematic. The family owned a home purchased during peak pricing, and the market was flooded with foreclosures at the time of the transition. Schulz also felt anxiety about moving her brother-in-law, whom she and Daniel care for as he fights brain cancer, and their two teenaged children.
She expressed all her concerns to her husband before bed one night, and she went to sleep feeling overwhelmed. But Schulz awoke with peace about her family's future because of what she says she saw during sleep.
"I believe God gave me a vision of a building and I saw the word joy on the windows," she recalls. "I knew we lived there, and we were happy there."
Her vision included a building with unique features, such as showers in rooms and a large Italian water fountain inside. When her family looked at properties in Atlantic a couple of weeks later, Schulz received confirmation that what she had seen came from God.
The final building they viewed had the windows from her dream, albeit with the words Health and Harmony Day Spa. Upon purchasing the property, Schulz learned the building had once been a jewelry store with a large Italian fountain in the showroom.
"God is a God of details," Schulz says. "The peace I received from the dream has become my reality. We live here, and we are happy here."
Wendy and Daniel initially opened a small coffee and gelato shop, as Wendy missed the variety of coffee shops she loved in Colorado. As time and money allowed, the business grew to be far more. The shop now also sells books, games, and food. It also hosts Shine (a discipleship course for women), a Celebrate Recovery step study, and multiple Bible study groups from churches in the community.
Melissa Burch is an employee at the Sweet Joy Shoppe. Burch also leads the Celebrate Recovery ministry with her husband, Garry, at 1st Assembly of God in Atlantic. Schulz likewise attends the church, which has been pastored by Guy Fisher for 27 years. Fisher is the newly named superintendent of the Iowa Ministry Network. "It is a haven for a lot of people and brings a lot of peace," Burch says. "The Holy Spirit is active here, and you can feel His presence."
The Shine course is geared to young women interested in gaining an introductory understanding of the Bible and building a relationship with Jesus. Schulz invites mature Christians to share their testimonies with the group. Schulz views the shop as an extension of the Church.
"Sweet Joy is a neutral space that allows us to minister beyond denominational lines with ease," she says.
The shop continues to shift meeting physical, spiritual, and emotional needs in the community.
"When we need to make changes, we pray about it," Schulz says. Recently her family purchased a farm, which they use as a resource to provide healthy, natural food options to customers. The shop also generates income for victims of human trafficking.
Although finances at times have been tight, Schulz is grateful God always has allowed the business to pay all the bills.
"Sometimes faith is when you don't understand the endgame," she says. "We knew God was in charge and would take care of whatever may unfold. I am so glad we went on this journey."
Schulz believes God has used the coffee shop to mature her as a Christian because she learned to serve people in a different way.
"Financially, Sweet Joy hasn't been amazing, but it has been amazing in what it has taught us and the relationships we have built," says Schulz, who is earning her ministry credentials through the Iowa Ministry Network School of Ministry. "It has taught me to rely on God and ask Him who He will send me each day and how can I serve them."