Tornadoes Damage AG Churches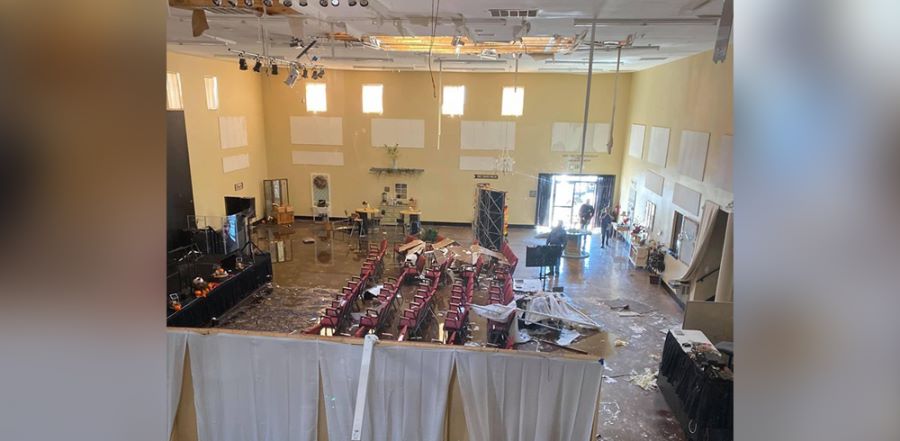 Don't miss any stories. Follow AG News!
An EF-3 tornado ripped through Dallas Sunday night causing massive damage to homes, businesses, and churches, including Primera Iglesia Asamblea de Dios. Two additional churches in Arkansas, Centro Cristiano Hispano in Siloam Springs, and Centro Cristiano de Rogers in Rogers, reported damage from what are believed to have been EF-1 tornadoes.
According to Cathy Lara, a minister and daughter of lead pastors, David and Lillie Lara, at Primera Iglesia, the sanctuary and multipurpose buildings of the church experienced heavy roof damage, water damage from rain, and structural damage caused by flying debris.
"We had concluded service and everyone had headed home by 7:30," Cathy Lara says. "I went home to have something to eat and about 45 minutes later, my phone goes off notifying me that the church's alarm system had been tripped."
Lara says she didn't realize how serious the storm was until she tried to make her way back to the church. The closer she got to the church, the greater the destruction. Cars and power lines had been tossed into the streets — the whole neighborhood had been devastated.
"We had buildings in the back of the church — one blew away, there's nothing there," Lara says. "Another is demolished almost completely to the ground."
The good news for the church, which averages about 275 on Sunday mornings and is a member of the South Central Hispanic district, is that the North Texas district had already contacted Lara and was slated to set up a recovery command center in the church's parking lot today (Oct. 22). Lara, who explains her parents were out of state on vacation when the tornado struck, says the church is currently looking for a place to hold services.
Pastor Oscar Franco of Centro Cristiano Hispano in Siloam Springs learned that it was an EF-1 tornado that hit the church Sunday evening.
"We had a few broken windows and water then infiltrated the sanctuary," he says. "We also had a large 30x60 tent that was destroyed and our children's playground was lifted into the air and thrown about 50 feet." Franco believes that the church, which averages 100 to 120, will be able to continue to meet in its building while repairs are made.
The same storm system struck nearby Rogers. Pastor Armando Rodriquez says about one-quarter of the shingles were removed from Centro Cristiano de Rogers along with trim. He says huge trees on the property were also uprooted and toppled onto their children's playground.
"The sound of the wind and thunder — it sound like a train coming through," Rodriguez says of the experience. However, he believes the church, which averages about 500 in attendance, will continue to be able to hold services as cleanup and repairs are done.