Traversing the Land of Enchantment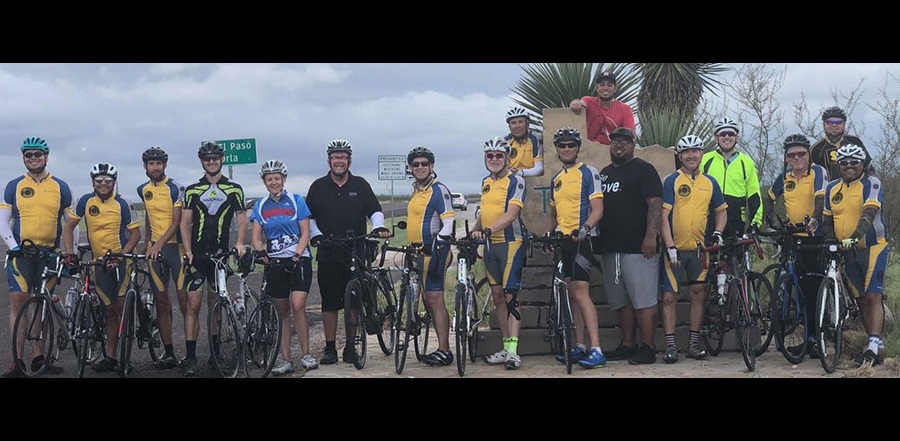 Don't miss any stories. Follow AG News!
The
New Mexico Ministry Network
held its seventh annual, five-day
Bike for the Light
fundraiser in September, raising $85,415 this year for
Speed the Light
(STL) to purchase vehicles for missionaries. Over seven years, the 500-mile ride across the Land of Enchantment has raised more than $300,000 for STL.
"Most people who ride have never done anything like this, just like me," says New Mexico Ministry Network Superintendent
Micheal E. Dickenson
, 66, who has ridden in the event each year. "We have youth pastors, pastors, and individuals in churches across New Mexico who have caught the dream."
The ride starts at the Colorado boundary line, at around 7,500 feet in elevation, and ends at the Texas boundary line, at around 3,000 feet. The group, which included anywhere from 17 to 40 participants this year, depending on the day, mostly follows four-lane state highways with wide shoulders.
The idea originated from a conversation between Dickenson and his sons, Jeral D. Dickenson, 37, pastor of
CooperRidge Church
in Farmington, and Jason M. Dickenson, 39, pastor of
Harvest Church
in Albuquerque, about how to raise money for STL.
"We sat down and brainstormed about how to realistically put five days and 500 miles together, and to consider towns we would go through and places to stay," Dickenson says.
The event drew 10 riders its first year. The second year, the group rode through pouring rain most of the time. The Dickensons figured AG missionaries don't get to sit in 70-degree, climate-controlled temperatures all the time, so they didn't mind the discomfort.
Every rider raises money from friends, family, and co-workers, which goes to STL. Some riders raise several thousand dollars.
A primary beneficiary is
Rural Compassion
, which will receive its third donated vehicle as a result of this year's Bike for the Light.
"We're really grateful that this ministry network is doing what it can to make sure rural gets the support we need," says Steve Donaldson, Rural Compassion senior director.
The van will be used to take supplies into small communities. Bike for the Light funds also have purchased vehicles for
Adult & Teen Challenge
and missionaries supported by the ministry network.
A support crew of two vans and trailers that carry food, water, drink mixes, first aid supplies — and spare tires and tubes — make the ride possible.
"We had a dozen flats in the first three days," Dickenson says of this year's ride.
On the positive side, the pack enjoyed scenic New Mexico mountains, herds of antelope that occasionally ran alongside the bikers, and, most importantly, a sense of camaraderie.
"We do this as a team, riding shoulder to shoulder and talking about life and ministry," says Dickenson. "We've had dream talks about church planting. It is grueling, but we all deal with the pain together — the heat, cold, wet, and accidents — and we encourage one another."
Most nights when the riders roll into their destination, a local church group has dinner waiting for them. Bike for the Light recently added a one-day ride in Albuquerque for children and casual riders to give more people an opportunity to be involved.