What if it Happened Again?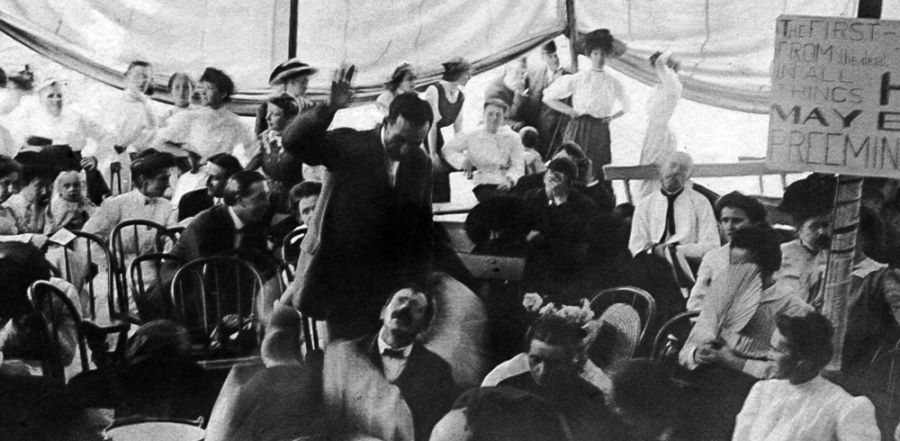 Don't miss any stories. Follow AG News!
This year the Assemblies of God is gathering in Southern California for its 57th General Council, in the backyard of where one of the greatest spiritual awakenings in the United States began.
This historical revival took place on Azusa Street 110 years ago, and at its core was an interracial group of people — young and old, male and female — who dared to know God and His works.
It started in 1906, when a half-blind, African-American man was invited from Houston to pastor a small church in Los Angeles.
Following his first Sunday sermon on the power of the Holy Spirit, William Seymour returned to the church to find the doors chained. Church leaders rejected his message that speaking in tongues was biblical evidence of the baptism in the Holy Spirit.
As a result, two members of the congregation opened their home to Seymour for prayer gatherings. People came to experience what he was teaching, and as the crowds grew larger and larger, Seymour realized he needed to search for an appropriate location to continue.
Following the voice of God, Seymour traveled to Pasadena. The Holy Spirit audibly led him, step-by-step, to an apartment where a group of Baptists were praying for an encounter with God.
Seymour knocked on the door and asked if they were praying for a revival. The women, including a 17-year-old named Sister Carney, said they were. Seymour boldly responded, "I am the man God has sent to preach that revival."
This meeting was not coincidental; God had been preparing this group of people even before they came together. Two years prior, at the age of 15, Carney was filled with the Holy Spirit. That encounter increased her desire for others to experience God, and she encouraged her friends to hunger for more of Him.
Just a teenager, Carney believed God for more and was open to what He might do. She organized this prayer meeting in 1906, unknown to her that God was arranging for the Holy Spirit to move.
The group invited Seymour in and after he preached, an offering was received that was later used to pay for the usage of a building found on Azusa Street.
The building was a former African Methodist Episcopal church that had been used as a stable. As a result, the early gatherings often dealt with a number of unpleasant things: a hot environment, flies, and the smell of dried manure between the floor planks.
Despite those conditions, hundreds of people packed into the small building daily seeking the presence of the Holy Spirit. Barriers were broken between races, genders, and social classes because of the common experience people had with the Lord.
The incredible spiritual impact during the next three years launched the modern Pentecostal movement and changed the course of church history.
Ralph Harris, the first National Youth director of the Assemblies of God, felt a burden to ensure the next generation knew God and His works. In the 1940s, he recognized, "The hope for the future still lies with the young people of our Movement, and a repetition of the experiences which brought our Movement into existence."
Now in 2017, the Assemblies of God community is meeting in Anaheim, near the birthplace of the Azusa Street Revival.
From August 7-11, during National Youth Convention, nightly services will provide an opportunity for students, parents, and leaders to gather to unite their hearts, seek the Lord, and believe Him for more.
Heath Adamson, National Youth Ministries senior director, says these youth-specific services are "to make sure the future of our faith community is still fully committed to the gospel and to being empowered by His Holy Spirit."
Adamson encourages pastors and leaders to accompany students on a pilgrimage to California. Turning to Scripture he says, "When we leave where we are and go on a journey, just to get together and encounter God and His presence, there is a blessing that exists. All throughout Scripture we see that God honors when we are willing to put forth some effort to seek Him."
Doug Clay, general treasurer for the Assemblies of God, stresses the significance of National Youth Convention. A former National Youth director, he says it is critical for students to be in an environment where they can encounter the Lord in a way that they may not be able to at any other point in the year.
Clay asks, "What could happen if [another] Pentecostal revolution or reformation took place because a couple of students really encountered the Holy Spirit in a radical way?"
So as students, leaders, and parents from across the nation return to the place where it all began, the Assemblies of God community is asking one question.
What if it happened again?
Registration is now open to give students the chance to experience the same Holy Spirit at National Youth Convention that was at the Azusa Street Revival. For more information and to register online, visit anaheim17.ag.org.