This Week in AG History -- April 5, 1919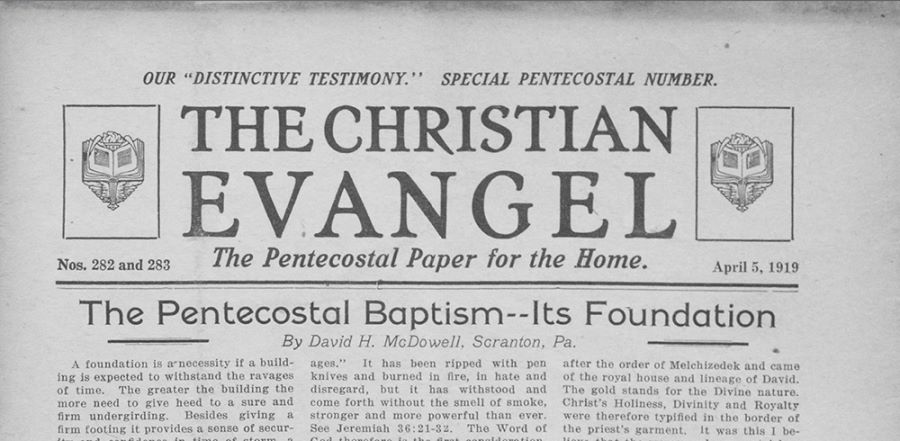 Don't miss any stories. Follow AG News!
Clarence H. Waldron (1885-1926), an early Baptist-turned-Pentecostal minister, became the central figure in the first important criminal court case involving religious opposition to World War I. Newspapers across America carried reports of Waldron's trial in 1918 for violations of the Federal Espionage Act. Later historians dissected the case, determining that the pastor was likely unjustly convicted based on suspect allegations made by members of his Vermont Baptist church who did not like their pastor's embrace of the Pentecostal revival.
The pages of the Pentecostal Evangel remained silent about the Waldron case until April 5, 1919, when Samuel R. Waldron, an Assemblies of God minister, reported on the status of his son. The Pentecostal Evangel editor prefaced the elder Waldron's letter by noting, "Many of our readers have been interested in what is known as the 'Waldron Case.'" Undoubtedly many Pentecostals were apprehensive about the case's outcome. Waldron's case carried weighty implications regarding religious liberty for Americans.
Waldron had been accused of attempting to undermine the U.S. government in a time of war. Early Pentecostals, like most other premillennialists of that era, preached that believers should be fully committed to Christ and His kingdom. They admonished avoidance of worldly entanglements that would conflict with their heavenly allegiance. Accordingly, most Pentecostals avoided politics. Many likewise believed that killing in war was moral compromise. When America entered World War I, it became increasingly difficult for Pentecostals to maintain their pacifist stance in the face of intense societal pressure to support the war effort.
Waldron had a respectable, successful background in Baptist ministry. He was ordained as a Baptist minister in 1907. When he accepted the pastorate of the Baptist church in Windsor, Vermont, in 1915, the church's prospects seemed bleak. But Waldron's energetic and winsome ministry won hearts and converts, and by 1917 attendance had tripled. In that year, a Pentecostal evangelist began holding revival services in Windsor. Waldron and about half of his growing congregation attended the services and embraced the Pentecostal movement. A segment of the church that opposed the revival decided to force the resignation of Waldron. They did this by accusing him of violating the Federal Espionage Act.
Did Waldron "willfully attempt to cause insubordination, disloyalty, and refusal of duty in the United States military forces"? This was the question that the courts tried to resolve. Waldron's accusers identified at least two events they believed constituted offenses. First, Waldron refused to allow his church to participate in a patriotic-themed "Liberty Loan Sunday" event. He told his congregation that he believed that Sunday morning services should be reserved for preaching the gospel and not for politics or nationalism. Second, they accused Waldron of advising his church members, through preaching and the distribution of literature, that Christians should not bear arms in war.
A trial in January 1918 ended with a hung jury. Jury members could not reach a verdict, in part because they identified significant bias by witnesses on both sides. Cross-examination seemed to reveal that a church squabble was at the heart of the case, and Waldron's accusers seemed to be using the law to force the pastor to resign.
At a second trial, in March 1918, the judge did not allow testimony regarding the anti-Pentecostal religious prejudice of Waldron's accusers. The jury returned a guilty verdict and the judge sentenced Waldron to 15 years in federal prison.
The 1919 letter from Waldron's father, published in the Pentecostal Evangel, reported that President Woodrow Wilson had commuted his sentence following the conclusion of the war. Waldron, according to his father, almost died from influenza and pneumonia during his year-long incarceration.
Shortly after his release from prison, Clarence Waldron received ordination with the Assemblies of God and moved to California. He spent the remaining years of his life in bivocational ministry, working in secular employment and occasionally ministering alongside Aimee Semple McPherson in San Diego and Los Angeles. Waldron's trial and imprisonment had broken his health. He died in 1926 at the age of 41.
The trial of Clarence H. Waldron was widely reported in the press in 1917 and 1918, and historians have studied it ever since. The Waldron case highlights the fragility of religious liberty. Historian Gene Sessions, in his definitive 1993 article on the Waldron case published in "Vermont History," concluded the following:
"In Windsor that national legislation, ostensibly directed against spies, provided a way to remove from town an individual whose religious views had split his congregation and embarrassed his denomination's state hierarchy and whose pacifism, rooted in those same views, had confused and infuriated local patriots … the Espionage Act became in the hands of Windsor citizens a potent instrument for disciplining, harassing, and punishing a neighbor no longer welcome."
While Clarence Waldron was tried for his advocacy of pacifism, the Waldron case stands for a broader proposition -- that religious liberty needs to be carefully guarded.
Read "A Note of Praise," by Samuel R. Waldron, on page 14 of the April 5, 1919, issue of the Christian Evangel [the predecessor of the Pentecostal Evangel].
The fascinating account of Waldron's trial, "Espionage in Windsor: Clarence H. Waldron and Patriotism in World War I," published in the Summer 1993 issue of Vermont History, is accessible by clicking here.
Other articles also featured in this issue of the Evangel include:
• "The Pentecostal Baptism: Its Foundation," by David H. McDowell
• "Healed and Filled with the Spirit," by Mrs. E. M. Whittemore
And many more!
Click here to read this issue now.
Pentecostal Evangel archived editions courtesy of the Flower Pentecostal Heritage Center.