This Week in AG History -- Aug. 3, 1958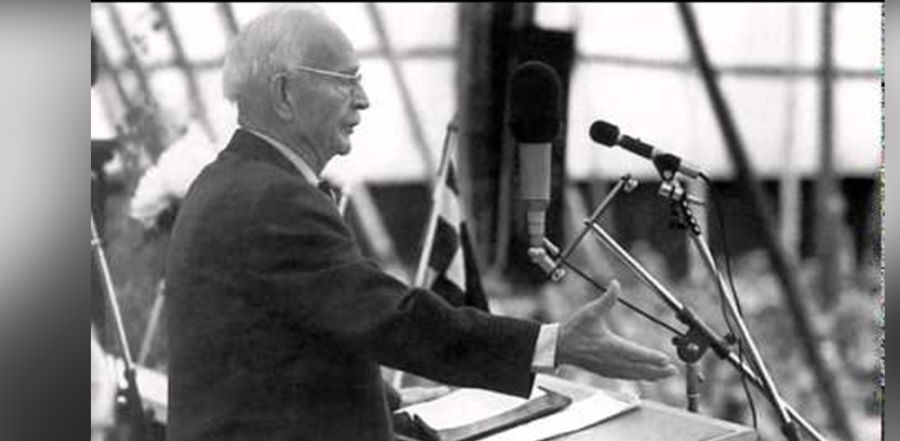 Don't miss any stories. Follow AG News!
Sixty years ago delegates from the U.S. Assemblies of God as well as representatives from many other Pentecostal organizations were preparing for the Fifth World Conference of Pentecostal Churches scheduled to convene in Toronto, Canada, at the Coliseum Arena of the Canadian National Exhibition, Sept. 14-21, 1958.
An article in the
Pentecostal Evangel
announced that the opening speaker on Sunday morning would be Lewi Pethrus, the well-known pastor of the Filadelfia Church in Stockholm, Sweden. Even though Pethrus had hosted the fourth Pentecostal World Conference in Stockholm three years earlier, it was important to introduce him to the readers of the Evangel.
Lewi Pethrus (1884-1974) was a former Baptist pastor in Sweden who became the leader of Pentecostalism in Sweden. The article gave an overview of his highly successful ministry. It said at that time he was 74 years old and the pastor of "what is believed to be the largest Protestant church in Europe." His church was organized in 1910, starting with 29 members. By 1958, according to the article, the church had an "adult voting membership of 7,000 and has a major responsibility in the support of 400 overseas missionaries." The building could seat more than 4,000.
In addition to his preaching activities, the article said Dr. Pethrus, in 1916, "initiated the publication of
Evangelii Harold
(Gospel Herald), a religious weekly with a circulation of 60,000." It was reported that in 1945, in collaboration with Karl Ottoson, a Swedish industrialist, Pethrus "founded
Dagen
(The Day), a daily secular newspaper which in 1958 had a circulation of 25,000 and was sold on newsstands throughout Sweden."
He also founded the Filadelfia Church Rescue Mission, the Filadelfia Publishing House, and the Filadelfia Bible School.
In an effort to assist Christians in money matters, in 1952, Pethrus took the lead in establishing a savings and credit bank which could help to finance many church projects. Pethrus also won a moral victory in 1955 when the Swedish government radio system held a monopoly on broadcasting. They reserved the right to censor content of religious broadcasts and also forbid the establishment of any private radio station. Lewi Pethrus took steps to organize an independent radio association to broadcast from Tangier, North Africa. The government tried to block his efforts, but when the matter was discussed in the Swedish Parliament, after much debate, he received approval to use this radio station to send broadcasts into Sweden.
IBRA Radio (now IBRA Media), international Christian broadcasting and media group founded by Lewi Pethrus, currently broadcasts Christian programs to more than 60 countries, including Sweden, in 100 languages.
Lewi Pethrus continued as pastor of the Filadelfia Church until his retirement later that same year in 1958. He remained an active voice in the Pentecostal movement until his death in 1974 at the age of 90.
Read more about Lewi Pethrus in "Swedish Leader to Preach at World Conference," on page 15 of the
Aug. 3, 1958, issue
of the
Pentecostal Evangel
.
Also featured in this issue:
• "Crisis in the Classroom," by Charles W. H. Scott
• "Pentecostal Outpouring in Rangoon," by Glen Stafford
• "A Man With a Jug of Water," by Victor R. Ostrom
And many more!
Click here to read this issue now
.
A pictorial report of the "Fifth World Conference of Pentecostal Churches" can be found in
Oct. 26, 1958, issue
of the
Pentecostal Evangel
on pages 8-11:
Pentecostal Evangel
archived editions courtesy of the
Flower Pentecostal Heritage Center
.