A Campus and City Launch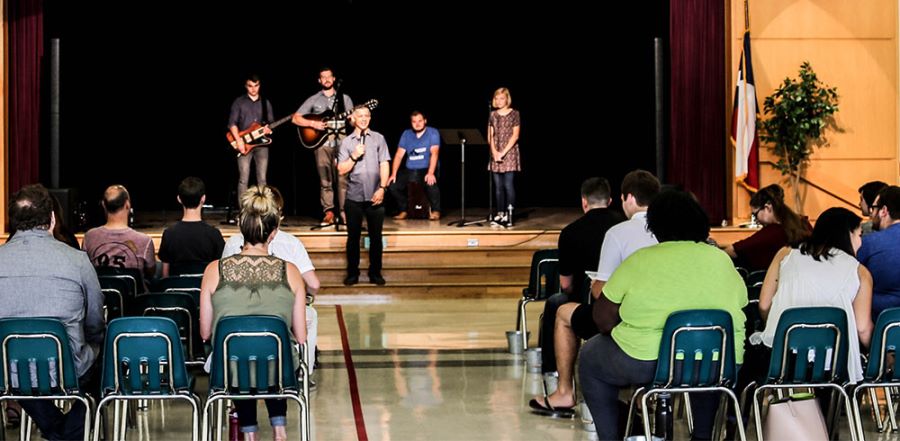 Don't miss any stories. Follow AG News!
During the years Eli Stewart served on Chi Alpha Campus Ministries staff at Sam Houston State University in Huntsville, Texas, 165 of the interns from that school went on to full-time ministry, 84 percent of them in other Chi Alpha chapters across the nation.
Twenty became Assemblies of God world missionaries. Yet only five of those Sam Houston interns ended up ministering in local churches.
Stewart saw a troubling statistic. While a vibrant, growing local church is essential to sending more missionaries, only 3 percent of the nation's largest Chi Alpha program's interns ministered in local congregations.
Clearly, there needed to be a greater emphasis on planting congregations. Even so, Stewart and his wife, Mandy, sensed the Holy Spirit calling them to relaunch a Chi Alpha campus ministry at the flagship campus of America's fourth-largest university, Texas A&M in College Station.
Then the AG North Texas District approached Stewart's team to do something never tried before: simultaneously start a Chi Alpha chapter connected to a church plant.
It sounded daunting.
"We felt presumptuous even having ideas," Stewart says.
Yet at the same time, the concept seemed intriguing, as did the latitude that the district offered Stewart and his team in starting a church connected to the Texas A&M Chi Alpha chapter.
"I just feel like the Lord wants us to try," says Stewart, an Assemblies of God U.S. missionary.
Then he discovered that College Station was among top 10 most populated cities in the United States without an Assemblies of God congregation.
So in March, through the Church Multiplication Network, the Stewarts will launch Mountain Valley Fellowship with 14 missionary associates. Stewart, an Alaska native, has discovered it's an excellent partnership as the whole church staff is missionary funded.
"We can fully focus on launching Chi Alpha and the church without having to worry about salaries," Stewart says. The new Chi Alpha is up and running with 25 small group leaders, including staff. Each small group has an average attendance of five, he says.
"The Holy Spirit began weaving together a team of just the right people to be here," Stewart says. "Everybody on the team has had some sort of supernatural confirmation or directive."
The large staff doesn't seem disproportionate for the job. While currently the entire staff focus is primarily Chi Alpha, eventually half the team members will focus 70 percent on the campus ministry and the rest on the church. The other half will focus 70 percent on the church.
Church Multiplication Network Director Chris Railey describes the College Station plan as a new model. It involves launching churches as a collaboration between local churches, the district, and AG U.S. Missions, while using the untapped market of Chi Alpha students in a church plant.
"I don't know if I've seen a sharper team, hungry to plant something strong in College Station, both at the college level and the city to reach communities in a new entrepreneurial way," says Railey, who has been director for three years.