A Mission Trip Investment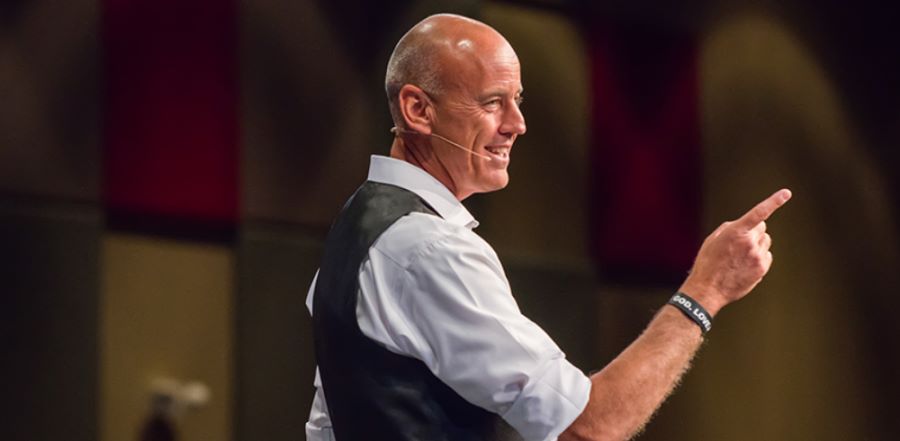 Don't miss any stories. Follow AG News!
Branson, Missouri, native Greg Marquart sought to play college basketball in nearby Springfield. The 6-foot, 5-inch-tall Marquart made the Evangel University team and met his future wife, Connie, at the school before transferring to Missouri State University.
But Marquart, who never went to church growing up, didn't stay long enough at Evangel to make a commitment to the Lord. Upon graduating from MSU with a business degree, he went to work in a bank in 1983. Connie, who grew up attending Belton Assembly of God south of Kansas City, persistently urged her new husband to go to church.
The line of vehicles that stopped traffic near the growing James River Church intrigued Marquart, and he consented to try the then 2-year-old congregation led by John Lindell. He agreed to go one time, but if the church violated any of five criteria he established, he wouldn't return.
"They had greeters, they had car parkers, the air conditioning worked, the nursery smelled fine, and Pastor John didn't talk about money," Marquart recalls.
The next day Lindell asked Marquart to lunch. Near the end of the meal, Lindell asked Marquart to join a pending James River Church Builders International MAPS Construction mission trip to Panama. Lindell even offered to pay half of Marquart's cost. After initially declining, Marquart relented.
Lindell intentionally roomed with the still-unsaved Marquart. One night on the trip he asked Marquart if he ever read the Bible. Marquart hadn't, and Lindell read John 3:16. The next night, Lindell gently inquired as to whether Marquart ever prayed. Following another "no" response, Lindell offered a simple prayer.
On the final day of the construction trip, 31 Panamanians accepted Jesus as their Savior. Marquart joined them, sorrowfully expressing regrets to the Lord that he had failed to serve him the first 31 years of his life.
Soon, the intense and energetic Marquart got involved at church, then with around 400 regular attendees, and he and Lindell became good friends. Marquart went on staff as administrative pastor between 1995 and 2000.
Stints as executive vice president of operations at Convoy of Hope and senior lender at AG Financial Solutions followed.
Along the way, Marquart served as executive pastor at four other large AG churches. An executive pastor often is hired for business acumen, and Marquart oversaw capital fundraising campaigns and construction projects.
Marquart had served briefly in that role at Radiant Church in Surprise, Arizona. While in the Phoenix metro area, Marquart founded his own business, Capstone Resources, which helps build churches and schools.
Radiant Church became a client in constructing a new children's ministry building. However, the project ground to a halt upon the revelation of the lead pastor's moral failure.
In 2012, Marquart agreed to step in and oversee the difficult transition process. Marquart had to consolidate many of the ministry's components, and he also assisted in reviewing 500 applicants for lead pastor.
Ultimately, the search committee asked Marquart to consider accepting the position — as attendance fell from around 5,000 to 3,000 in the three months after the previous pastor left.
Marquart, then 50, balked because he didn't feel qualified.
"The finalists had great pedigrees," Marquart says. "They had lots of education and had been senior pastors for years. I had never had a desire to be a lead pastor or to preach."
Still, he agreed to pray about it. And when he did, Marquart sensed God telling him that He would equip him if Radiant Church would model its ministry after the New Testament church described in Acts 2:42-46. Marquart says the Lord has likewise changed lives as promised in Acts 2:47.
Leigh Metcalf, secretary-treasurer for the AG Arizona Ministry Network, believes the Acts 2 strategy of discipleship that Marquart developed can be easily reproduced by smaller congregations. Metcalf believes while other pastors may have benefited from more formal training, Marquart has been aided by serving under mentors such as Lindell. Engaging with church staffs in his travels for his business also helped, Metcalf says.
"The team he has brought in to work with him from around the country really fits well," Metcalf says of Marquart and Radiant Church. "He's a high-energy visionary and a Kingdom-minded team player."
Marquart says God has supplied the personnel and resources needed because the church follows the Lord's directive to always express hope in preaching and to give a salvation invitation.
During Marquart's tenure, Radiant Church has added a prayer service, increased outreach giving to more than 20 percent of its budget, and expanded life groups to accommodate 2,300 people.
Average weekly attendance is back up to 4,100.
Connie Marquart is co-lead pastor with her husband at Radiant. She mentors, speaks, and organizes women's conferences. Greg and Connie travel together for ministry.
"I don't know how pastors long term can do this without incorporating their wives into leadership," Marquart says.
"I still think I'm the least qualified guy to do this," says Marquart, ordained in 2014. "I'm grateful God has allowed me to experience it."