Cancer Doesn't Deter Launch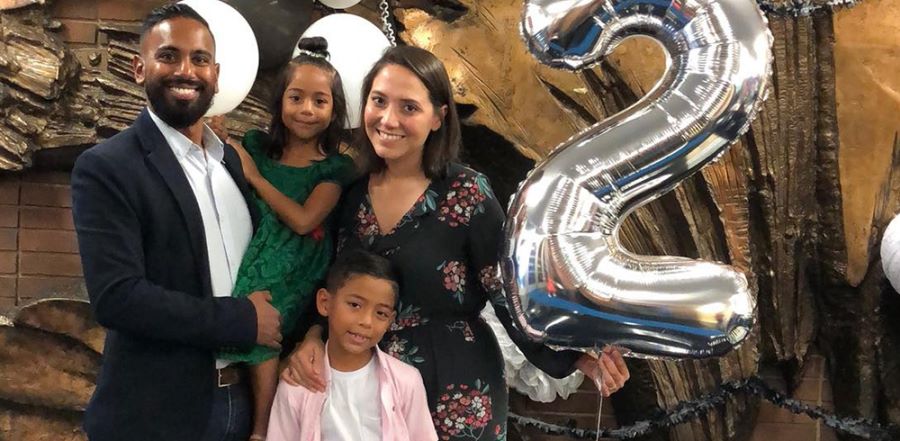 Don't miss any stories. Follow AG News!
Pastors Stephen and Priscilla Perumalla admit that giving up the wide-open spaces and easy-going ways of Texas for the teeming streets of New York City represented a culture shock.
But being strangers in a strange land? That seemed easy, compared to Stephen's two bouts with cancer that nearly derailed their call to plant an Assemblies of God fellowship in Hamilton Heights, an ethnically diverse and economically challenged Upper Manhattan neighborhood.
The now 36-year-old received his first diagnosis of testicular cancer in the spring of 2014, not long after the couple decided to wrap up his youth/young adult pastor's duties at The Grace Place in Arlington to plant a new church in Hamilton Heights. But surgeons successfully removed the tumor, and he made a quick and full recovery.
So, the Perumallas and their children, then-5-year-old Boston and his 3-year-old sister Aviah, moved to New York in July 2015. As he and Priscilla worked to get settled, build relationships, and start a fledgling home fellowship, Stephen's subsequent check-ups with doctors showed no further cause for alarm. After they attended a Church Multiplication Network Launch event, nothing seemed to stand in the way of their plans to officially launch The Grace Place NYC before the end of 2016.
His quarterly follow-up appointments went well, but his oncologist called in June 2016 with disturbing news: cancer had returned in one of Stephen's lymph nodes. The physician recommended immediate chemotherapy. Assured that after a couple weeks of treatment Stephen would recover most of his energy, the Perumallas decided to proceed — but not without their faith first being shaken to its core.
"We were discouraged," Stephen remembers. "We had the breath knocked out of us." He credits Priscilla with leading them at that spiritual crossroads.
"We were full on disappointed in God," she admits. "But then I realized that if I did not worship Him in this moment, I was going to resent Him."
So, that is what they did. In prayer, they praised, they trusted, and they found peace —and determination to go forward.
"Even if God did not answer this prayer for a miraculous healing we wanted to launch," Priscilla says. "Our salvation was enough."
The ensuing rounds of chemo proved horrific. Stephen's life-threatening reactions put him in the hospital several times over the ensuing weeks. Maintaining faith in their calling became a long, torturous marathon.
"I was incredibly sick most of the time," he recounts. "My wife was taking care of two kids and a sick husband."
Far from home and family and with few friends in the metropolis, it also became a lonely ordeal. Stephen's and Priscilla's parents flew in periodically, but mostly Priscilla had to carry on by herself.
The experience only caused the Perumallas to turn more resolutely to their shared faith. After all, isolation had occurred before. As ethnic minorities in the U.S. — he is the child of immigrants from India, she is of Mexican heritage — they already had bucked the supposed "norm."
The couple met in 2002, during classes at the World Center School of Ministry in Mission, Texas, and a platonic friendship developed. Three years passed before Stephen made it known he wanted to marry, but after graduation their paths diverged. Stephen helped start a church in San Antonio; Priscilla went to Ireland to help with a new congregation there.
A year later, Priscilla moved to San Antonio. Eight months later came an engagement, and they exchanged vows six months after that.
"We've done a lot of waiting in our lives," she explains.
A decade later, after that moment of trust and the coming weeks of pain, they waited again for a miracle: it came through endurance, prolonged reflection, and prayer.
"It took some time, but then we realized that God knew this was going to happen before it did," Stephen says. "We still felt confident that we needed to go forward."
Priscilla agreed. "We had the same mentality, that cancer doesn't get a say in what God had told us to do," she says.
Today, Stephen is once more in vibrant health. Meeting in the auditorium of P.S. 153, Adam Clayton Powell Elementary School, The Grace Place NYC recently marked its second anniversary. The flock of about 40 worshippers reflects its diverse community: Dominicans, Puerto Ricans, African-Americans, Asians, and Anglos.
The congregation is supported by a parent-affiliated relationship with The Grace Place in Arlington.