Desire to Serve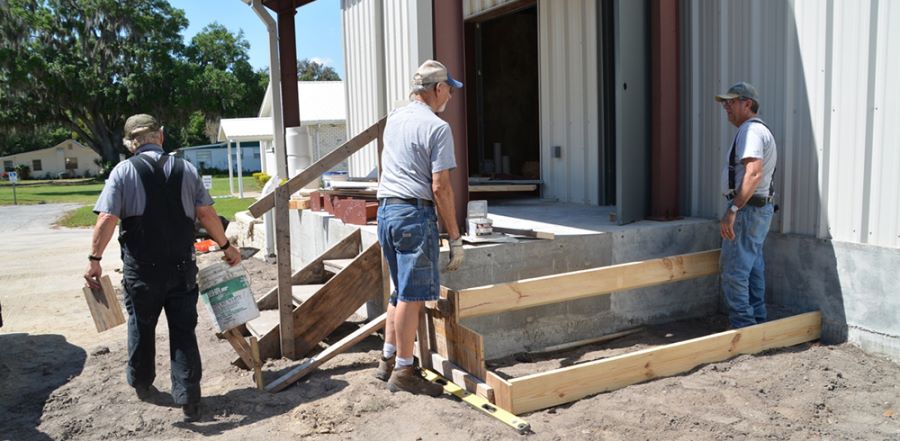 Don't miss any stories. Follow PE News!
For the past two winters, Mark and MaryAnn Rittermeyer and dozens of other couples traveling in recreational vehicles have wielded hammers, saws, paint brushes, and wrenches, as well as hauled and installed piping, wiring, and gypsum wallboard to help make a Plant City, Florida, congregation's dream of a new church building a reality.
One more winter season of work by a Fellowship's U.S. Mission America Placement Service (U.S. MAPS) RVolunteers unit should finish the new, 11,000-square-foot Pleasant Grove Assembly of God.
"It's been a real exciting time for the congregation, and for us," says Rittermeyer, U.S. MAPS regional representative for Florida. "We have 25 couples involved in this."
Joe Zaino, lead pastor at Pleasant Grove Assembly for four years, estimates U.S. MAPS RVolunteers have saved the church of 150 at least $300,000 in labor costs in a $1.3 million construction project.
"We couldn't have done it without them," Zaino says. "MAPS RVolunteers have been a real answer to prayer, helping us out of a really difficult situation. Now, we are just months away from a beautiful new sanctuary seating more than 300."
The Rittermeyers call Lakeland home, but spend five to six months a year on the road. Winter finds them, and other U.S. MAPS RVolunteers, mostly retirees, lending lifetimes of experience in the trades to new church construction as well as building projects for Assemblies of God college campuses, children's homes, Teen Challenge centers, and church campgrounds.
At any one time, U.S. MAPS RVolunteers may have 80 to 100 projects on their menu, with 350-400 volunteers driving their motor homes, fifth-wheelers, and travel trailers on a mission to save cash-strapped ministries millions of dollars in labor.
"People who worked in the South over the winter have transitioned back north to new projects opening up," says Jerry Bell, who retired as U.S. MAPS senior director at the end of May. "We enjoy seeing the spirit of these folks, very skilled people who want to give something back of what God has given them."
Part of that motor migration involves the Rittermeyers, who three years ago transferred from AG U.S. Chaplaincy Motorcycle Ministries to become a full-time MAPS workers. They have replenished supplies for their 32-foot Cougar Tag-Along, fueled up the GMC three-quarter-ton pickup truck purchased for them by Speed the Light, and headed off for a busy summer -- beginning with a project this month at the Lake Geneva Christian Center campground in Alexandria, Minnesota.
"People like to talk about the Lord giving them the 'desires of their hearts' in terms of a better car or bigger house," Rittermeyer says. "Those are nice things we might end up with, too, but the 'desire of heart' should be wanting to do something to help other people, ministering to them."
Sunday is U.S. Missions U.S. MAPS Day in the Assemblies of God.