Evangel University Launches Two New Online Computer Programs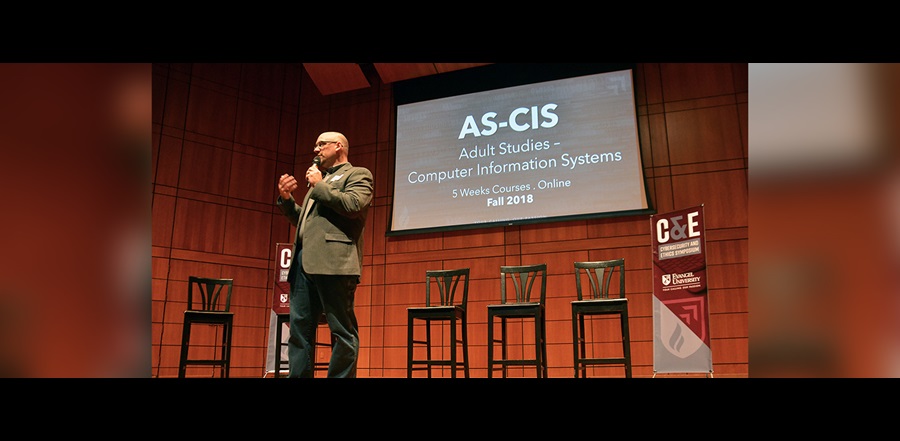 Don't miss any stories. Follow AG News!
Evangel University
in Springfield, Missouri, has introduced two new online tech programs designed for adult learners, with classes scheduled to start with the Fall 2018 semester.
A new online
Bachelor of Science in Computer Information Systems
(CIS) degree is the newest addition to the university's popular adult studies/degree completion programs.
The major is designed to prepare adult learners to enter a career as an Information System (IS) professional, while maintaining their current employment and family obligations.
In addition, Evangel has launched a new, accelerated online
Cybersecurity Certificate Program
starting this fall. The Cybersecurity Certificate is made up of four, five-week online courses with the first course to begin Sept. 26, 2018.
Both of Evangel's new programs are being offered through its College of Adult and Graduate Studies.

BACHELOR'S DEGREE IN CIS
"Information Systems professionals work with information technology and must have a sound knowledge of computers, communications and software," said Dr. Jeremy Harris, associate professor of Computer Information Systems.
"CIS graduates have been some of the most sought-after individuals by companies utilizing digital information technology," he said.
Since these professionals operate within organizations, students will gain an understanding of the concepts and processes of achieving goals with information technology within those business models.
This degree will prepare students for careers in information technology (IT) management, database administration, programmer/software engineer, software/requirements analyst, systems analyst and systems programmer.

FOCUS ON CYBERSECURITY
The online
Cybersecurity Certificate
is designed to be taken as a standalone set of classes by those already working in the profession.
"However, as a part of the new online adult studies B.S. in Computer Information Systems major at Evangel, students will be exposed to the latest issues and solutions related to cybersecurity," said Harris. "Our CIS degree program can be structured to include Evangel's new Cybersecurity Certificate."
According to Harris, there are four primary roles in the data center related to security: Developer, Administrator, Security Professional, and Manager.
"Each role has a different perspective, but fundamentally, they share a need for security integration and knowledge. Exposure to each of these roles and their views will provide a well-rounded and relevant certificate program for prospective students," he said.
PREPARATION FOR THE CISSP EXAM
The content of Evangel's new Certificate Program highlights the recommended content for the national Certified Information Systems Security Professional (CISSP) Cybersecurity Certificate from ISC2.
"While the exam itself will not be provided as part of the Evangel certification program, the content covered will provide students with the knowledge to successfully attempt the national exam," said Harris. "One of our objectives is to prepare the students for that test."
The accelerated Cybersecurity Certificate from Evangel is a 12 credit hour program at $285/credit hour. The total cost is $3,420.
For more information on each of these programs, contact Harris at
harrisj@evangel.edu
or call (417) 865-2811 ext. 8332.
For information on any of the other
adult studies/degree completion programs
, contact Dr. Lisa Tyson, director of adult and graduate studies, at
tysonl@evangel.edu
or call (417) 865-2811 ext. 8260.