Give the Spirit Control!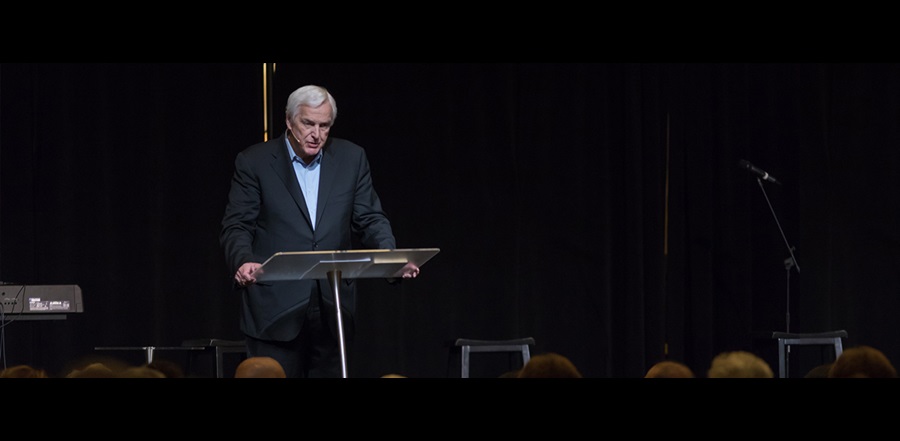 Don't miss any stories. Follow AG News!
It was like preaching to the choir, admitted guest speaker Dr. David Jeremiah, but life is made up of decisions and for many Christians today the decision to put Christ on the throne of their lives and give the Holy Spirit full control is a decision they simply weren't wanting to do.
Jeremiah, the founder of Turning Point Radio and Television Ministries and senior pastor of Shadow Mountain Community Church in San Diego, California, was addressing guests attending the Discipleship/Influence Music and Center for Holy Lands Studies luncheon held Wednesday at General Council.
He believed that too many "Christians" wanted heaven, didn't want hell, and wanted to be left alone to live life as they desired. "Conversion is viewed as the ending rather than the beginning," he said.
But what should a Christian look like? Jeremiah pointed to the Bible and Galatians 5:22-23, where the Fruit of the Spirit is listed.
Although it's clear what should be evident in a Christian's life, Jeremiah also eased the burden some Christians carry about perfection. "A Christian life is not only difficult, it is impossible," he stated. "Only one person lived that life to perfection, Jesus Christ. But He didn't do it by himself, He relied upon God!"
He urged attendees to live a life fully engaged in the Holy Spirit, explaining that to attain that life a person has first to desire it, then denounce sin in their life, devote themselves to the Word of God, and die to their own ambitions.
"We have to have an honest relationship with the Holy Spirit," Jeremiah said, adding that as the Holy Spirit's light grows stronger in a person's life, it reveals more areas that need to be addressed. "When He points something out in your life, deal with it and move on."
Pointing out that the Holy Spirit provides the direction of the destination and power to get there, Jeremiah explained that the decision to go where the Holy Spirit is leading and follow His direction is up to the individual.
He also addressed a concern that pastors and leaders may be currently facing — they have come to the point where they want to quit. "God is faithful. He will never ask you to do something that He won't enable you to do," Jeremiah said as he observed other names for the Holy Spirit included encourager, comforter, and helper.
"He will be there when you need Him and show you the way," he said, "but don't quit . . . it's too soon to quit . . . stay plugged into the Holy Spirit!"