God's Garage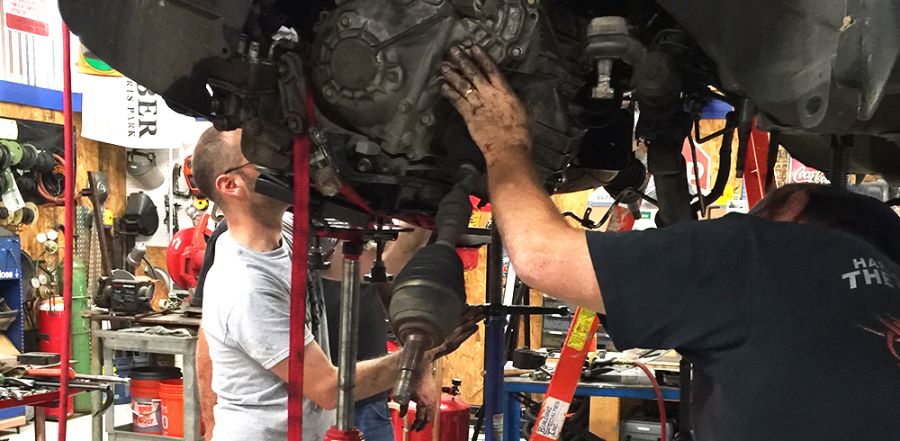 Don't miss any stories. Follow AG News!
After mounting medical expenses forced her to give up her car, Jeanne McCowan, 72, of The Woodlands, Texas — a suburb of Houston — was in dire straits. Getting to doctor's appointments, attending church, and even going grocery shopping all proved difficult.
"I live in an area that requires private transportation," McCowan says. "There is no public transit to speak of."
In the fall of 2016, she saw information about God's Garage on her church bulletin board. She visited the website and learned that the nonprofit based in Conroe, Texas, repaired and gave away vehicles to single moms, widows, and wives of deployed military. McCowan filled out a free car application. Nine months later, God's Garage asked her to come to a workshop about budgeting and car maintenance.
"At the end of the workshop, Chris called a few names, including mine, and we were all presented with cars," says McCowan. "It's changed my life completely."
McCowan's car is just one of over 100 God's Garage has given away since Chris "PC" Williams started the ministry seven years ago as a life group in his own garage.
"Once a month we'd fix somebody's brakes, then it became once a week," says Williams, 50. For 26 years he pastored on the staffs of Assemblies of God churches in Florida and Texas, including Lone Star Cowboy Church in Montgomery and Assembly of God Tabernacle in Houston.
When Williams and his wife, Kim, began searching for a new home, they picked one with land to build a shop. Around the same time, Williams had an encounter that propelled him to get even more serious about God's Garage. While driving home from church on a rainy Wednesday night, he picked up a woman and her daughter on the side of the highway.
"They actually went to my church," says Williams. "She told me her truck had been in the shop for three months. She'd been walking and asking for rides. She just couldn't afford to get it out of the shop."
That night he wept and prayed with his wife over the realization that women in his community were suffering — and he had the skills to help. He couldn't sit idly by any longer.
Since then, three nights a week God's Garage volunteers have been fixing donated autos, as well as doing free repair work for women. A few retired men staff the shop all day, five days a week. The nonprofit also graduated to a new, 3,500 square-foot facility — acquired through miraculous provision, according to Williams.
"We couldn't afford it, but I called about it," he says. "The owner knew about us and dropped the rent by $1,000 a month."
In addition to car repairs, God's Garage also hosts budgeting, parenting, and job skills classes every other month, like the one McCowan attended before receiving her car.
"We want to offer a holistic solution for these women, not just a Band-Aid," says Williams.
In addition to helping women, God's Garage is also reaching into the lives of the men who volunteer there, providing community, and for some, a real-world glimpse of the Christian life.
"We're able to share that we're real people committed to God," says Williams. "The relationships built at the shop will continue for lifetimes."
As will the positive impacts God's Garage makes on the women served.
"Now I can do all the things I need to do," says McCowan, who is excited to display a God's Garage bumper sticker on the 2006 Chevrolet Aveo she received.
"When we're able to help it restores dignity," Williams says. "It's more than a repaired car. It's freedom and independence."