Minnesota District Embraces Speed the Light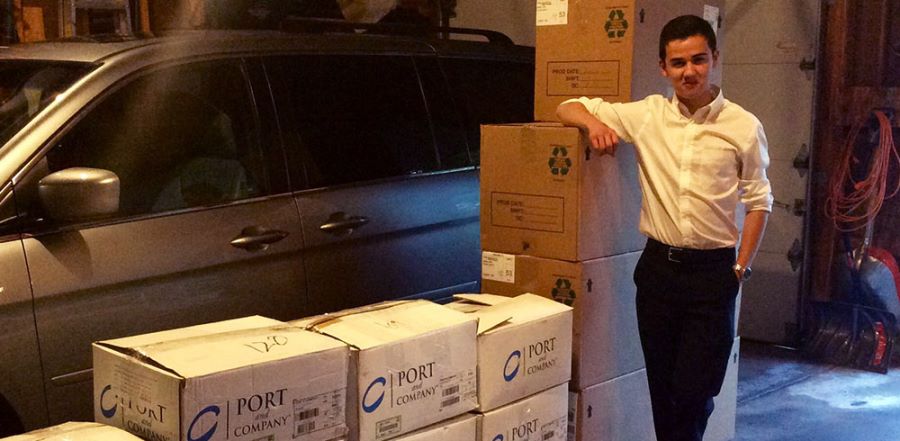 Don't miss any stories. Follow AG News!
Giving to Speed the Light (STL), the National Youth Ministries missions program that provides transportation and communication tools for missionaries, hit a 10-year high last year as $9,417,143.41 was raised nationwide. Remarkably, one district — the Minnesota district — was responsible for more than 15 percent of the giving total.
Kirby St. John, the Minnesota district youth director, says that this is the third consecutive year for the district to break the $1 million barrier. He explains that giving to STL has become a part of the district culture, as the Holy Spirit has inspired churches, youth groups, and individuals in remarkable ways — including Sam Ballinger, a young man who attends River Valley Church in Apple Valley.
Ballinger recalls an encounter with God during the fall 2014 youth rally held at River Valley Church where 1,000-plus students were in attendance. The minister paused during worship to ask those who felt called to be a minister to raise their hands, and about one-fourth of the students responded. Then the minister asked for those called to missions to raise their hands, and it seemed as if the rest of the students raised their hands, except for Ballinger, who was 13 at the time — he didn't feel God had called him to a specific vocation, at least not yet.
But then God spoke to his heart, telling the young teen that whatever the minister said next, he should raise his hand because that's what He wanted him to do. Ballinger says the minister seemed to look right at him and said, "Now for the world changers, the entrepreneurs, the ones with big ideas and companies to change the world for God . . ."
In obedience, Ballinger's hand shot up, admitting he later had to ask his mom what an entrepreneur even was. But surely this was a calling that he would not be fulfilling anytime soon — college, not to mention high school, was still years away.
After spending the following summer knocking on doors, mowing lawns, and earning $1,000 — a lot of money for a 13-year-old — God spoke to the boy again. He wanted him to give his entire summer's worth of work — every dollar — to His work.
Once again, despite some initial doubts, Ballinger obeyed.
"When you have a genuine calling from God, the most powerful thing you can do to blossom your relationship with God is to obey Him," Ballinger, now 17, says. "When I wrote that check and gave that money, it was the greatest feeling I ever had."
But it was a short phrase spoken by missionaries Tim and Angie Lang in the service the night he gave the $1,000 that seemed to be aimed directly at him and, at the same time, confirmed his calling.
"They said, in life, if you ever want to live big, you have to give big," Ballinger says, "and I believe that's what God has called me to do." Yet, he's quick to point out that the reason for riches in God's eyes is to use that money to bless churches, missionaries, ministries, people caught in poverty, or helping free people trapped in sex trafficking.
Soon after giving the $1,000, through a series of "coincidences," a multi-millionaire businessman took Ballinger under his wing and began to mentor him, helping him understand how to be a success in life as an entrepreneur. Several more multi-millionaires would also speak into his young life, offering him guidance and instruction.
Inspired by and with the help of his mentors, Ballinger launched a T-shirt business called Silver Lining when he was 14. His first sale netted him a profit of exactly $1,000 — the same amount God had asked him to give a few months earlier. God continued to bless the business so that in the first two years, Ballinger sold nearly $150,000 in merchandise, resulting in more than $25,000 to STL. This year his goal is to give $20,000, for a three-year total exceeding $45,000.
"If Bill Gates and Warren Buffet can spend billions on children's vaccines, I've always believed God could use me and many other people to raise billions of dollars for His kingdom," Ballinger says.
Ballinger believes God can call anyone as an entrepreneur for His kingdom. As an adopted child, he says that he had some serious learning disabilities when he was first adopted and was a special education student. His teachers had grave doubts concerning his future ability to function as an adult.
But through the homeschooling efforts of his mother and what Ballinger calls a miraculous blessing from God, he's now one of the top students in his high school class; when he graduates high school next year, he'll also graduate with an associate's degree from a local college; and he has founded an entrepreneurs club at his high school that meets with CEOs of multimillion-dollar companies on a regular basis.
With students like Ballinger and countless other students and leaders in the Minnesota district who are passionate about seeing God's kingdom advanced, it's no wonder St. John is anticipating greater things for the district and Speed the Light.
"The reason we've seen such incredible growth in giving to Speed the Light," explains St. John, who saw STL giving increase by more than $300,000 over the 2016 record total, "is that we have buy-in across the board, small churches and big churches. It's become a culture in our youth and with our youth pastors."
St. John's evaluation is backed up by telling statistics. In addition to having the top STL church in the nation, eight of the top 20 churches giving to STL came out of the Minnesota district. Minnesota is also home to 13 churches that gave over $30,000 to STL in 2017.
"Everything we do in the state of Minnesota is missions-focused — our superintendent is praying for 1,000 missionaries to be sent out of Minnesota," St. John says. "We're excited and it's an exciting time for our students, for our state, and I think for our nation as the new Speed the Light director has a goal for 2020 that Speed the Light giving would reach $50 million a year!"