Outsized Influence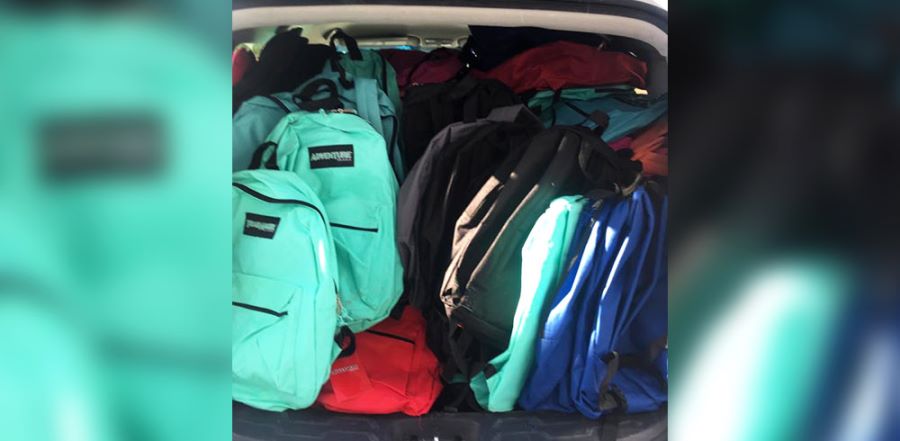 Don't miss any stories. Follow AG News!
River of Life Assembly of God in Pojoaque, New Mexico, has but 23 regular attendees, yet the church is having an outsized impact on schools by providing backpacks, classroom supplies, and even shoes to hundreds of students.
"As a church, we asked what are the needs in this community?" says Lorenzo R. Martinez, Jr., 37, pastor of the small Central District congregation. One obvious need involved assistance in buying basic school supplies — backpacks, dry-erase markers, paper towels, transparent tape, and more.
"The church got excited about it, and got behind it with prayer and financing," Martinez says.
River of Life is surrounded by eight Native American pueblos — "like a country within a country," Martinez says. Sixty percent of students are on free lunch programs and are being raised by grandparents because addictions and crime have gutted families.
When Lorenzo and wife Victoria, 36, arrived three years ago, they made the school district in the town of 1,900 a focus of their ministry. (Lorenzo also works two jobs for the district, as an instructional assistant and running a before-and- after-school program.) The church, though small, raised enough money to give away 600 backpacks one year. One congregant in her 80s raised money from friends at the senior center.
Last year, the church stretched even further and, with help from Convoy of Hope and Rural Compassion, partnered with a major shoe company to provide free shoes for every student at Pojoaque Middle School.
Martinez acknowledges measuring the feet of all 330 students, then receiving the shipment of shoes and delivering them to the right people took a great deal of time and effort. The student council, teachers, and another church in the area helped stuff backpacks full of shoes, pencils, notebooks, snacks, and other supplies for all students.
Priscilla M. Cordova, 64, administrative assistant to the school's principal, recalls students receiving shoes and gift-filled backpacks during an assembly.
"It was like a treasure chest for them," Cordova says. "They were so excited."
The ability to rally support for students from all quarters, even from a large casino run by a local pueblo, has made Martinez a valued community leader.
"Lorenzo always calls and asks what supplies we need,'" says Cordova. "He's not shy. We are so fortunate to have him and his wife in our little community."
Though most River of Life attendees are on fixed incomes, Martinez says their generosity makes the student gifts possible.
"If you want to bring life to a church, you have to bring missions in your community," he says. "We have to do things that stretch our faith, and then our ministry grows."