Prayer, Acts 2 Journey Lead to Revitalization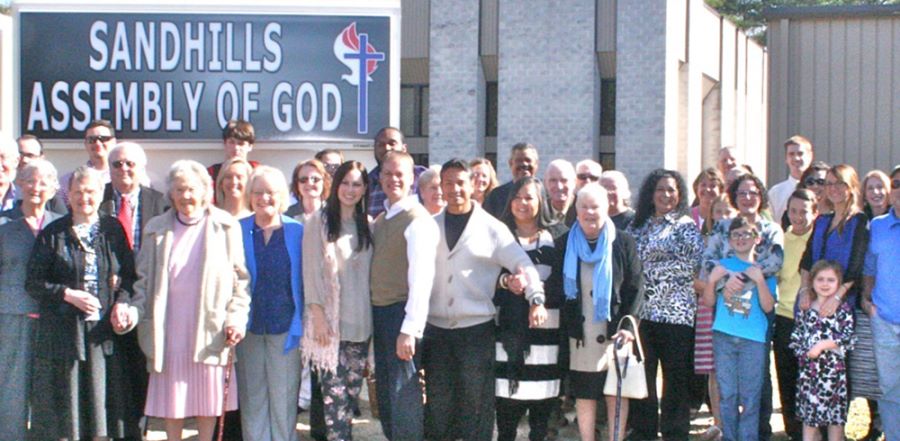 Don't miss any stories. Follow AG News!
According to Sandhills Assembly founding member, 103-year-old Miriam Jones, prayer and a desire to see God change lives was the seed that gave birth to the church in Southern Pines, North Carolina, almost four decades ago.
In the late '70s, Miriam was one of a small group of people who moved from house-to-house for prayer meetings, seeking God and asking Him to do something in the Southern Pines community. She then contacted the district superintendent to say the new congregation needed a pastor.
Sandhills Assembly had a long, rich Assemblies of God history and a $2.8 million facility on prime property when Ty Van-Thomas and his wife, Kristin, came as new pastors in 2014. But attendance had dwindled to about 50 people, and the church was in need of repairs, revitalization, and growth.
Pastor Ty had worked more than 25 years in ministry positions as pastor, church planter, and more. He and the leadership team began to pray and that led to a process of rebirth and revitalization for the church.
"In that time of prayer, God clearly spoke to me, 'Don't reinvent the wheel,'" Pastor Ty Van-Thomas says. "So when I heard about the Acts 2 Journey and its focus on Spirit-empowerment, I said, 'Wow, here's the wheel.'"
But Pastor Ty knew the church could not afford to participate in the Acts 2 Journey. The church's funds had decreased along with the attendance and what did come in was tied up with operating expenses and repairs. But then he learned about the AGTrust scholarship, and Sandhills Assembly began the Journey.
"The Acts 2 scholarship from AGTrust removed any excuse that might keep our church from participating in the Acts 2 Journey," he says. "It's so easy for small churches to be forgotten and cast aside, but knowing someone cared enough to invest in us made all the difference in our Journey."
The book, A Spirit-Empowered Church, by Alton Garrison, which centers on Acts 2 concepts, has become a frequent resource for Pastor Ty's sermons. (Garrison is the Assemblies of God assistant general superintendent and also serves as director of Church Transformation Initiative, which sponsors the Acts 2 Journey.)
"Acts 2 is not just a procedural change;" Pastor Ty says, "it's a mindset change. The mindset change began in me, but the leadership team also had to experience it. The Acts 2 Journey gave us the boldness and the courage to go out into the community, like David when he killed Goliath, to go out and claim the land.
"Our mission is to be people who are Spirit-empowered, discovering greatness, and impacting our community. We want to reach people for Christ who are right in our backyard and give them the resources they need."
Southern Pines, a town of about 14,000 people, has several golf courses, including one of the top golf courses in the world in neighboring Pinehurst, making it a prime resort area with a large retirement community. It is also home to Fort Bragg, one of the largest military installations in the United States.
Working with Fort Bragg's AG military chaplain, Pastor Ty assembled a leadership team to begin reaching into the military community. As a result, they received access to conduct marriage conferences and provide upcoming marriage and family counseling for couples in military service within the community.
"The transformation that has taken place at Sandhills Assembly — mentoring leaders, outreach, discipleship — since Acts 2 has been phenomenal," Pastor Ty says.
Today, the church's attendance has doubled since 2014 and the congregation represents the diverse, multicultural, multigenerational makeup of the community they serve. And according to Pastor Ty, the church's operating account has more funds after the bills are paid each month than it has had during the past 10 years.