SAGU Prof's Son Impacts Hollywood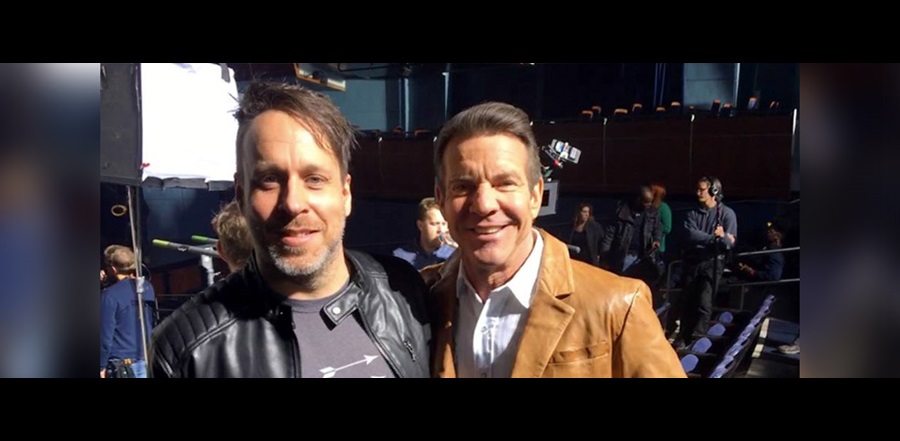 Don't miss any stories. Follow AG News!
Filmmaker Brent McCorkle co-wrote, co-edited, composed the original score, and directed the second unit for the surprise hit film I Can Only Imagine, which has earned acclaim, positive reviews, and more than $81 million in domestic box office this spring.
The film about the best-selling Christian song of the same title stars Broadway performer J. Michael Finley, Hollywood actors Dennis Quaid and Cloris Leachman, and country singer/actor Trace Adkins. The motion picture opened March 16 nationwide and is now being distributed internationally. Nearly 2,900 theaters booked the movie at its peak.
McCorkle, 45, co-edited and co-composed the music for the 2015 film Woodlawn. In 2012, McCorkle wrote, directed, and edited Unconditional, for which he also co-composed the original score.
The elder son of Jim McCorkle, an Assemblies of God pastor who sang, acted, played trumpet, and headed the AG national youth department in the 1970s and 1980s, and Rhonda Jo, a drama teacher and organist who recorded albums and sang with the Southwestern Assemblies of God University vocal group The Harvesters, Brent McCorkle notes that his parents embraced the humanities. They encouraged their children to do so as well.
"I think the AG had something to do with it," McCorkle says. "Of the major denominations in the U.S., the AG has a bit of outsized emphasis on arts. He cites Fine Arts Festival "and the value of artistry as a conversation piece with culture."
McCorkle also attended an Assemblies of God-affiliated high school in Dallas that likewise stressed the arts. He took part in Fine Arts in drama, and his brother, Brock, who studied under a mime whose teacher had been famed artist Marcel Marceau, made it to the national competition.
Even though McCorkle had long taken part in the arts at school and church, as an adolescent and young adult he explored career paths ranging from police officer to anesthesiologist. By the time he came to cinematography in his late 20s, he was a church music and drama director. By that point, he and his wife, Kim, had a mortgage and children, but, he says, at last he knew he wanted to have a feature film career.
His aim is to entertain mainstream audiences with excellent productions that carry positive morals. He has long admired prominent filmmaker Steven Spielberg.
"I think there's a cultural responsibility to heal and entertain," McCorkle says.
The best way to succeed as a filmmaker, McCorkle decided, was to learn all departments. He taught himself directing, editing, scriptwriting, and music. Using friends and his children as actors and creating props with duct tape, chicken wire, and paper mache, he made near-zero budget films.
He entered a five-minute superhero flick he made for $100 titled "Crashland," about a girl who falls to earth in a meteor. In "On the Lot," a 2007 reality television competition produced by Spielberg and Mark Burnett (The Bible, Son of God), McCorkle finished 20th out of a field of 12,000 submitted films.
"Things are possible if you have a big dream," McCorkle says. "You have to dream big and have faith. If you're sitting praying all the time without putting action to it, it's not going to happen."
The same year McCorkle took part in "On the Lot," he worked on freelance film projects for Southwestern Assemblies of God University's marketing department, where his dad still worked as a full-time professor. That's where he caught the attention of Rob Price, SAGU's director of Communication Arts and Digital Media Arts. Price arrived at SAGU the year before to revamp the broadcasting department. He added a cinematic film component that emphasizes high-quality production.
Price, then a young media professor, recently had joined academia after successful careers as a church media pastor and as a television producer for the Christian Broadcasting Network. McCorkle began to mentor Price and they swapped equipment.
"I realized this guy has a lot of skills and knowledge — camera work, lighting, editing, story structure, music scoring," Price says. "We hit it off very quickly."
After McCorkle had the top-20 finish for "On the Lot," Price realized his inclinations had been correct.
"He's getting attention from Hollywood producers, but he is one of our own — raised-in-the-pew AG rubbing shoulders with Hollywood filmmakers," Price says.
Price has taken McCorkle up on his "if there's anything I can do for you or your students" offer. Price's students toured McCorkle's editing facilities while McCorkle was in post-production for Unconditional. This year, Price took his SAGU media students to the National Religious Broadcasters convention in Nashville, where McCorkle lives. His students used some of his equipment for an NRB film competition.
A month before the release of I Can Only Imagine, McCorkle showed the movie for SAGU film students in the department's screening room. He held question-and-answer sessions after a pair of viewings.
"As an AG prof and minister, I am proud that one of our own has had such an impact on a film making an impact on America," Price says. "Brent McCorkle is a giver, so aware of feeding the next generation of AG filmmakers."
McCorkle encourages church leaders to create an environment supportive of the arts, especially for the next generation.
"It's a beautiful blend when art is encouraged and excellence valued," McCorkle says.
IMAGE: Brett McCorkle (left) with Actor Dennis Quaid from the film,
"I Can Only Imagine."