The Bread of Life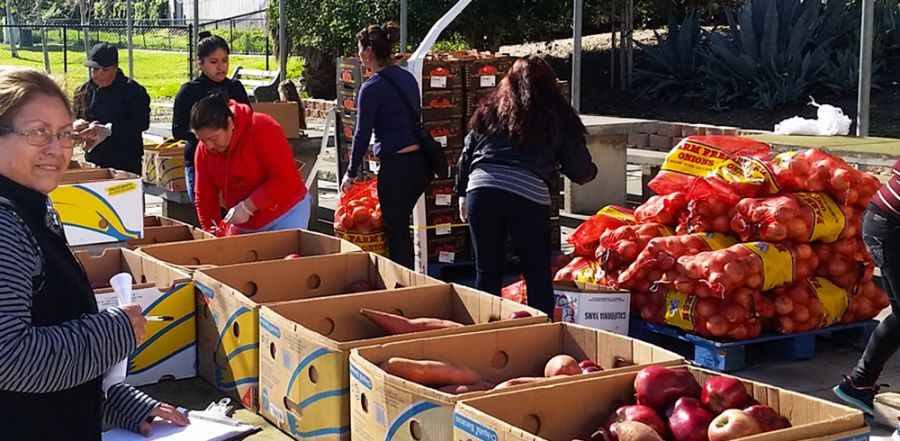 Don't miss any stories. Follow AG News!
A physical appetite, not spiritual hunger, initially pulled Natty Lopez to City Heights Assembly in San Diego.
"I was attracted by the food they were giving out," says Lopez, 68. "I wanted to check out the food, not the church."
But upon later attending a service, Lopez found herself nourished from God's Word as well.
Five years later, Lopez is a member of the church board and involved in the church's food distribution ministry three or four times a week. The church receives food from Feeding San Diego, a branch of Feeding America and the San Diego Food Bank.
Groceries also brought George Villarini to the Assemblies of God church four years ago.
"I had just moved to the neighborhood," says Villarini, 60. "I had nothing in the refrigerator."
That is too common an occurrence in ethnically diverse City Heights, the poorest section of America's eighth largest city. Four out of every five residents in the area are Hispanic, although pupils at the local grammar school speak 27 different languages as their native tongue.
City Heights Assembly also is a distribution point for a U.S. Department of Agriculture feeding program for children and youth. Villarini is in charge of the church's afterschool lunch program that extends from noon to 5 p.m. He puts in 12 hours a week overseeing the meal program, which runs six days a week.
The church is across the street from an elementary school, and those pupils — often accompanied by parents — are fed first. Nearby middle school and high school students arrive later. In all, 2,500 students receive meals. Pastor Bob Mets even takes lunch to teens at a skate park — kids who won't set foot inside the church.
Mets says the USDA program reimburses the church for costs, including utilities, insurance, and salaries for five part-time workers.
Making sure people, especially children, don't go hungry has been a continual concern for Mets in his 18 years as pastor.
"Poverty, alcoholism, and drug abuse makes things complicated," says Mets, 56. "A lack of food, education, employment, and transportation makes things difficult."
Faith isn't a priority for many locals. When Mets arrived in 1999, the church had just 15 elderly attendees. The median age of those in the pew was 84. For his first decade at the church, Mets and his wife, Lisa, were the only married couple there.
"So often poverty impacts the relationships we have with others and with God," Mets says.
Feeding kids has been a priority since Mets came. The church now has 100 regular attendees, and single moms and teens have consistently come to the church in search of something to eat.
"We fight poverty with food," Mets says. "We give people food to establish a relationship."
City View Heights recently completely the yearlong AG Church Transformation Initiative Acts 2 Journey for plateaued and declining churches. The AGTrust Church Transformation Initiative, facilitated by national consultant Ron McManus, is designed to help congregational leaders revisit their church's mission, vision, and values while creating a strategic plan to become a more firmly established Spirit-empowered body.
Mets hopes to add a Spanish-language service, an addiction recovery ministry, and a program to disciple adults.
"We must impact the community," Mets says. "But it's hard to find people with a heart for the bottom of society."
IMAGE - Natty Lopez (left) oversees food distribution. George Villarini (background) likes to make sure residents have enough to eat.