The Overcomers Crowned Champions at National JBQ Festival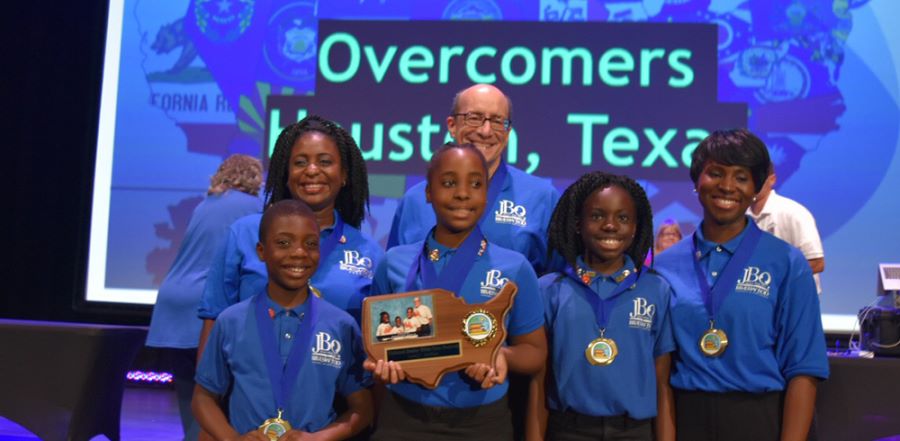 Don't miss any stories. Follow AG News!
For the second time in four years, a Junior Bible Quiz (JBQ) team from Braeswood Assembly of God in Houston has come away as national champions at the
National JBQ Festival
held at
Faith Assembly of God
in Orlando, Florida.
The Overcomers went 8-1 in the top flight of quiz teams during the second and final day of the 33rd annual competition to secure the title, edging out second place Knight 4 Christ — Salvation from Monmouth, New Jersey (7-2), and third place Naperville (Illinois) D, which also finished 7-2.
Precious Cyrus-David, 12, led The Overcomers in scoring, finishing eighth overall in individual points, with 2,580. Teammates Priscilla Adu-Gyamfi, 11 (1,475 points) and Garen Umukoro, 10, (900 points) rounded out the team.
The overall individual performer was Remiel Brigilin of Knights 4 Christ – Salvation with 2,975 points, followed by David Biruduganti of Naperville D with 2955, and Reagan Stevens of Naperville S with 2,675 points.
The festival featured 80 teams quizzing head-to-head from the
Bible Fact-Pak
, which features 576 graded questions that cover people, places, events, and teachings of the Bible. The questions have values of 10, 20, or 30 points and are designed for children K-6th grades. Following fall and spring competitions, the top five teams from each region qualify to participate in the national competition. At nationals, the top two teams from each of five 16-team pools advance to the top flight finals. Third and fourth place teams go to the second flight, and so on for a total of eight flights.
Lindsay Marwil, 61, who has been the JBQ coordinator for Braeswood AG for the last three decades, served as coach for The Overcomers at nationals. When asked what made the championship team special, he was quick to respond with an unexpected, but telling, answer.
"The parents and all of the other volunteers that are working behind the scenes make the difference," Marwil states. "This is true not only for The Overcomers team, but The Chosen Ones team (that won the title in 2015) as well."
Marwil explains that although the 50 to 60 kids involved in their JBQ program do study hard, the parent involvement at all levels exceeds anything he's ever seen, which directly impacts how well the kids do in JBQ. Marwil also credits Eloise Tone and her two daughters, April and Teresa, for being key leaders in elevating the accomplishments of students.
Although the National JBQ Festival would seem to revolve solely around quizzing, Michael and Kay Paulsen, who have been involved in JBQ for the past 29 years, and have served on the National Festival Committee for at least a dozen years, explain that more than quizzing takes place.
This year, Michael reports, the event kicked off with children's ministries evangelist Kyle Jorris ministering to the participants the night before quizzing began. On Friday evening, JBQ sponsors held the annual "Hour of Power," which focused on this year's annual theme, "Created for a Purpose." Then on Saturday night, after quizzing concluded, a children's missionary who helped launch JBQ in Romania, spoke. An offering was taken and raised $5,300 to help JBQ continue in Romania and get started in other Eastern European countries.
"It was a very intense weekend," Michael shares, "but it's always good, a lot of fun, and the kids have a great time. Even though only one team becomes national champion, everyone stays around and congratulates the winners. JBQ demonstrates how Christian competition should be done."
The 2019 National JBQ Festival is slated for Tucson, Arizona. To learn more about JBQ,
click here
.