AG Pastor's Son Selected in NFL Draft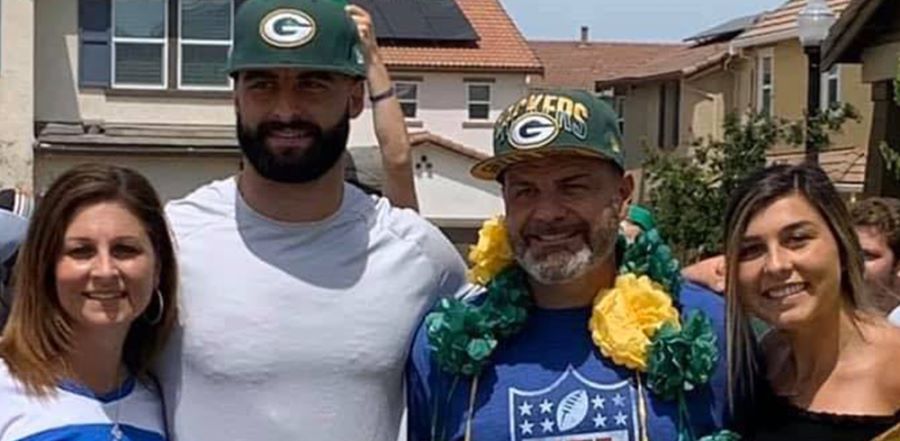 Don't miss any stories. Follow AG News!
"With the 94th pick in the 2020 NFL draft, the Green Bay Packers select Josiah Deguara, tight end, Cincinnati . . ."
When NFL Commissioner Roger Goodell announced Josiah's selection during the third round of the NFL draft on live TV Friday night, the Deguara family had already been in full-on celebration mode — screaming, hugging, hooting, chest bumping — as Josiah
received a call
from Packers GM Brian Gutekunst several minutes earlier.
Dean and Amy Deguara pastor
Real Life Church
(AG) in Sacramento, California. They say that it was evident from a young age that their son had God-given athletic talent as well as a passion for sports, excelling in baseball, basketball, and especially football.
But despite being a starter and contributing member on a state champion high school football team his senior year, Josiah was listed as a 2-star recruit and he didn't garner much attention from Division-1 West Coast schools. He ended up accepting a scholarship to the University of Cincinnati, a D-1 college in Ohio — only about 1% of high school athletes receive D-1 scholarships.
Looking back, Josiah says he wouldn't have things any other way. In fact, he sees God in it all the way,
As a high schooler, Josiah was a constant presence in church, but also wasn't afraid to live his life for God in the presence of his friends outside of the church walls, including leading teammates in pregame prayer. When he arrived in Cincinnati, he connected with a church and the team chaplain and helped lead and organize Bible studies with teammates. He even started and led a Bible study for all student-athletes.
"Throughout my life, and not just football, God has put people in my life," Josiah says. "I didn't end up 'randomly' nearly all the way across the country at Cincinnati. I learned the chaplain was a pastor in my church, I developed relationships on and off the field, and learned spiritually from a lot of different people who sowed into my life . . . it was evident that God didn't get me there just for football, but for spiritual reasons as well."
"Josiah is such a great kid," says Luke Fickell, University of Cincinnati head football coach. "A big part of what we believe in as a faith-based team, meaning faith in the people around you [teammates] as well as the Man above, Josiah is an incredible example of. He set the standard for not only how to play, but how you live off the football field."
Amy says she saw Josiah mature a lot through his time in Cincinnati as people poured into him and cared for him. "I was proud of him diving in and going after God," she says. "We saw that relationship grow, which was the most important thing for us to see."
But there are things that have been building for about a decade that shed even greater insight to God's detailed orchestration.
Scott Hagan, the president of
North Central University
in Minneapolis, was the founder and former lead pastor of Real Life Church in Sacramento. For years, he and Dean had built a relationship through being fellow AG ministers in the Northern California-Nevada District, even meeting together for encouragement and as mentoring friends. Also, Hagan's son, Spencer, played D-1 football at California (Cal) University as a tight end as Josiah was beginning to play high school football as a tight end. Those connections as pastors and football led to the Hagans and Deguaras becoming good family friends. And now, Spencer (who was a role model for Josiah) and his wife, Breana, attend Real Life Church.
"My wife, Karen, and I were thrilled when the church asked them (Dean and Amy) to follow us as pastors at Real Life Church," Scott says. "There couldn't be a finer Christian family — they have all their priorities in place."
Yet Josiah was not at all certain when the phone might ring during the draft and he definitely wasn't expecting a call from the Packers; he had only spoken to the Wisconsin-based team's staff once, and that was among many other calls from nearly every team in the league.
In retrospect, it might not have hurt for the Deguaras to have given Scott Hagan a call after the first round of the draft was completed Thursday night — it's a wild story that continues to shed light on how God is working on the behalf of people far in advance.
Shawn Hennessy, who attended NCU and then transferred to play football at
Trinity Bible College
in Ellendale, North Dakota, nearly two decades ago, is now a member of Hagan's advisory board at NCU. Hennessy is also a pastor of a Pentecostal church in the Green Bay area and was named the chaplain for the Packers last season. After the first round of the draft concluded, Hagan spoke with Hennessy, mentioning to him that his Packers needed to draft Josiah in the third round the next night. ". . . and with the 94th pick of 2020 NFL Draft, the Green Bay Packers select . . ."
"I don't know how exactly to explain this," Hagan says with a good-natured laugh, "but when you stand next to Josiah, somehow he just feels like a Packer."
Dean and Amy, who were both involved in athletics in high school, are overwhelmed at God's handiwork.
"It's just awesome to sit back and see God's fingerprints over the different things — from high school to college — to see him get Josiah in this position," Dean says.
However, it's not like God just landed the 6-foot-2, 242-pound Josiah in Green Bay without preparing him. At the NFL combines he distinguished himself by displaying good speed and hands, quickness, a 35.5-inch vertical jump, and excellent strength, benching 225 pounds nearly
26 times
(he apparently didn't lock his arms out on one press), which was the most of any tight end at the combines. He also set the record for receptions for tight ends at Cincinnati with 92.
Also, Josiah, who will wear No. 81 for the Packers, isn't the first tight end from Cincinnati to go pro. One of the best, if not the best, tight ends in the NFL,
Travis Kelce
of the Kansas City Chiefs, is a Cincinnati alum. And over the last year or so, he started connecting with Josiah, providing advice on how to make it to and establish himself in the NFL.
Fickell says that Josiah's versatility and ability to play different positions week after week, allowed his Bearcat team to be creative in their play calling and will be of great benefit to the Packers and their 53-man roster.
"He's always had the ability to run and catch and make plays down the field, but where he's really grown is in his ability to block and make plays off the ball," Fickell says. "The versatility of being able to play so many different positions [tight end, slot receiver, halfback, special teams] takes a lot of intelligence. He also has the ability to relate to guys around him — he was a great teammate. His selflessness carried a lot of weight in the locker room."
Fickell isn't just being kind in referring to Josiah's mental capabilities. This past December he graduated with a masters in Sports Administration.
"When my playing days are over, I want to be an AD (athletic director) at a high school and also coach football at the high school level," Josiah says. "Those people in my life had a huge impact on me and I want to be that for the next generation when the time comes."
Yet Josiah and his parents always bring things back to God, pointing to Him for His provision, protection, and preparation at every step.
"Whenever Josiah has been honored, he's given credit to God," Amy says, noting he always gathers with some teammates to pray before games.
The Deguara family and Chaplain Hennessy have also already connected by phone and are preparing for the day for players to be allowed to come to Green Bay.
"We couldn't have planned it better than God orchestrated it," Dean confirms, even now still marveling at how God has placed the right people at the right time in Josiah's life.
Josiah is continuing to work out and prepare for when rookies can report to their teams. He expresses deep appreciation for the sacrifices his family has made for him over the years and admits the phone call and being drafted that Friday night is a bit of a blur, filled with mixed emotions — surprise, excitement, joy, gratefulness.
"God has had plan throughout my career," Josiah says. "Honestly, I haven't been perfect throughout the way, but to see the way God used me and used my platform, the people he placed around me . . . it's humbling to see how God has worked throughout my entire life to get me to this moment."