"Bus Kid" Does Good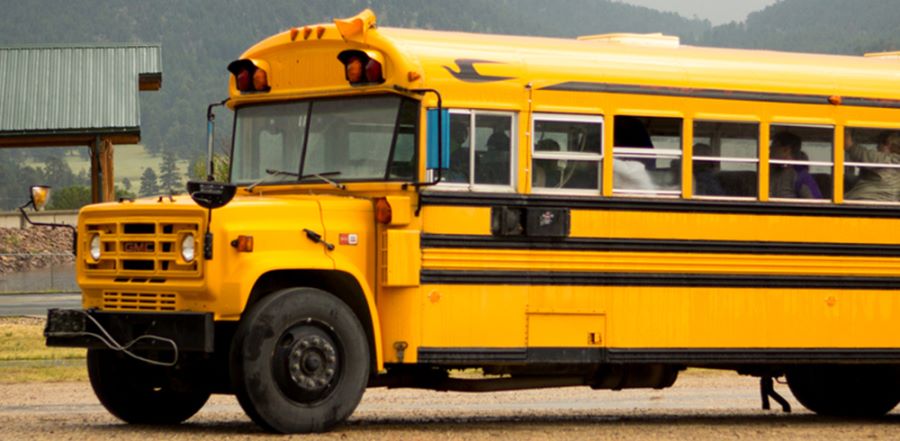 Don't miss any stories. Follow AG News!
His name is David. As a youngster growing up in Huron, South Dakota, he seemed to have a somewhat typical kid's life — mom, dad, siblings. His mom had the spiritual hunger in the family, and made sure David went to church; his father was more of a Sunday morning "relax-at-home" type guy.
But then David's world was turned upside down. His mom would experience severe depression and had to be hospitalized — and would never return to the family. David's siblings were sent to live with aunts and uncles while he remained with his father.
David's father wasn't interested in taking David to church. But having already connected with the Huron Assembly of God, the bus started picking David up on Sunday mornings.
"It wasn't until years later that I realized that I was a 'bus kid,'" David says. "Back then, I just thought I was a kid who needed a ride to church."
For all practical purposes, however, David was now from a single-parent home with little encouraging Christian influence in the home. But Pastor Howard Cummings, who also happened to drive the church bus at the time, invested in 12-year-old David.
"I'll never forget when they made me an official junior member of the bus team," David says, his voice still echoing with excitement at the decades-old memory. Then laughing, he adds, "Of course, what that meant was I was the one who sloshed through the snow to the door to escort kids back to the bus."
But David says that seemingly small act of assigning responsibility to a young boy who was searching for stability in his life, marks when ministry to others was planted into his heart. David would continue to ride the bus and eventually did bus visitation for the church — finding people who needed a ride to church.
David's father would divorce his mother and remarry. When he did, David's siblings returned home and he also gained a couple of step-siblings. "So now, we had six kids riding the bus every Sunday," David says. "When we got older, we all became a part of the teen choir, traveling and singing in the summers."
David, after years of riding the bus to church and now thoroughly grounded in his faith, decided to attend North Central Bible College (now North Central University), an Assemblies of God school in Minneapolis, Minnesota. There, he would meet his future wife, when he inadvertently volunteered — or God orchestrated for him — to help with a puppet ministry.
"I thought a friend of mine was already a part of the puppet team," David recalls, "but after I volunteered, I found out that wasn't the case, and there I was, part of the team!"
Two years later, David and the team leader, Mary, would start dating during their senior years. They would graduate, get married, and go into ministry.
Once again, God intervened.
"I thought I would be a senior pastor and Mary, then, the children's pastor," David admits. "But God spoke to me, He told me that His best choice for me was for us to work side-by-side in children's ministry. Mary was already really good at that . . . God helped me to know that I could be good at it too."
But David also thought that one day he and Mary would become missionaries, but so far neither of them are appointed missionaries.
It might cause one to wonder why God would give someone the desire to be a senior pastor or a desire to be a missionary, only to keep it from him? Yet perhaps, that's not the case. Perhaps it's more how one defines the two ministries.
David and Mary would spend the next 9 years ministering as children's pastors at Evangel (AG), Bismarck, North Dakota; Bethany Assembly, Adrian, Michigan; and First Assembly of God, Fort Myers, Florida; experiencing great success at each church.
But God was preparing the couple for more than service to a single church. In 1999, David and Mary Boyd were appointed as the Children's Ministries Director and Boys and Girls Missionary Crusade (now Challenge) coordinator, respectively, at the Assemblies of God national office in Springfield, Missouri. Several years later, David would become the full-time BGMC director. In the Boyd's tenure at the national office, they have followed God's leading to see nearly $100 million raised through BGMC for missionaries.
As far as David's dream to be a senior pastor and missionary? The Boyds regularly speak at churches and conventions to hundreds and even thousands of ministers, lay leaders, and yes, even at children's churches, across the country. In addition, the two have traveled in ministry to more than 20 foreign countries around the world. David has also found that his position has offered him multiple opportunities to counsel children's pastors . . . in many ways, he has become a "senior pastor" to this group of young leaders.
Senior pastor? Check. Missionary? Check. Literally impacting the world for Christ? Double check!
Not bad, for a bus kid.
Editor's note: Twenty years after David's mom left for the hospital, she was healed while watching a televangelist who prayed a prayer of healing over the airwaves. She now regularly attends an AG church in Aberdeen, South Dakota, and has never had to return to the hospital.