Daniel Romanchuk -- a Child of God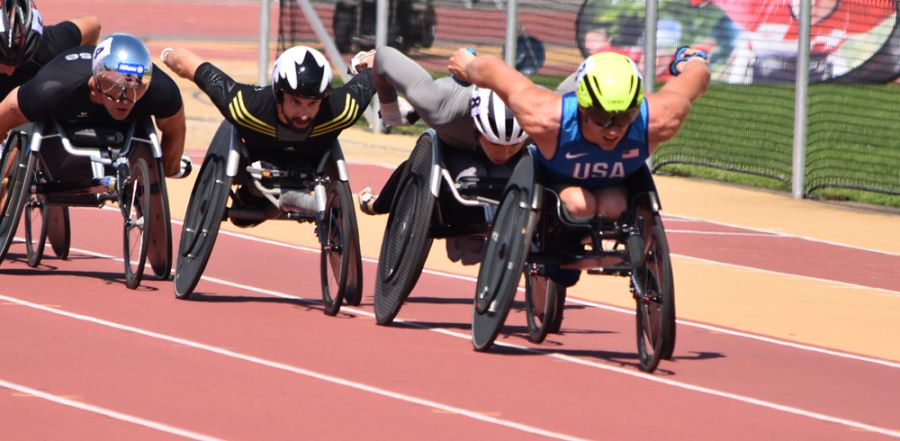 Don't miss any stories. Follow AG News!
He's a world-class para athlete, winner of the Boston, New York, London, and Chicago (twice) marathons. He's the world-record holder in the 800-meter and 5,000-meter distances. He's the 2019 Men's Wheelchair Marathon World Champion, the men's wheelchair champion of the
Abbott World Marathon Majors Series XII
, and a proud Paralympian who will represent the United States at the Paralympics in Tokyo, Japan, in 2020.
But ask the 21-year-old Parkland College student who attends
Stone Creek Church
(AG) in Urbana, Illinois, what or who he is, and it isn't "elite athlete," "engineering student," or "Paralympian" that comes from his lips. Instead, he states with firm warmth: "I'm a child of God."
When Kim and Stephan Romanchuk, who have now been married 31 years, learned that their third child, Daniel, was going to be born with myelomeningoceole spina bifida (meaning "split spine") — an incurable condition where the spinal cord and spine don't develop properly — and their son might never walk, it was a difficult revelation to embrace . . . no one dreams that for their child.
"We were in shock a couple of days," Kim says. "But then came that understanding and true knowledge that this was not a surprise to God. He will use this for good and that what we see as hopeless, God knows and God's got it — we just had to truly trust that and give it over to Him."
But even though there's a freedom that comes when a challenge is given over to God, life doesn't suddenly become challenge-free. Many weeks over the years have been spent in the hospital, with Daniel sometimes in pain and his parents' prayers mixing with their tears.
"Some days stink," Kim admits. "Seeing your kid, who you love so much, hurting. And then you understand the sacrifices God made — a miniscule glimpse of what He went through and you realize that He's got this. Nobody's story is the same, but God has a reason and a plan for everybody."
When Daniel was two years old, his parents started introducing him to sports through the Kennedy Krieger Institute in Baltimore, including wheelchair basketball and swimming. Sports seemed to come naturally to him, and he explored all kinds of activities, from table tennis and archery to sled hockey and skiing.
Kim, who was a doctor at John Hopkins, had made the decision with her husband several years earlier that she would quit her job and homeschool their children. She explains that through being homeschooled, surrounded by supportive family, and primarily active with other homeschooled and church families, Daniel wasn't exposed to a lot of biases and prejudices of others. He grew up thinking of himself in the light of being a child of God — not someone to be labeled, dismissed, or overlooked simply because he was in a wheelchair.
As the years passed, it became evident that Daniel had a gifting in wheelchair sports, but his real talent was on the track.
In early 2015, when Daniel was 16, Kim asked him if he was interested in trying to make the 2016 Rio Paralympic team; if so, it would require him to focus more on track than other sports. Daniel wanted to make the effort and the training began. They connected with Adam Bleakney, a Paralympian and head coach for the wheelchair track and road racing team at the University of Illinois, which is a Paralympic training site.
"Adam knew where Daniel was performance wise and he knew he needed to be training with other racers," Kim says. "So, when Daniel was 16, we started making the 11-hour drive from Maryland to Illinois every few weeks for him to train and for Adam to guide and create workouts for Daniel instead of me making them up."
Daniel responded to the training and made the cut for the 2016 Paralympic team. He participated in all of the wheelchair track events, but he understood this first time was more about gaining exposure to and experience against international competition — learning what it would take to one day become a Paralympic champion.
Following Rio, Daniel returned to the U.S. and continued training. He and his mom were now living fulltime in Urbana, Kim commuting to Maryland as often as she could. Daniel, still completing high school, dual-enrolled at Parkland College in nearby Champaign while continuing to train under Bleakney. Daniel's brother and sister, Josh and Kathryn, had already moved on to college.
"Technology has been a good thing," Kim says. "Daniel and Stephan get online and play video games together, even though they're hundreds of miles apart."
As Urbana had now become their second home, Kim and Daniel found Stone Creek Church and became faithful attenders. "We were attracted to how they live out the gospel," Kim says. "Seeing a church that does that, that's where you want to be."
Lead pastor Ricky Spindler has great respect for the family, saying of Daniel, "He is a very committed Christ follower . . . he has a lot of admirable qualities in his relationship with God — he's the real deal."
"I think the church has got some great outreach programs," Daniel says. "And as they livestream their services and a lot of races end up being on Sunday, being able to hop on a computer after a race and basically go to church is wonderful."
In addition to involvement at church, the Romanchuk family has helped facilitate respite times several times a year where kids with disabilities can be dropped off for hours of fun while providing parents a break. They have also donated equipment and worked with groups such as
Joni and Friends
to refurbish wheelchairs for individuals around the world.
In April of 2018 the world started to change for Daniel as he began a meteoric rise from elite athlete to world-class athlete.
"I changed chairs to a Top End® carbon fiber chair, switched to a hard glove for better energy transfer, and I also started understanding some of the strategies involved in racing a little bit more," Daniel says. "But it was also about that time, that while I was sitting on the starting line of races — about 15 minutes — I started praying on the start line, 'Let Your will be done and all glory and honor to God.'"
Daniel placed third in the Boston Marathon and then third six days later in the London Marathon in April 2018. Then in October 2018 he won the Chicago Marathon, followed by winning the New York Marathon less than a month later. In 2019, he won the Boston Marathon on April 15 followed by winning the London Marathon 13 days later, where he was named world champion.
"Daniel is an outstanding young man," states Bleakney, who has been head coach at U of I since 2005. "I would say, without hesitation, that he takes a place among the greatest young athletes the sport has seen and his performance ceiling is very, very high . . . his tenacity, focus, and commitment are world-class and bolstered by his wonderful family, who have supported him and provided him a sound foundation from which to pursue his goals."
With his growing fame has come requests for speaking engagements. Daniel chooses to speak at schools and scouting clubs, talking about character and perseverance. Kim recalls Daniel speaking at a middle school in difficult area that had lost a student to gang violence the week before. While students were waiting to get in to the assembly, a teacher explained to them that someone important was coming.
"I heard a student say, 'If they're so important, why are they here?'" Kim recalls quietly. "In middle school, they've already accepted a label the world has given them, they've internalized it."
Daniel hopes his message helps students reject labels.
"Showing kids with or without disabilities that there is hope, that you don't have to conform to this world's labels, is my goal," Daniel says. "I want to show them what's possible — that there is hope in what sometimes seems like a very hopeless situation."
Although Daniel isn't able to talk about his faith in public schools, he and Kim both believe that his actions and compassion communicate God's love to students.
Spindler affirms that Daniel lives out his Christianity.
"His humility is always the first thing that jumps out to me," Spindler says. "He's incredibly kind and generous — you wouldn't know he just won the Boston Marathon or set a world record. He doesn't promote himself in any way. He's very quick to give God credit for all of his success."
Up next for Daniel is the New York City Marathon on Nov. 3, the 2019 World Para Athletics Championships in Dubai, United Arab Emirates, Nov. 7-15, followed by the Oita Marathon three days later in Japan with the ultimate racing goal being gold medals for the U.S. at the 2020 Paralympics.
"The one thing I've learned in life is don't try to make too much of a plan or hold too tightly to it — God's plan may be very different, everything could change tomorrow," Daniel says. "So pray, trust God, He has a plan — He knows where everything is going to end up — and trust that His plan is the best."
To learn more about Daniel's life and races, follow him on
Facebook
.