Pastor's Wife Experiences Tragedy, Then Unimagined Fulfillment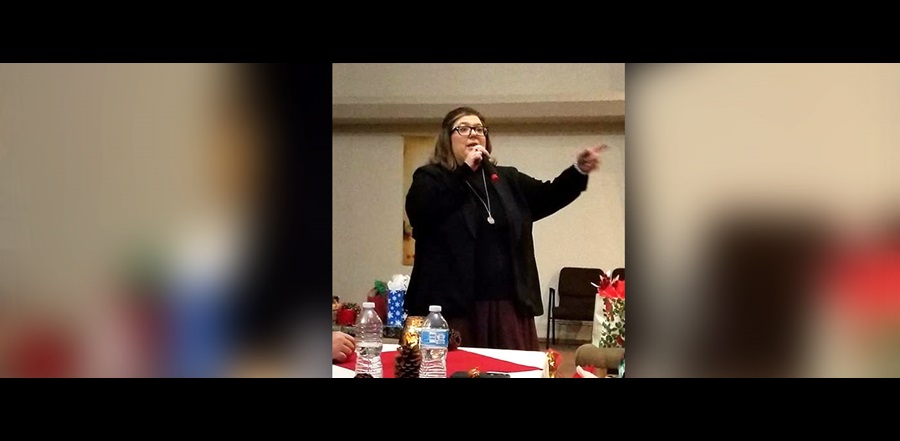 Don't miss any stories. Follow AG News!
When Nicole Estes was called into ministry as a teenager, she was convinced that when she attained her "MRS" degree when she married fellow Trinity Bible College student Troy Heidt and became a pastor's wife, she had fulfilled that calling.
She never dreamed she was wrong or of the pain — and provision — that would come her way 23 years later . . . , but God knew.
Troy and Nicole made for a powerful team. Troy was exceptionally gifted, says Wyoming Ministry Network Superintendent Alan Schaberg. His humor, creativity, dramatic and musical abilities made him a minister of excellence and influence, while Nicole's abilities with children and organization completed the team.
In 2012, the Heidts accepted a pastorate at First Assembly of God in Rock Springs, Wyoming, after pastoring an AG church in Upton for 14 years. The church, started out small —16 people — but the couple worked hard, God blessed, and the church began to grow. Momentum had shifted!
But in October of 2016, the Heidts bought a new mattress. To most, that would appear to be a blessing, but for the Heidts, it disguised a looming tragedy. Troy began to experience a dull back pain. Thinking the new mattress was the issue, the couple didn't think much of the ache. Troy decided to try sleeping in a recliner. The pain persisted.
Another day passed and now the pain in his back was growing in intensity. He couldn't sleep and then the following evening, it started to hurt to breathe — they headed to the ER.
"I drove and dropped him off at the door," Nicole says. "His color was good and he was walking fine."
When Nicole entered the ER, Troy was in a wheelchair, and a nurse was pushing him down the hall. The nurse looked over her shoulder at Nicole and yelled, "I think your husband is having a heart attack!"
The ER doctors conducted a few tests and came back with the disturbing news that Troy had possibly been having a heart attack for three days. Troy was life-flighted to Salt Lake City, with Nicole driving the 190 miles to the hospital on her own.
Throughout the trip, Nicole's mind raced. Troy had shown none of the classic symptoms for a heart attack, but now she was hurrying to Salt Lake City, not evening knowing if he was still alive.
When she arrived, Troy was already out of surgery and set Nicole's mind at ease as things were looking good. Troy had a heart defect that had to be corrected. The doctors said they needed to insert a small temporary pump to allow his damaged lower heart to strengthen and recover and then Troy, following a brief recovery, should be good to go.
Relieved, Nicole phoned friends and family with the good news as the doctors moved forward to place the pump.
But "complications," as a nurse termed it, arose. Troy would have to be revived four times during the operation. The doctors were struggling, finally admitting there were unable to place the pump and had ended the surgery. A few hours later, Troy was gone, never regaining consciousness.
"Basically, he bled out on the table," Nicole says, her voice cracking.
In shock and disbelief, Nicole was overwhelmed, never anticipating that she would be walking out of the hospital without her husband. What now? Where now?
As her brother-in-law drove her home the next day, Nicole centered her mind on the One sure thing in her life — God.
"I remember thinking, God, you saw the whole picture from the start and you know what's going to happen and have my next steps planned, even if I don't know what they are . . . God's got this . . . my heart's broken, but I know that God can put it back together."
At that moment, Nicole felt God's overwhelming peace — that God was indeed with her and was going to take care of her.
The next few weeks were a blur of sorrow and activity for Nicole, but God was always near — as were His people. The church family not only was markedly compassionate, but Nicole marveled at how the larger Wyoming family came together to support her.
"I received a huge financial blessing after Troy passed away from churches in the network," Nicole says. "Troy had been the district youth director, but the fact that they blessed me was overwhelming. We may be the smallest district, but I believe we have the biggest hearts for one another."
Schaberg then came from the network office to meet with the church board.
"I wanted to see how they were doing, as it was a very sudden death and loss of their pastor, but I also wanted to make sure that the church took care of Nicole," Schaberg says. "I wanted to be sure that they were patient, gracious, generous, and would help her with whatever the plan might be."
That's when things took an unexpected and dramatic turn. The board asked Schaberg if it would be okay for them to ask Nicole to continue ministering at the church — as their new pastor!
Schaberg was caught off guard for a moment. Was this something Nicole would want or even felt called to do? There was just one way to find out.
If Schaberg felt like he was caught off guard by the board's request, Nicole's surprise entered a whole new realm.
"They want me to stay on? As what? The secretary?" she recalls asking Schaberg. "Being a pastor is something I never considered."
When she and Schaberg met with the board, Nicole says she began to cry. "I'm not Troy. I can't do what Troy did," she told them. Their response was God-given: "We're not asking you to be Troy, but asking you to be Nicole. We think you're supposed to be our new pastor."
Schaberg, Nicole, and the board agreed to a trial period through the end of the year. In January, after serving in the position of pastor for nearly two months, she told the board she would be willing to be voted on. The result? 100 percent of the votes were in favor of Nicole being the new pastor.
Since that time, Nicole has become credentialed and shares that God is continuing to grow her in her ministry and as a leader. The church has also seen growth, now averaging 80 on Sundays, as it has looked to meeting needs in the community.
"I get text messages every Sunday from multiple ministers in the state, encouraging me," Nicole says. "We're in a journey right now and it's exciting!"
Schaberg has been deeply impressed by how Nicole has handled moving from the tragic loss of Troy and serving in a support role to being on the platform as preacher, teacher, and leader.
"It's a pretty incredible story," he says. "How God has orchestrated this . . . to make this transition to a spouse while the church continues in an upward trajectory says a lot about how God is in control and how He cares about each church, even through a tragedy like this."
And a sure sign of God's blessing on Rocks Springs First Assembly? All the volunteer positions at the church are filled and people are asking what else they can do!
"At first I told God that I didn't think I could do this," Nicole says, reflecting. "But then He told me, 'It's okay, I can do this, if you just let Me.'"
And evidently, she has.