Teen with Autism Impacts Church Camp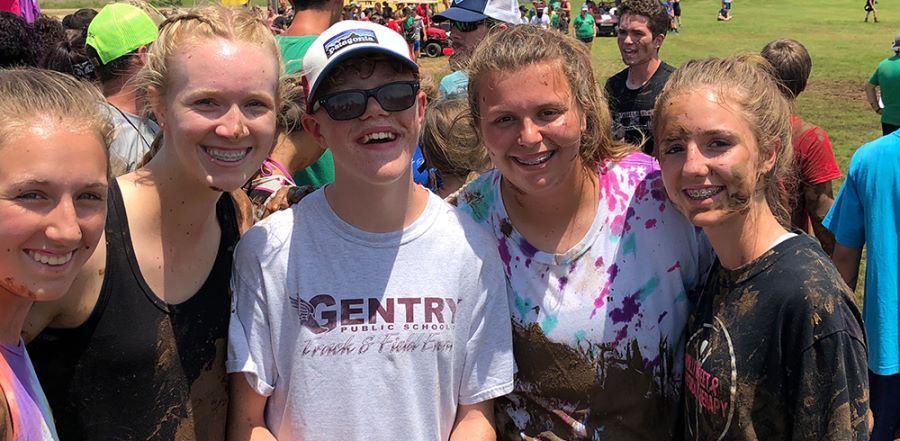 Don't miss any stories. Follow AG News!
It was a late night in February when Jeremy Kuehn, 28, the youth pastor at The Assembly in Siloam Springs, Arkansas, received an unexpected text from Joe Butler. Butler, a U.S. missionary with Intercultural Ministries, was asking permission for his 17-year-old son, Micah, to attend church camp with the rest of the youth group in June.

Normally, a quick text back welcoming a student would have sufficed, but Butler's request required much more than that. Kuehn's mind began to fill with questions, challenges, and the necessary steps to even get permission for Micah to attend.

Although Micah was a member of the youth group, and loved by the church and family, he is a young man with autism spectrum disorder (ASD). In addition to ASD, Micah is cognitively impaired, has attention deficit hyperactivity disorder (ADHD), and struggles with additional physical issues that could make participating in basic camp activities difficult.

Kuehn put the phone down — this was going to take a lot more than a text-message response or a brief phone call.

The next morning, Kuehn called Butler. "So, Micah wants to attend church camp . . ." he began.

Kuehn wanted to hear how Butler envisioned this coming together, and rightly so. As the camp counselor for the boys from his church, Kuehn knew he would be responsible for Micah's well-being, which also carried legal responsibility should something go wrong. But when Butler explained that he would be willing to go as a camp worker and be there for Micah's needs, the path to "making it happen" became much clearer.

Over the next several weeks and months, the two men worked out the details, including making a phone call to then Oklahoma district youth director, Doug Everard. The Assembly kids attend the Oklahoma district church camp because it's two hours closer than the Arkansas district camp. Everard approved the plan, simply urging the men to do whatever they needed to do to make the experience a success.

For people with ASD, there are known, unknown, and evolving "triggers" that can cause extreme reactions. Loud sounds, large groups, unexpected or unfamiliar situations and flashing lights are some of the things that have been known to overwhelm a person with ASD and lead to an episode that could involve screaming, flailing, running, crying, collapsing, repetitive motions, etc.

Youth church camps are often associated with loud sounds, large groups, new situations, and sometimes even flashing lights — was this really the right move for Micah? Would it lead to distracting repetitive meltdowns? Would he even be able to participate much less sense God's presence?

These were hard, but necessary questions. But God had things covered and cleared the way. For although there were concerns about Micah, in retrospect, it's not hard to see that he was just the person God needed to accomplish His plans.

Despite all the potential trigger hazards that youth church camp comes with for people with ASD, Micah didn't have one meltdown. For Micah, it was a remarkable week where he exceeded all expectations.

"I wasn't sure how he was going to do with going to bed at midnight or later each night, being up at 7, and walking about 20,000 steps a day," admits Butler, who uses a device to track Micah's steps. "But he did well physically and seemed to be really in tune with God during altar time."

For Micah, the week was one success after another. From praying at the altar and praying for other students and counselors at the altar to being with friends and being a part of activities, it was an incredible experience for him. And that's not evening mentioning his skill at introducing girls to his guy friends (Micah doesn't really have a filter, so he had few inhibitions when it came to introducing young ladies to his suddenly tongue-tied companions).

"He grew in his relationships with the youth that were there," Butler says. "Not only kids in our youth group, but in our cabin that included boys from three other churches. He also grew spiritually, reaching out and praying for others."

But even though Butler and Kuehn agree that the camp was a big win for Micah, it paled in comparison to what God was doing in the lives of those around him.

Kuehn knows that for teens, life is typically "all about them." And when at church camp, that "all about them" statement is in overdrive as the camp is, in essence, all about them and their relationship with Christ.

Yet God used Micah to help kids see people with disabilities as individuals to love and include, rather than a burden to avoid.

"The guys made a real effort to include and get Micah involved in the games he wanted to be involved in," Kuehn says. "They were caring for him, loving him, including him — and that's hard to do with those who can't always reciprocate, such as Micah, especially with teen-age boys. But they went to another level, including him in games and church services."

Butler says one of the youth group girls spoke with Micah during camp, admitting to him later that she never had a conversation with Micah until that week. "She realized that Micah holds conversations differently, speaking only a few words or a sentence, saying things such as 'You're funny' or 'You're smelly' or even 'You're hairy' in order to start a conversation."

Kuehn recalls how on the last night of camp everyone was down in front during worship, and one song had the teens moving quickly back and forth in front of the stage in a mass crowd — something Micah, with impaired motor skills, physically was unable to do.

"The guys literally picked him up and ran back and forth with him so he could be a part and not get run over," Kuehn says. "I saw my guys living out Christ in a tangible way — it was incredible to see."

But this just wasn't a hit and miss ministry to Micah. Butler says that within the first day, he could already see the other boys making a special effort to include Micah and watch out for him. So, instead of spending the majority of his time watching over Micah, Butler was able to totally fulfill his other camp duties.

"The whole week the boys demonstrated a Christ-like example of loving others," Butler says.

Butler and Kuehn were both caught by surprise by how God worked in the lives of the boys, the level of maturity they displayed, and how they took ownership of their relationship with Micah. It also led to changing the way many of the youth viewed Micah and those with disabilities.

Campers and counselors alike sought Butler out to express their thankfulness that he and Micah had come to camp, as God used them both to impact lives. Following camp, Butler received a text from one of the freshmen boys from the youth group: Hey Joe. I just want to thank you for coming along with us this week and hanging out. You and Micah have made me a better person. Your son has given me patience and also taught me how to love others in a whole new way. And you have been here for all of us young men and have given us such pure words of life. I love you brother, thank you!
When the youth group came back together the next Wednesday night, Kuehn felt prompted by the Lord to talk to them a little about Micah. "I told them, one day, Micah was going to have a restored and glorified body, just like us, in heaven. He'll be no different than us, but I believe he'll remember this time — that students loved him . . . just because he was him."