The Amazing God-Impact in Camp GC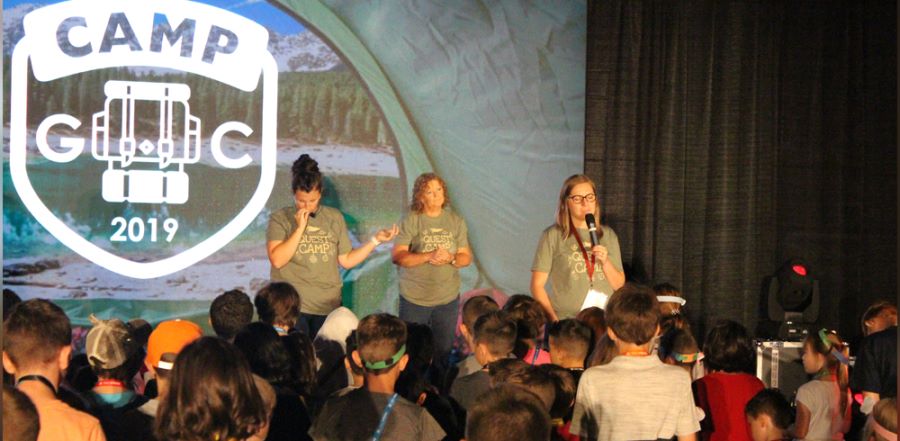 Don't miss any stories. Follow AG News!
ORLANDO, Florida — Peals of laughter, high-pitched screams of joy, silliness of all kinds, and smiling, happy faces everywhere. Those are some of the things people can't help but notice upon entering the Camp GC in the Orange County Convention Center.
When asked, kids talk about the fun they have playing on the inflatables, making edible snacks, and participating in team games.
But there's something else that's going on at Camp GC — a God factor that might be considered unusual for an elementary camp.
"Our morning services' theme is Called by God," says Patti Chapman, Camp GC director. "And the thing I've noticed is that the kids are digging deep."
Chapman believes one reason the elementary kids (ages 5-12) have acclimated so quickly to the spiritual component of Camp GC is that they feel comfortable around the hundreds of other kids attending the camp.
"Most missionary kids and pastor kids don't have other kids around then who understands what it means to be an MK or PK," Chapman says. "But here, they all have parents who do the same thing, they understand each other and it creates an environment for instant understanding and instant friendships."
Carol Sorbino, who has been the children's pastor at Faith Life Church in Port Charlotte, Florida, for the past 15 years, says this group of children are different than the typical group of elementary kids.
"Their expectations and spiritual enlightenment stand out to me," she says. "They're looking for what God wants to say to them. They come expecting [for God to speak], which I love."
George Sorbino, Carol's husband, who is also a volunteer worker at Camp GC, was impressed by the spiritual maturity of some of the children.
"One child really stood out to me – his ability and wisdom to pray over people, it just exceeded his age," he recalls. "A kid, 9 years old, that rooted, praying for other 8-, 9-, 10-year-olds!"
Ezra, 6, is an MK and was excited to share about the rubber band illusion he had learned. But then he paused and pointed to the collectible buttons he had pinned to his camp lanyard. "I gave some of my pins to some kids who didn't have some and I teached my friend, Davis, how to trade with pins."
Cora, 10, who calls herself a Christian kid, says it was a long drive from Tennessee to Camp GC. She says she likes the chapel services the best because she likes dancing along with the songs she gets to sing.
Seven-year-old Gabriella's parents are missionaries in the Far East. She says she loves the bouncy houses because she wasn't expecting them. She also mentions that she loves everything Rachel Pilcher, the camp speaker, has to say.
Carson, who is 9, commented on how he enjoyed the inflatables and the time machine, but he also really liked when Miss Rachel asked the kids to take some time to listen to the Holy Spirit.
"During the worship service on Friday morning, as the kids were at the altar and we were praying," Pilcher explains, "it was one of those moments where I felt the Lord tell me to pause, and then He prompted me to ask the kids, 'What do you hear the Holy Spirit telling you?'"
Pilcher then directed the children who heard from God, to say in a few words what He had spoken to them.
"I heard kids say things like, 'Go help children, Go to Africa, I am known, and God is with me," Pilcher says. "It was powerful."
Josh, 10, is a missionary kid living in Missouri. "I like how God has been talking to me," he says. "Yesterday God told me to be a kids pastor in China and today the Holy Spirit told me to preach the gospel in school."
And Avery, a 7-year-old MK from South Carolina, says she like the activities, but she really likes the worship service. "We get to praise and worship God," she says. And during the worship service, God spoke to Avery as well. "He told me some people in Argentina don't know who He is and He wants me to go tell them."
"The kids are really focused on God," says Robert Cable, 65, who is a children's worker with his wife, Estelita, at Riverside Church in Sebastian, Florida. "We've also learned a lot new ideas ourselves that we want to pass to our kids." The Cables are currently going to school to become children's pastors.
Chapman notes that on Thursday, Camp GC teams became compassion advocates as they filled 1,000 bags of groceries for
Convoy of Hope
. Each of the 10 teams filled 100 bags, with the white team setting a camp record of filling 83 bags in just five minutes.
Five-year-old Amalya, who is an MK, says that packing groceries for Convoy of Hope was her favorite thing to do so far at camp. "I like singing about Jesus too," she says.
"Because the kids are PKs and MKs, they're exposed to so much more to what happens at kids events," Carol Sorbino states. "I'm blessed by the love and joy that's in their hearts . . . you can't manufacture that."