The Lord of the Rinks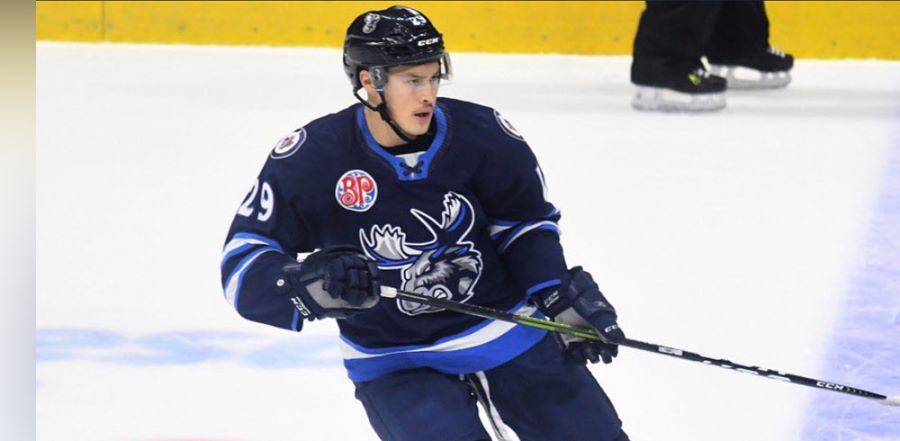 Don't miss any stories. Follow AG News!
Body checking, hip checking, mitts-off fights, Chiclets (teeth) on the ice. Men's hockey is not a sport for the faint of heart. It can be bloody, but it's always bruising . . . and it's also fairly safe to say few people watching a men's professional or collegiate hockey match think, What a nice group of Christian young men!

Yet for Justin Woods, 25, his collegiate and professional hockey careers have been a bit of a revelation for him. He's found God is represented in the arena as Christians are not a rare commodity on the ice.

Woods is a native Alaskan, his father is an Alaskan native and his mother Japanese. He grew up going to church every Sunday, hearing about Jesus. But when his parents divorced, his relationship with Christ moved to the background as hockey consumed his life. Prior to college, he played for elite club teams in California, Alaska, and Nebraska.

But when Woods arrived at the University of Alaska in Fairbanks (UAF) on a hockey scholarship, God had a divine appointment waiting for him — the team's Champs life coach, Ryan Reinheller.

Reinheller, 42, a strong Christian and an outstanding hockey player in his own right, returned to his alma mater with his family when he was offered a "dream volunteer job" with UAF in 2010.

Named a volunteer assistant coach and functioning as the Champs life coach for the UAF hockey team, Reinheller was on staff when Woods arrived. His passion for Christ drew Woods and their relationship began to move from coach to mentor as Reinheller introduced Woods to True North Church (AG), the church he and his family attended.

Woods loved the church, and began going regularly, but suddenly all those new and positive connections were interrupted.

A few years prior to his arrival at UAF, Woods had developed an annoying cyst on his knee. Doctors called it benign, but the cyst was slowly growing and becoming more sensitive to impacts — something unavoidable in hockey.

Finally, following his freshmen year at UAF in 2014, Woods decided to have the cyst removed and be done with it.

"It was benign — it was no big deal," Woods recalls. "But my doctor always sends any kind of cyst or tumor in to be checked as a safeguard."

What was supposed to be a benign cyst turned out to be cancerous — ewing sarcoma. According to the St. Jude Children's Research Hospital website, teens aged 15 to 19 have a survival rate of about 56 percent. Woods had just turned 20 in February.

For someone who had been playing hockey nearly non-stop since grade school and having dreams of playing professionally, there's very little positive that months of chemotherapy, surgeries, and radiation can bring except plenty of downtime. That downtime provided Woods ample opportunities to pray, seek God, and hear from Him.

"We had just started to connect on a spiritual level when he was diagnosed with cancer," Reinheller says. "When he went to Seattle for treatment, I sent him a Bible and a folder with lessons on Christian truths."

Meanwhile, Woods also learned that he was not alone in his battle.

"I had so much support," Woods says. "All my friends, family, hockey community, church family, parents' friends, and people I didn't know all reaching out to me, praying for me. It all helped me know how much I was loved and that God is on my side and there for me."

Following months of recovery, Woods was declared cancer-free and he returned to Alaska, True North Church, and the hockey team — having had to redshirt his sophomore year. At that point, he sought out Reinheller as he had questions about the "Christian truths" packet he had received from him and gone through.

At the same time his spiritual mentorship under Reinheller began to grow, a friendship with Josh Dryer, the executive pastor at True North Church began to emerge. Woods assisted Dryer with a MEGA Sports Camp, teaching kids street hockey and sharing about Jesus.

"Josh is one of my best friends now," Woods says. "He's been so supportive. And his relationship with Jesus is one of the best examples anyone could have ever been for me."

In 2017, Woods along with several other hockey players and other athletes joined Reinheller on his biennial missions trip to Mexico. For Woods, it was a breakthrough experience that solidified his relationship with God and the importance of living for Him on a daily basis.

"It was so fun to watch these student athletes come together from different teams with the unity of Jesus, and just a bond," Reinheller says. "I love seeing student athletes come together with one common goal: to share God's love in a tangible way by building a home for someone in need."

In addition to the missions trip, Woods points to True North Church as grounding factor in his growing relationship with the Lord. "[Pastor] Mark [Zweifel] and Josh and a bunch of other amazing people at the church inspired me to grow closer in my relationship with Jesus," Woods states.

Woods closed out his UAF career as team captain and a highly regarded professional prospect. He then got an agent and began his professional hockey career. The last two years he has been playing professionally in Manitoba, Canada, and Jacksonville, Florida.

"I sometimes am able to share my testimony with guys on the team, especially when they see the nasty scar on my knee" Woods says, "but it's not like I'm the only Christian. The teams I've been on there have been a lot of Christians and we've had the opportunity to do little Bible studies, have special speakers come in . . . it's cool to see how many Christians are on the hockey teams."

However, Woods admits that while traveling and playing professional hockey, there are plenty distractions and temptations.

"You have to focus on the right things," he says. "A lot of things are out there that can get you off the path, so it's really special to me to have Josh and stay in touch with him. He has really helped me stay close to God."

Dryer says that he and Woods talk regularly. "We have a Bible study that we're doing together," Dryer says. "And through the app, we can hold each other accountable."

Since coming to UAF, Woods' family, including his mom and step-dad, brother (who's also a stellar U19 hockey player), sisters, and his girlfriend, Meagan Olsen — who he has had a crush on since 6th grade — and her parents all now attend True North Church.

"My mindset is to be a leader wherever I can," Woods says. "I have a lot of opportunities to reach out to people, and through my relationship with Jesus, help some people because of my past — and that inspires me."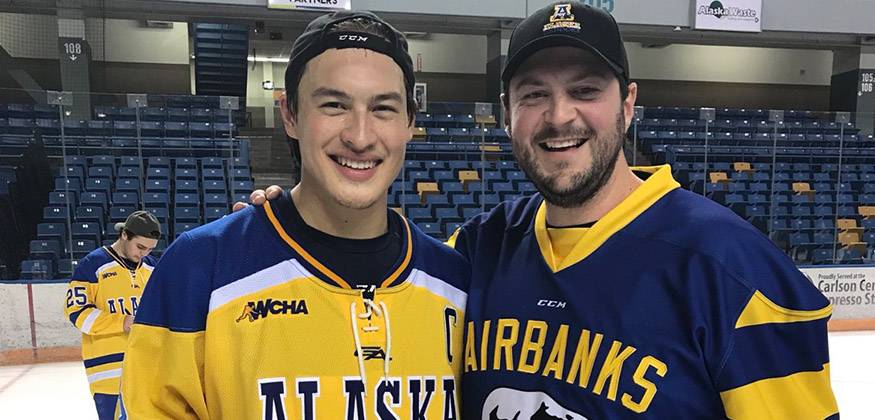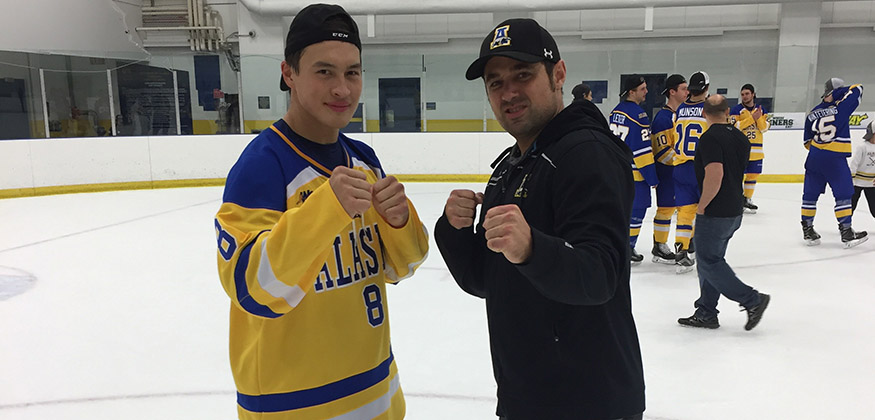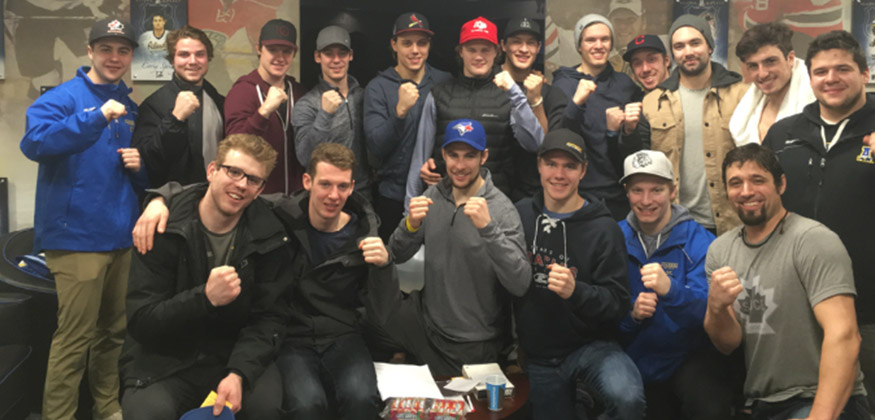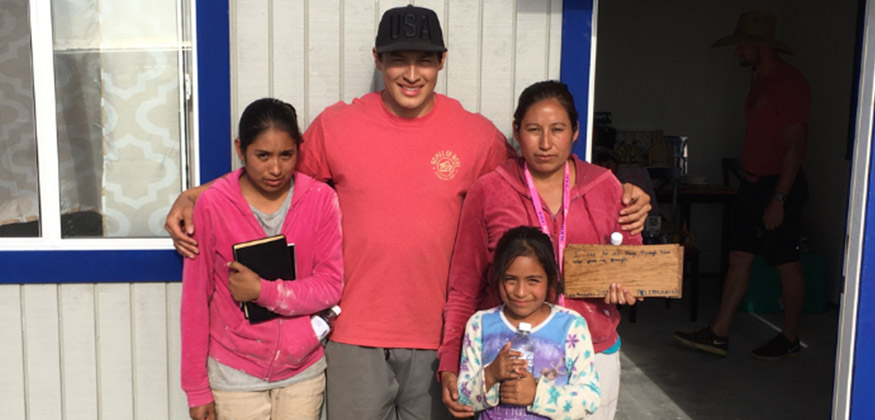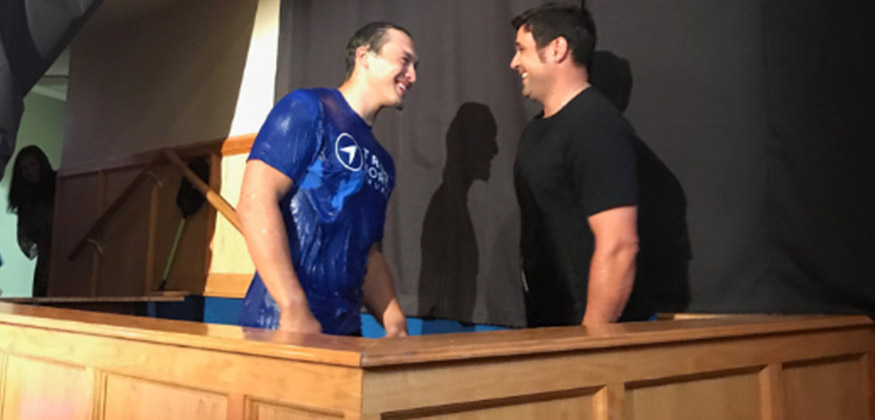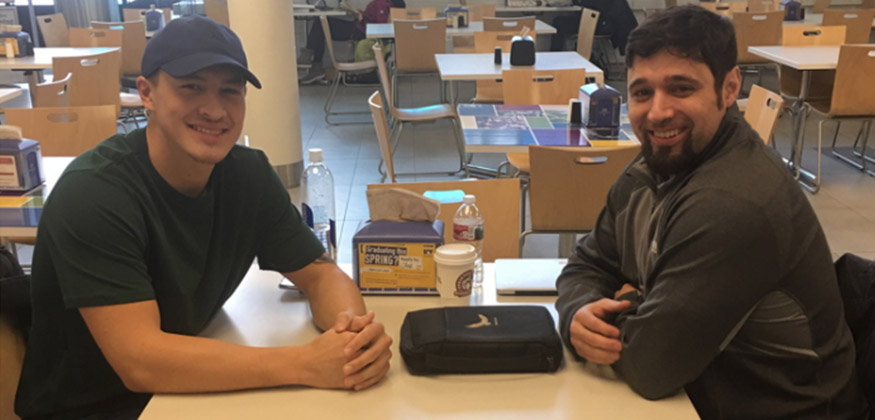 Photo 1: Justin Woods (left) with pastor Josh Dryer. Photo 2: Woods with Ryan Reinheller. Photo 3: Woods (back row, seventh from the left) attending the UAF Nanooks hockey chapel in 2016. Photo 4: Woods and the Garcia-Hernandez family during a missions trip to Mexico in 2017. Photo 5: Woods following his baptism performed by Reinheller in July 2018. Photo 6: Woods and Reinheller in a meeting at the UAF Woodcenter.