This Week in AG History -- Dec. 16, 1939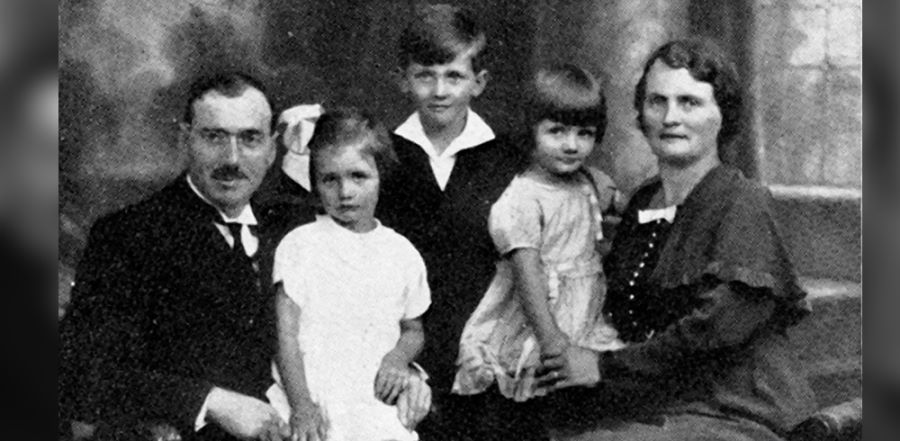 Don't miss any stories. Follow AG News!
Leonard George Bolton (1900-1961), veteran missionary to China, served 37 years as an exemplary servant of God and people. Despite burying his wife and three children, a God-given love for the Lisu people drove him to dedicate his life to establishing a strong Pentecostal church beyond the Mekong River.
Bolton was born in Bournemouth, and his family were nominal members of the Church of England. When his father, William, became ill with tuberculosis it depleted the family's finances. In 1906, news came of a Pentecostal revival taking place at Emmanuel Hall in their town. The family attended the meetings where William was saved, healed, and filled with the Holy Spirit.
After that, church became a regular part of Bolton family life. Once, when Bolton was about 12 years old, he and his siblings were playing "church." The older sister gave a Bible lesson and Leonard felt the presence of God speaking to him about his soul. He knelt by his chair and poured his heart out to God, vowing to serve Him only. Soon after this, he received the baptism in the Holy Spirit with the evidence of speaking in tongues.
At 17, Bolton joined the Royal Air Force to fight in the first World War. Fired upon by Germans while on a rescue mission, his companions were killed and he was blinded by mustard gas. Though sick with trench fever and his eyes feeling as though they were on fire, the illness provided a respite from the fighting, giving time for the young soldier to consider his direction in life. Despite the bandages on his eyes, Bolton had a vision of Jesus who told him, "I want you to be my soldier. I need you to carry my message to the ends of the earth."
Bolton received complete healing from the attack and, after armistice was declared, he returned home ready to fulfill the call of God on his life. He began by preaching in a Romani (sometimes called Gypsy) camp set up near his town. Among the others working with him was a young lady named Olive Chin Chin. They later married and began plans together for missions work wherever God would send them.
After hearing a missionary from the Tibetan-Burma border, the Boltons began to make plans to assist him. There were no Pentecostal mission sending agencies so they organized what came to be called "The Tibetan Border Mission." They embarked on a tedious sea voyage from England on Oct. 20, 1924, landing on Burma soil four weeks later. After three days of anxious waiting, they learned that their host missionary, Alfred Lewer, fearing to take the rope bridge across the Mekong, had attempted to swim the river and drowned on his way to greet them.
Not knowing what to do, they traveled to the next town where they met David, a Chinese evangelist, who helped them find the missionary's widow. God quickly began to bless the new missionary as he picked up the unfinished work of his predecessor.
Soon Leonard and Olive anticipated the birth of their first child. But joy turned to sorrow as both mother and baby died in childbirth. Bolton struggled deeply and questioned whether the work was worth the cost. After a time of grief, God brought peace and flooded his heart with a new love — the Lisu tribe, a mountainous people who had known only hardship, poverty, and oppression by their Chinese neighbors.
A trip to visit these people was an adventure in faith that included crossing the rope bridge on the Mekong where Lewer lost his life. The rope bridge consisted of two parallel ropes – one to grip with your hands and one to walk upon. Bolton wrote about this adventure in the Dec. 16, 1939,
Pentecostal Evangel
: "Fifty miles on the trail brought us to a rope bridge crossing the Mekong. Although one strand was broken, we praise God we were enabled to cross safely with all our supplies … we entered a Lisu village where no foreigner had ever been … we stayed for a week, holding meetings every night … before we left, many families had repented and were rejoicing in their newfound Savior."
When a civil war broke out in the province, all missionaries were evacuated. Bolton then visited the United States where he married Ada Buchwalter and joined the Assemblies of God in 1928. After returning to China, God blessed the union with four children, although two of them did not live past infancy.
In 1949, the Communist Revolution forced all missionaries to leave China. The Boltons spent their remaining years serving in Jamaica, Pakistan, Burma, and Formosa (now Taiwan). After only seven months on the island of Formosa, Bolton experienced a fatal heart attack. His last words to Ada spoke of his life's passion and his love for the mountainous people who were so responsive to the gospel: "The record is finished and I will meet you in the morning … I can see them coming …the Lisu."
Note: The rope bridge over the Mekong River is still considered one of the most dangerous bridges in the world.

Read the article, "Journeying Among the Lisu," on page 10 of the
Dec. 16, 1939, issue
of the
Pentecostal Evangel
.
Also featured in this issue:
• "Hidden Ministry" by John Wright Follette
• "God's Delightful Surprises" by Stanley Frodsham
• "The Birth of Our Unique Savior" by Walter Kallenbach
And many more!
Click here to read this issue now
.
Pentecostal Evangel
archived editions courtesy of the
Flower Pentecostal Heritage Center
.