Persecution Warning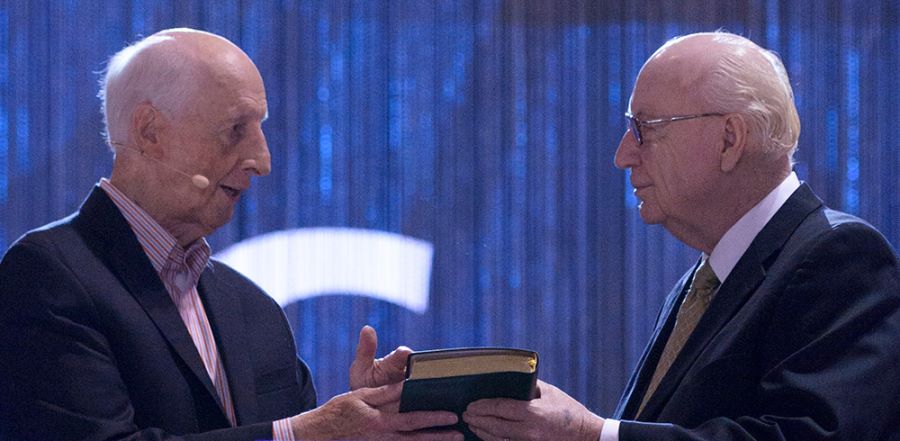 Don't miss any stories. Follow AG News!
Pentecostal statesman, author, and composer Jack Hayford addressed attendees of the Assemblies of God General Council on Friday, warning that American Christians shouldn't expect to escape coming persecution in an increasingly wicked world.
AG General Superintendent George O. Wood introduced Hayford as the most-respected person in Pentecostal/charismatic circles today. Hayford, founding pastor of the Church on the Way in Van Nuys, California, as well as The King's University in Southlake, Texas, commended the AG for the magnitude of its global evangelism efforts.
"Being here with you has an element of feeling at home," said Hayford, former president of the International Church of the Foursquare Gospel. "The kinship runs deep with this Movement."
Hayford focused on the Great Commission and how Jesus foretold of the impartation of the Holy Spirit to prepare His followers for coming troubles. Hayford noted that speaking in the Spirit has been a daily practice for him since the age of 18. While affirming speaking in tongues as the initial physical evidence of the baptism in the Holy Spirit, Hayford cautioned attendees against viewing the gift solely in evidentiary terms.
"God did not give it as a proof," Hayford said. "He gave it as a resource." Hayford said experiencing the Holy Spirit is essential for a church body to grow.
Hayford recounted that he considered a career as a pharmacist before surrendering to the ministry call. He illustrated part of his talk by holding a pestle and mortar, much like the one he used as a young pharmacist's assistant in blending medications. He noted that he initially didn't want to yield to God's ministry calling because he feared the Lord would send him overseas to be a missionary. But he said he came to learn being molded by God is a rewarding process.
"It's better to let God mix the ingredients in your life than to measure your own," Hayford said. Leaders must be open to brokenness before God, repeatedly allowing the Lord to adjust as necessary. At 81 and without the stamina he once had, Hayford said he has a profound sense of wanting to allow God to reshape him in order that he can minister to others.
Hayford said American churchgoers can't ignore the reality that hundreds of Christ followers in the Middle East are dying for their faith. Christians in the U.S., especially the young, will face persecution, to the point of martyrdom, he predicted.
"My prayer is for an awakening in our land right now," Hayford said. "But the evil that is sweeping over our world will increase." He said the Holy Spirit's empowerment would be necessary to stand unto death.
Hayford exhorted pastors to be passionate about the Holy Spirit as a way to lead new Christians into a life of discipleship.
"My prayer is that none of us be seen as merely promoting conformity to a ritual 'baptism in the Holy Spirit' to fulfill a creed or a denominational tradition," Hayford said. "The world is coming unglued, darkness is deepening and the glow of the Light of the World fills our hearts. But penetrating the darkness -- now as then -- will require the flames of Pentecost -- and not only for a day."