A Faith-Based Pitch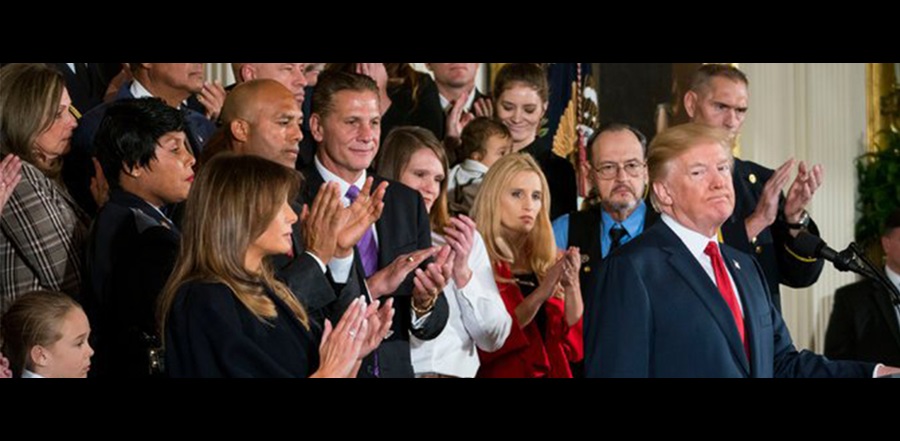 Don't miss any stories. Follow AG News!
New York Teen Challenge Director Jimmy Jack thinks he knows the solution to the nation's opioid crisis: Teen Challenge.
Jack has told Trump administration officials as much, handing a 14-page report to three of them at the White House Oct. 26 when President Trump declared the opioid crisis a national public health emergency. Jack also met with Kellyanne Conway, counselor to the president, who promised to get the report — which details the effective addiction recovery work of Teen Challenge — into Trump's hands.
"Faith-based organizations lead the way in drug and alcohol rehabilitation," says Jack, who, along with Miriam, his wife of 33 years, is a 1985 Brooklyn Teen Challenge graduate. In 1990, after he graduated from Central Bible College, Jack founded Long Island Teen Challenge, which now has 120 beds in three homes on 5 acres.
Jack and his friend Mariano Rivera received personal invitations to the White House to stand on the platform behind Trump as he made the declaration. Rivera — who retired in 2013 as Major League Baseball's all-time saves leader — helped start Refuge of Hope, a Pentecostal church in New Rochelle, New York, pastored by his wife, Clara.
Rivera advised the six-member President's Commission on Combating Drug Addiction and the Opioid Crisis, a panel chaired by New Jersey Gov. Chris J. Christie. The commission released a 141-page report Nov. 2 that makes 56 recommendations. The findings note that there is a critical shortage of housing for Americans seeking drug addiction recovery. Barely one in 10 people who need treatment receive it.
Jack believes the key to overcoming the shortage of treatment locales is a federal partnership with Adult & Teen Challenge that would allocate funds for a "beds and building" solution to the epidemic.
"This proposal challenges the government to intentionally engage, recognize, support, and fund bona fide, community-recognized, faith-based drug and alcohol programs for buildings and beds," says the U.S. Missions Teen Challenge leader. "Teen Challenge is the most successful recovery program that can assist and partner with the federal government in its war against the opioid crisis."
Citing a 70 percent proven sobriety success rate after graduation, Jack says Teen Challenge works because of its faith-based element in long-term residential treatment.
"Addicts that connect to something spiritual are more conducive to becoming rehabilitated than with medication alone," says Jack, who has 50 family members who went through Teen Challenge. "Faith bridges the gap between healing and medication, and has the ability to do what medication alone cannot."
While Trump's declaration last month allows for government flexibility in grant money to fight the epidemic, it didn't authorize additional funds. Trump is expected to send a budget proposal by the end of the year to Congress, which would have to appropriate more money. Jack hopes his report enlightens the president. In addition to Conway and Christie, Jack handed copies of his Teen Challenge proposal to Attorney General Jeff Sessions and Housing and Urban Development Secretary Ben Carson.
There are 261 Adult & Teen Challenge centers in the U.S., with 8,050 beds. Jack notes that Adult & Teen Challenge is able to help clients recover for a fraction of the cost of traditional treatment programs. The cost to rehabilitate 24,000 patients in residential treatment programs would be $8.6 billion annually, Jack says. Teen Challenge could do it for $840 million, or $7.8 billion less.
"We're not in it for the income, we're in it for the outcome," Jack says. "Everyone at Teen Challenge is mission-minded, not money-driven." Typically, he notes, interns who are trained become staff members and administrators, living and eating on site.
Adult & Teen Challenge has the ability to expand rapidly because of experienced and trained leaders and an established curriculum, Jack says. But the government would need to provide the facilities.
Jack also oversees Teen Challenge centers in Albany, Brooklyn, Syracuse, and Buffalo, plus Santiago, Dominican Republic, with a combined 425 beds, including Long Island. In addition, he is pastor of Freedom Chapel International Worship Center on Long Island.
U.S. Missions Adult & Teen Challenge President Joseph S. Batluck Sr., who had input into the report given to administration officials, concurs that Adult & Teen Challenge is the leading specialist on addiction recovery in the world.
"The methods are proven, and the six-decade track record is undeniable," Batluck says. "At the center of every Teen Challenge is a focus on the worth of the individual, the possibility of freedom from addiction, and the importance of the life-transforming power of Jesus Christ."
A gospel-centered approach to addiction recovery can be more effective than merely incarcerating individuals with life-controlling addictions, according to Batluck.
"Teen Challenge has a program to meet addicts at their point of need, whether it is detox, clinical counseling, individual life skills, or family rebuilding," Batluck says. "Boarding schools for adolescents provide premier and life-impacting training."
While there may be no national consensus on how to solve the opioid crisis, there is no denying the extent of the problem, or the reality of the grip of addiction.
The presidential commission's report states that 33,091 people died because of opioids in 2015, making drug overdoses the leading cause of unintentional deaths in the U.S. According to the Centers for Disease Control and Prevention, every day more than 1,000 people are treated in emergency departments for misusing prescription opioids.
IMAGE - Mariano Rivera and Jimmy Jack (in purple tie) stand behind President Trump during his White House announcement.