A Heart for the Immigrant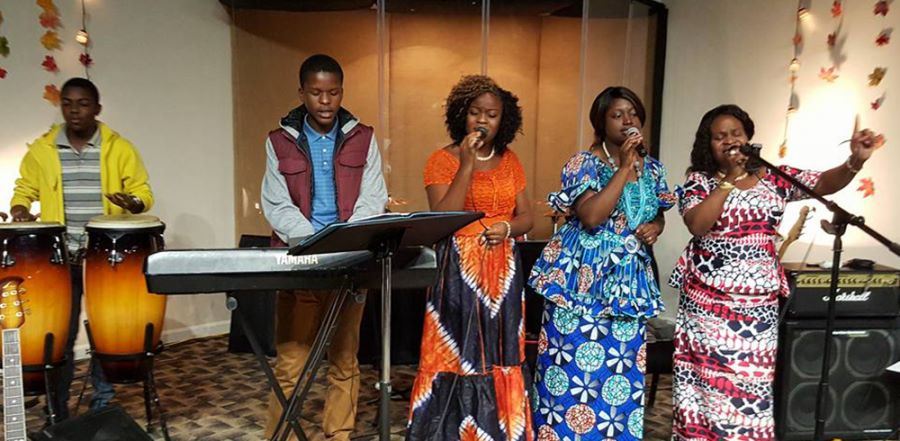 Don't miss any stories. Follow AG News!
Occasionally an international newcomer at Calvary Christian Center in Louisville, Kentucky, would stay for a few weeks, then move on to where other family members lived or to a more moderate climate.
Darren Micah Lewis, who became lead pastor in 2013, knew if the church wanted to keep immigrants from leaving, more intentional steps needed to be taken.
"We began to actively pray for nations in every service," Lewis recalls. "We ask God to send us the nations here."
First a family from the Philippines stayed, followed by one from India. Then the floodgates opened.
Today, half of the 200 people who regularly attend Calvary Christian Center are immigrants. Fourteen flags hang in the sanctuary to represent the homelands of those who have made CCCAG their church. The largest group, around 50, is from the Democratic Republic of the Congo. They meet for a Lingala-language service on Saturday evening and join the English-speaking main congregation on Sunday morning. Last month, CCCAG also started a Saturday evening Spanish-language service led by Cuban pastors. Both congregations are Parent Affiliated Churches.
Lewis tries to learn about the customs and traditions of those from overseas who start coming to the church.
The influx has created challenges, primarily involving language. There are so many French-speaking Africans attending that Lewis now translates his on-screen notes into French using Google Translate slides. Nursery workers who don't know how to communicate with French-speaking parents likewise use a Google Translate phone app.
Muller Malonda, who immigrated to the U.S. in 2006 from the Democratic Republic of the Congo, is the pastor of the Saturday Francophone group, which began meeting in July. In 2013, he moved from Illinois to Kentucky, where he knew no one, because he believed God directed him to Louisville. He quickly found employment in his field of information technology, and asked God to direct him to the right church, which turned out to be CCCAG.
"It is a multicultural church," says Malonda, who volunteers his IT expertise at church. "They are friendly. They received us with hospitality."
Malonda, who also is a Royal Rangers volunteer at CCCAG, encourages the Francophone members to also attend Sunday morning and Wednesday evenings as a way to learn English and American social customs.
"Pastor Darren always listens to the Holy Spirit," Malonda says. "It's not only his way. He lets the Holy Spirit direct the service."
As soon as foreigners have settled into the church, Lewis makes sure they are integrated into the worship and hospitality teams.
"When people come to the door, we want them to immediately see that this is an international church," Lewis says.
The concern for those from overseas isn't confined to the church. Lewis and his wife Jenna started a ministry called Mission 1:27 (based on James 1:27). It is the sanctioned orphan care and adoption advocacy outreach of the Kentucky Ministry Network. The couple adopted their younger daughter Joy from the Philippines three years ago.
In the past five years, Mission 1:27, with support from district churches, has worked with a dozen Assemblies of God World Missions personnel in raising $40,000 in emergency funds. For example, Mission 1:27 is in an ongoing relationship with orphanages in Cambodia and the Philippines to send money and supplies. The ministry likewise provided Christmas dinner for a boy's home in Mexico, a Royal Rangers camping equipment project in Russia, and a women's pregnancy care center in Romania.
Nathan Turney, director of Asia's Little Ones, has worked with Lewis for three years.
"Darren has become a point person for developing a network and advocating for the needs of orphans," Turney says. "It's a great model for advocacy: sharing needs in your circle of influence and then gathering resources."
Lewis's passion for missions is detailed in his book, Captured By the Rising Sun: Missionary Experiences Under Japanese Occupation, 1941-45.