AG Hispanic Umbrella Groups Unite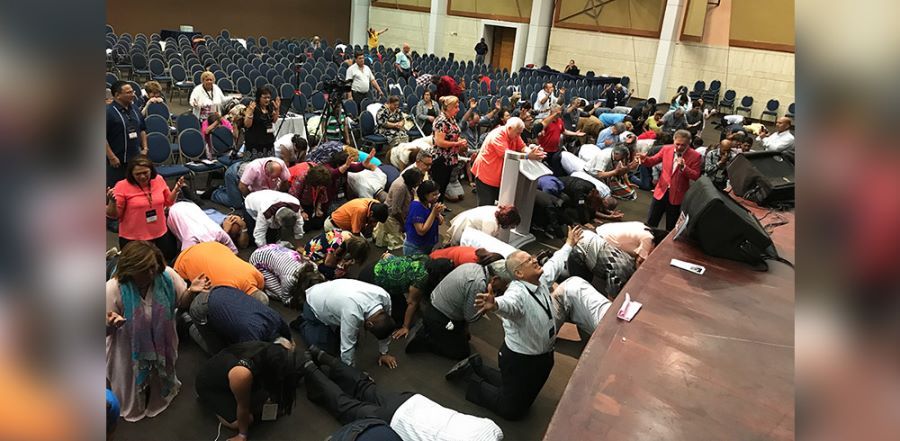 Don't miss any stories. Follow AG News!
Beyond shared language and culture,
Hispanics in the Assemblies of God
are united by their common Pentecostal faith and fellowship. Now two fraternal Latino AG organizations have merged and expanded beyond the Americas, welcoming virtually everyone in the diverse ethnicity, including those in the global diaspora, wherever they live.
Formed in Guayaquil, Ecuador, and named to reflect the global span of the organization, the Worldwide Hispanic AG Brotherhood
FRAHMAD
(Fraternidad Hispana Mundial Asamblea de Dios) is the union of former umbrella groups CELAD (Consejo Ejecutivo de las Asambleas de Dios), which represented AG adherents and churches in Central America and the Caribbean, and CADSA Confraternidad Asambleas de Dios de South America), which made up those in just that continent.
The resulting organization is stronger than its smaller predecessors, according to FRAHMAD Vice President
Sergio Navarrete
, superintendent of the Southern Pacific District, based in La Puente, California.
"The main purpose is to share fellowship and resources, not only locally and nationally, but now globally," Navarrete says. "By joining forces, we are planting Spanish-speaking churches worldwide and we are developing more leaders. When we join forces, we help each other."
Among concrete ways FRAHMAD has aided this cooperation is through congresses and leadership training and development events, he says.
Navarrete points out that over 33 million adherents in the Assemblies of God —nearly half the 69 million-strong worldwide fellowship — are Hispanic. In addition, of the more than 370,000 AG churches around the world, 100,000-plus are Hispanic. Recognizing that by unifying, each area of outreach and care can be more effective, FRAHMAD has established worldwide directors for various ministries, including missions, Bible education, pastoral care, church planting, families, children, women, and youth.
For his part, Navarrete's work as FRAHMAD vice president will involve helping facilitate growth in each ministry area, "bringing about the best the kingdom of God has in the pastors and churches from what God has given us worldwide." Additionally, he will assist in implementing the vision for the Hispanic world of FRAHMAD President Ricardo Castillo, who is superintendent of the Costa Rica Assemblies of God.
David A. Ellis
, Latin American-Caribbean regional director for
AG World Missions
in Springfield, Missouri, notes that part of FRAHMAD's distinctiveness from its predecessor groups is its open invitation to Hispanic AG congregations wherever they exist, not just in Latin America and the Caribbean.
"We have groups of Hispanic churches that are heading toward possibly becoming a district but still aren't considered a district," Ellis says. "They want to belong, to partner with FRAHMAD, and there's a place for them now." Included for the first time are not only the 14 Hispanic AG districts in the United States, but also Hispanic AG congregations in Canada, Spain, Europe, Asia, Australia, and Africa.
Ellis points out that the needs of Hispanic churches and pastors vary by country, region, and economic situation. Needs in Venezuela are distinct from those in Argentina, Mexico, or the U.S.
Spanish-speaking church leaders often tell Ellis of their desire to see more churches planted; the outpouring of God's Spirit; more training for those God is raising up as pastors, evangelists, and teachers; a renewed focus on children; an emphasis on compassion outreach; and more attention to university students.
"I've received emails asking for Bible school directors, more professors, church planters," he says. "When we talk, they want to know if we can send missionaries who can help plant."
Latin America has enjoyed a measure of revival, and Ellis expects that to continue.
"Generations coming up recognize and understand the need to grab this torch of the Holy Spirit and minister in power," Ellis says. "We're praying the next generation will have an even greater commitment and desire to plant churches and train workers."