Affordable, Practical, Personal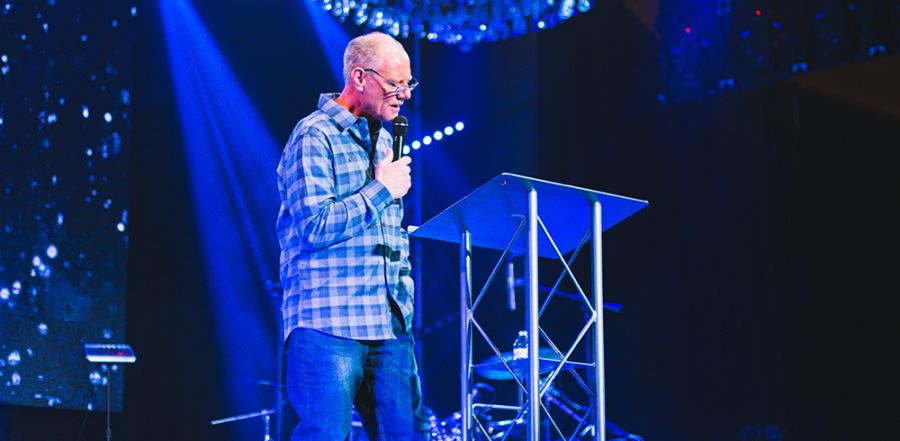 Don't miss any stories. Follow AG News!
While serving as an inner-city pastor in Baton Rouge, Louisiana, in 1991, George A. Neau started the School of Urban Missions when he saw the need to develop ethnic leadership to help meet the moral, spiritual, and financial needs of impoverished neighborhoods. The nascent school moved to New Orleans a year later and opened a second campus in 2000, in Oakland, California.

But the devastation of Hurricane Katrina in 2005 forced relocation of the main campus to Oakland. And the inner-city Oakland campus shifted to the Sacramento suburb of El Dorado Hills in 2018.

Today, all classes are live on the internet and beamed to 43 cohort sites in 22 states as well as to 15 foreign locations. In all, 611 students are currently enrolled, 442 in the U.S. and 169 internationally. Many of the lectures originate from the school's California studio.

In 2008, in a prescient move anticipating the wave of online education, Neau pioneered the cohort model. In 2011, the school changed its name to SUM Bible College & Theological Seminary.

According to Neau, SUM is distinctive because of four pillars: academic excellence, practical ministry, personal mentorship, and affordable education.

Many students who otherwise wouldn't be headed for ministry are enrolled at SUM because of its affordability. Neau doesn't want any young person who has a ministry calling to miss it. His burden is nurtured by memories of his own scarred past. Neau thought little about the Lord as a teenager — even when his father shot himself and died in his arms. Afterward, Neau spent years as a professional rock guitarist before the Lord healed him of a mysterious stomach ailment.

Neau is soft-spoken and unassuming — until the conversation turns to his passion for ministry.

"Ministry is wherever people are," Neau says. "Wherever they are, they need to be reached."

All SUM programs are geared to shape ministers, worship leaders, missionaries, and evangelists. The school offers a pair of bachelor's degrees, in worship and music plus theology and ministry. SUM also tenders master's degrees in divinity, Christian leadership, and biblical studies. A doctoral program is in the works. SUM is accredited by the Association for Biblical Higher Education and the Western Association of Schools and Colleges.

"All we do is prepare men and women for ministry," says Neau, 60. "We're not a liberal arts school."

Indeed, 86 percent of graduates end up in ministry. At any one time, the school operates with 50-75 well-qualified, mostly church-based, adjunct faculty members. More than three-fourths of the faculty hold doctorates.

The school operates on a trimester program, so students can graduate in three years — at a total price tag of under $30,000. Neau is adamant about keeping costs low.

"Students can't graduate saddled with $50,000 worth of debt," Neau says. "They'll be derailed from their ministry purpose."

Roughly 95 percent of those enrolled receive financial aid. After students pay for the first 10 credits, the next six credits are free each trimester. They are required to serve 20 hours per trimester at two hours per week in exchange for free credits. Students are required to choose two practicums per semester, each four hours in duration, which they complete at their local churches. In a new option starting in the fall, 25 students at the main campus will be able to work 20 hours a week in exchange for a housing stipend and full tuition up to the cost of a master of divinity.

SUM is launching a Broadcasting Network of Theological Studies (BNTS) in the fall that is designed to expand its global reach with around-the-clock online materials. BNTS will be key to finding more students — and lowering the cost of education.

Neau thinks he can drive annual tuition expenses down to $3,000.

"We will be able to bring the price point down as we appeal to the greater Church worldwide to support the vision of equipping and launching men and women into ministry," Neau declares.

FACULTY AND STUDENTS
Central Bible College graduate Bryan G. Darrell of Kenosha, Wisconsin, has been teaching theology, Bible, philosophy, and apologetics classes at SUM for a decade. He is completing his Ph.D. in church history at Trinity Evangelical Divinity School, and leads the men's group at Journey Church.

Darrell is convinced that the primary asset of SUM is its combination of academic classroom training with practical hands-on ministry, such as the annual Mardi Gras evangelism street outreach. He is a confirmed believer that students don't need to attend classes at a physical campus anymore.

"The current education model is shifting online," says Darrell, 53. "I'm teaching students in Jamaica, Philippines, Ukraine. If they've got a Wi-Fi signal, they can take classes. Local cohorts provide interactive discussion."

Evangel University graduate Paul E. Fishell, 55, likewise has been teaching SUM classes for 10 years. The first Mardi Gras outreach he attended convinced him such immersion ministry is the best way to disciple students.

"I looked around and we had Puerto Ricans, Mexicans, Africans, Samoans," recalls Fishell, of Belton, Missouri. "I thought, This is what heaven will be like."

These days, Fishell, who is assisting a Reach Kansas City church plant, connects with video feeds before his SUM classes begin in an effort to get to know his virtual community students better.

Crystal Gonzales attended SUM in the early years, when the school only had 30 students. For the past eight years ,she has been in charge of the logistics of the annual Mardi Gras outreach. She met her husband, Juan, at SUM. He directs the outreach initiatives at Mardi Gras.

"I love seeing people saved, people who other Christians may not think about saving," says Gonzales, 42, of Denver. "SUM has a lot of passion for souls."

Neau says the original name — School of Urban Missions — is a bit of a misnomer these days, as students are just as likely to come from suburbia or rural areas as the inner city.

Such an example is student body president Caden Goodnight, in her last trimester at SUM. Goodnight, 22, is from the rural Gulf Coast community of Hurley, Mississippi, a town of 1,500 — and no traffic lights. Goodnight attends a cohort at Full Life, an Assembly of God congregation with an average of 500 adherents worshipping weekly.

After high school, Goodnight initially considered obtaining a business degree, but as she prayed she says the Lord directed her to attend Bible college instead.

"SUM is the best fit I could possibly find," says the biracial Goodnight, who is of Gambian and Caucasian heritage. "It's everything I've dreamed of and more."

She believes her education and fellowship with other students and professors have been enhanced through SUM social media, online, and video connections.

But it's evangelism events such as the annual Mardi Gras ministry that really motivate her.

"I had done outreaches before, but I didn't have the heart for the lost," the cheerful Goodnight says. "I've found sharing my faith and helping others find their identity in Christ comes naturally."

Lifelong Chicago resident T.J. Hughes is another third-year student at SUM. He says SUM has helped him pinpoint his ministry purpose.

"God put a calling on my life to go to the mission field and share the gospel with the lost," says the personable 21-year-old African-American student. For now, Hughes shares his faith with Chicago Public Schools students through CPS for Jesus. He relishes sharing his own redemptive journey.

Hughes says he never knew his father and in an effort to find acceptance he began smoking marijuana and joined a violent gang. Thoughts of suicide contributed to a stay in a mental hospital, but Hughes accepted Jesus at an Elevate Chicago youth group meeting at the age of 16.
Top Photo: Chancellor George Neau addresses students during the Mardi Gras conference in New Orleans in February.
Bottom Photo: Caden Goodnight (right) has found mentors at SUM, including Mardi Gras outreach coordinator Crystal Gonzales.