African-American Trailblazer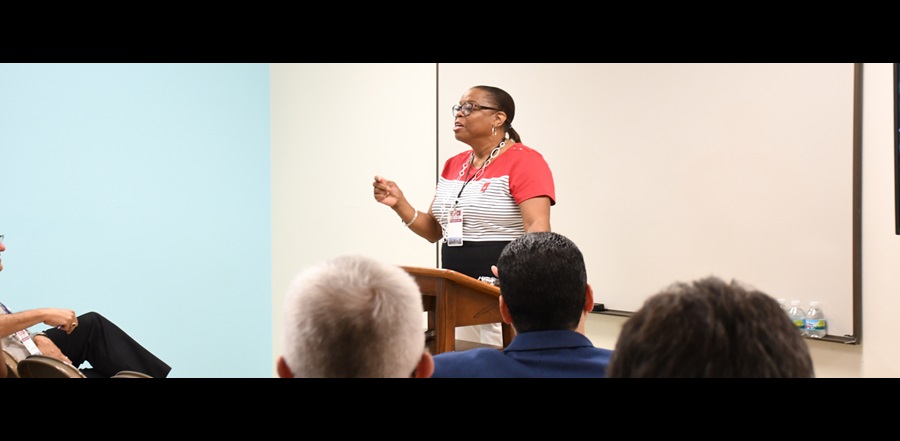 Don't miss any stories. Follow AG News!
When Gloria D. Young went through
Assemblies of God World Missions
pre-field missionary training she looked around the conference and didn't see anyone else who looked like her. She noticed lots of white people, a few Hispanics, a smattering of Asians. But no African-American missionaries at the 2006 event.
Young asked Rick Johnson, AGWM director of Personnel and Member Care, about the lack of diversity. Johnson admitted that, although there had been black missionaries in the past, none existed at the moment.
Young's missionary quest began much earlier. After going on a short-term missions trip to Singapore in 1988, the Richmond, California, native sensed God calling her to full-time ministry after she read Genesis 12:1 in her apartment: "The Lord had said to Abram, 'Leave your country, your people, and your father's household, and go to the land I will show you.'"
"I was a young Christian," Young says. "When God asked me, I said yes."
Friends questioned Young about why she relinquished a good-paying job with tremendous benefits as a letter carrier in Daly City, California.
"God told me my post office career was over," Young remembers.
Young gained ministry experience by working as youth pastor at
Good News Fellowship
in Daly City and
Church on the Hill
in Vallejo. She attended
Urban Bible Training Institute
in San Francisco, became a licensed AG minister, then became junior high pastor at
Harbor Light Church
in Fremont.
From there, Young accepted an invitation to lead singles ministry at
Christian Life Center
in Fort Lauderdale, Florida.
"That is a big missions church," Young says. "I saw everything falling into place."
In 2002, Young became an ordained AG minister. Four years later, she graduated from Palm Beach Atlantic University.
At a missions convention at the church, Young learned from
Tom and Candi Manning
that the
African Black Fellowship
at
Vienna Christian Center
in Austria needed assistance.
Once in Europe, despite having the same skin color, Young found congregants resistant.
"The Africans didn't trust me because I was an American," she says. "It took a while for them to trust me."
Young built friendships — inside and outside the church — and led the African fellowship for a decade. She taught a United Nations women's Bible study and ministered to trafficked women in brothels. Young organized a team of women from the church to knock on doors and asked the prostitutes, all from outside Austria, to attend church and the Bible study. Light for the Lost financed the purchase of Bibles in multiple languages to be given to the women.
While being an American may have caused suspicions among Africans, Young's ethnicity didn't raise as much of a concern as it might have in some U.S. locales.
"Race isn't a big deal in Europe," says Young, 64. "People don't see me as an African-American, just an American."
Still, over the years Young — as a woman, African-American, and single person — has learned to acclimatize to other more dominant cultures.
"Being an African-American missionary, I sometimes have to put my culture on the shelf to adapt to others," Young says.
Young's new assignment is with a coffeehouse ministry in Berlin. The German-speaking Young will assist the staff of
Reset Charlottenburg
, where she will lead worship, preach, and disciple new Christians. Young also will be involved in
Pink Door Berlin
, a faith-based organization that supports sexually exploited women who want to leave prostitution.
"Besides accepting Christ, becoming an AG missionary was the best decision I ever made," Young says. "God has opened doors for me nobody thought I would walk through."
Young also is blessed that more people look like her in AGWM circles. At an AGWM missionary renewal event last year, she saw three other missionaries of color.
"It was an answer to my prayers," Young says. "I was almost in tears. I was afraid no one would be behind me, but now I feel good about it."
Now there are 15 African-American AGWM missionaries, in part because Johnson is placing a priority on ethnic diversity.
"We need to educate ourselves," says Johnson. "We weren't even aware of the kind of barriers we may have been raising."
Danisia Ruffin considers Young a trailblazer. After spending a term as a missionary associate in Nicaragua, Ruffin now is an AGWM missionary in San Pedro Sula, Honduras, working in a spiritual formation and discipleship program for youth.
"Missions wasn't on my radar, and I didn't even know what a missionary did," says the 38-year-old Ruffin, originally from Akron, Ohio. "But the moment I had an opportunity to go to Nicaragua, I knew God was calling me."
Ruffin became a missionary associate in 2014 while attending
Hope Center Tabernacle
in Jersey City, New Jersey. She met Young at a missionary training event.
"She is working hard to recruit others who have a call on their lives," Ruffin says. "The Great Commission can't be fulfilled until everyone is involved in the conversation."
National Black Fellowship
President
Michael Nelson
says the organization welcomes the opportunity to partner with Assemblies of God World Missions. Johnson led workshops on becoming a missionary at the biennial National Black Fellowship conference in Cincinnati in July.
"God told us to go the uttermost parts of the earth," says Nelson, 56. "We've got to fulfill the Great Commission, not just go to cities of the United States. People of color around the world living in worse conditions are asking,
Where are our brothers and sisters of color
?"