Bilingual Blend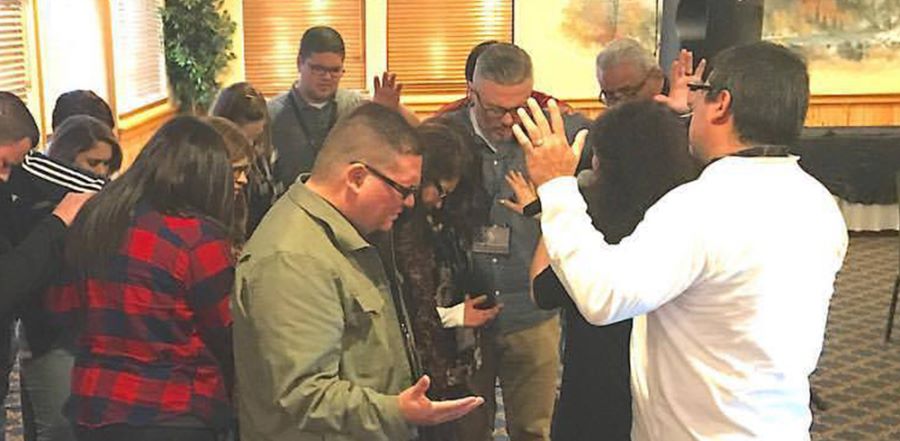 Don't miss any stories. Follow AG News!
Moses Lake, a summer destination 190 miles east of Seattle on Interstate 90, is home to
Sendero Life Center
, a church of more than 400 attendees that combines Spanish-speaking and English-language ministry.
Twenty-one years ago, when Mike and Mary Alvarado accepted a request to be youth pastors at their home church, it drew around 120 people and offered no English service. Mike was born and raised in Moses Lake, and grew up at Sendero, where he was saved and baptized in the Holy Spirit on the same night at age 14. He wanted to become a teacher and coach, so he earned a bachelor's degree in education, married his high school sweetheart, and began coaching youth baseball and football.
But serving as youth pastor awakened his true calling, and after studying at Dream City Church pastor's college in Phoenix, the Alvarados returned to find their home church in need of a pastor. At age 26, and knowing little Spanish, Mike accepted the position, although it took time for congregants to stop seeing the couple as "Mikey and little Mary."
As a second-generation Hispanic, Alvarado didn't feel comfortable writing and speaking Spanish, and for three years he wrote his sermons in English and gave them to his mother to translate before each service. He now is fluent in Spanish.
Employing methods of
Dream City Church
founder Tommy Barnett, such as adopt-a-block and bus ministry, Sendero began attracting more children and youth. But the biggest shift involved starting an English-speaking service to reach the next generation of Hispanics. Some Sendero attendees hoped to continue as a Spanish-only church. But Alvarado had seen peers outgrow a Spanish-language church and fall away from faith — or leave to attend an English-speaking-only congregation.
Initially, the English-language gathering attracted a small crowd compared to the Spanish service. But a decade later, the English service draws three times as many as the Spanish one, mainly because second- and third-generation Hispanics are showing up. The church also switched its name from El Sendero de la Cruz to Sendero Life Center.
Those changes, and a new 10,000-square-foot multiuse facility, helped the church to grow from 120 to 400. It has earned a strong reputation in the community for outreach programs, generosity, and for Alvarado's volunteer efforts as a police department chaplain.
The church also grew in the quality of its worship ministry, and an emphasis on prophetic ministry, the baptism in the Holy Spirit, and the gifts of the Spirit, which helped with soul-winning.
"We have had several people healed in our services, and marriages restored just from a worship service," says Alvarado, now 43.
The English service remains 85 percent Hispanic, but lately the church is drawing more people without any Spanish-speaking background whatsoever.
"I've learned not to use as many Spanish innuendos in English services because people don't understand," says Alvarado, who also serves as the
Northwest Hispanic District
secretary-treasurer. "We are now a multicultural, multigenerational church."
"It's a wonderful, vibrant church," says Northwest Hispanic District Superintendent Hilario "Larry" Garza, 54. "Mike has done great job of leading toward seeking the Lord in a very profound way through prayer, the learning of Scripture, and through developing a culture of men and women who love ministry."