Calm in the Storm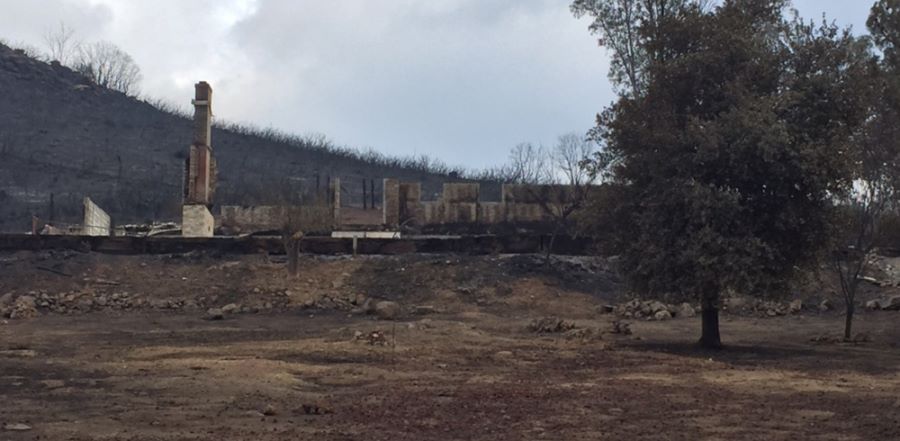 Don't miss any stories. Follow AG News!
Assemblies of God U.S. Missions Chaplain James R. Uhey is wrapping up initial efforts to help in the aftermath of what turned out to be the third-worst wildfires outbreak in California history. The Butte and Valley blazes left 1,958 structures destroyed in a 76,067-acre area.
Uhey began contacting area Assemblies of God pastors to offer help soon after the fires began spreading Sept. 12. However, the assistance provided by Uhey, a full-time missionary who raises his own support in working with the AG Northern California-Nevada District, is different than other organizations. He is focused on helping the pastors in the midst of a crisis.
That involves, for instance, urging pastors not to sign any repair contracts until they are sure insurance will reimburse them and advising them to refuse unsolicited donations of items such as clothing that would likely end up in a dumpster.
"Pastors in the middle of a disaster think they have to be out there doing ministry," says Uhey, who earlier served as a senior pastor for a decade. "My counsel is to take care of their own family."
Uhey provided practical support for Zach and LeAnne Pyzer, who lost not only the church building they pastored, Hidden Valley Community Church, but their residence as well. He also has been working with other AG pastors impacted by the fires, Jonathan E. Smith of Valley Springs Assembly of God and Justin A. Meyer of Calvary Christian Center AG in St. Helena.
The efforts of Uhey, who lives in Capitola, California, on the Monterey Bay coast, are both on the ground as well as over the phone. Although the recovery and rebuilding process can last for years, Uhey stays on an assignment as long as requested in the early going.
Although he is in his eighth year as an AG chaplain heading up the Northern California-Nevada District's Disaster Relief Task Force, Uhey, 63, has been involved in similar relief efforts for more than a quarter century. For example, he spent a month at Ground Zero in New York after the 2001 terrorist attack and 45 days coordinating chaplains in the Gulf of Mexico after Hurricane Katrina in 2005.
Sometimes pastors in good faith take on more than is humanly possible. Uhey recalls the travails of an unmarried pastor in Sri Lanka after the devastating tsunami in 2004. Fifty people in the congregation died in the catastrophe and the pastor had taken in four orphans -- while trying to manage the city's distribution relief site.
In dealing with the wildfires, Uhey, at the request of the California Office of Emergency Services, coordinated communications among faith-based denominations like the Southern Baptist Convention and parachurch organizations such as Samaritan's Purse. In the early going, Uhey issued two online updates daily to ensure that groups didn't duplicate services.
Those individuals with a heart to help, while they may have the best intentions, sometimes create additional problems, Uhey says. For instance, churches may send crews to help clean up a disaster scene, but expect the congregation that has just experienced a heart-wrenching shock to provide meals and housing.
"Church people must understand the grief and trauma involved in a disaster," Uhey says. "Coming in and quoting Scripture isn't necessarily what is most helpful in the beginning."
Uhey suggests that congregations and individuals desiring to help in the aftermath of a calamity send financial donations because there always will be unexpected costs and expenses that insurance doesn't cover.
While not actively engaged in disaster response, Uhey is training church staff and volunteers how to network in anticipation of a crisis.
"Churches need to have a disaster plan in place," Uhey says. "If a church burns to the ground leaders need to know where they would meet in the interim to keep the church going in the aftermath."
He represents the AG Northern California-Nevada District on the Volunteer Organizations Active in Disaster and is president of the Santa Cruz County VOAD group.
Uhey also leads The Phoenix Project USA, which is geared to "educate and train churches and other organizations in the need for networking with others, how to help people in crisis or those who have been traumatized to find hope and healing, building a team that is effective as well as networking with other likeminded groups."
Michael L. Reighard, who heads the AG Chaplaincy Ministries 46:1 Response program, says Uhey is the epitome of demonstrating preparedness. He notes that Uhey's church training and preparedness includes 46:1 Response and says Uhey's skills at organizing a targeted response provide an essential element in the aftermath of a crisis where multiple faith-based ministries converge on a scene.
"If everybody goes in and does their own thing and there are no coordinated efforts, procedures get tossed aside, there can be a redundancy in care, and it can do more harm than good," Reighard says. "Jim gives spiritual care and also instructs people how to be effective in an ongoing response."