Change in the Atmosphere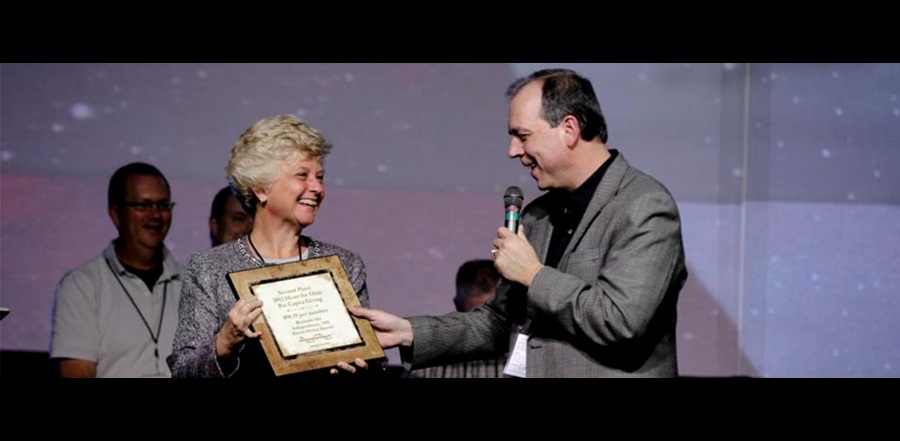 Don't miss any stories. Follow AG News!
Although she is about to become the first female executive at the national office of the Assemblies of God in Springfield, Missouri, Donna L. Barrett has much in common with the Fellowship's rank and file.
She leads a church of just over 100 attendees, in a denomination where slightly more than two-thirds of congregations are less than 100 adherents. As is the case with many credentialed ministers, she received her calling after starting another career, enrolled in
Global University
courses, and toiled in the trenches as a lifelong learner.
However, with 55 percent of AG adherents being female, the
appointment
is most notable because of Barrett's gender. As the incoming general secretary, she is the first female
Executive Leadership Team
member in the 104-year history of the Assemblies of God.
"The brave step that General Superintendent Doug Clay and the Executive Leadership Team have taken by opening this door for me has already, as I've observed on Facebook, breathed a fresh wind across our Movement that says everyone is welcomed at every level of leadership," Barrett, 58, tells AG News. "I hope the model that has been set at the national level will drizzle down throughout our districts with the message that men and women can work shoulder to shoulder as ministerial colleagues much like we see from our church members in the professional world."
Barrett also would like her appointment to encourage local congregations to be more inclusive about ministry leaders.
"I hope young girls will be able to look up on the platform and see someone they can identify with," says Barrett, who is single. "Many of our churches still have an all-male board."
The appointment comes at a time when there are a
record number of women
credential holders — nearly one in four AG ministers in the U.S.
LIFELONG BUCKEYE
Barrett is a native Ohioan, born and raised in Youngstown. She began a career as a paralegal in a law office, but as a volunteer adult on a summer youth church choir tour told God that she would love to be involved in ministry full time. In a defining moment, Barrett says she sensed the Lord immediately confirming her calling.
She spent a decade as youth pastor at
Highway Tabernacle
in Youngstown and seven years as associate pastor at
Bethel Christian Church
in Parma. In 2002, Barrett planted
Rockside Church
in Independence, a bedroom community south of Cleveland. Rockside rents space in an office building and intentionally tries to bridge a gap Barrett noticed between the Church and business professionals.
On June 1, Barrett will succeed James T. Bradford, who in April
announced
he would step down as AG general secretary to devote himself to full-time ministry at
Central Assembly of God
, where he has served as acting pastor. Bradford has been general secretary since 2009. Barrett will fill the remaining 16 months of his term.
In becoming the first female to join the six-member Executive Leadership Team, the shattered glass ceiling could change the dynamics of AG national direction, where a transformation began last August.
Eight of the 21 members of the AG
Executive Presbytery
already are
new officeholders
. The current team also is the most ethnically diverse in history, with seven nonwhite members.
WORKING TOGETHER
Barrett becomes the third woman on the board. Even though since 1935 the AG hasn't placed any constitutional limits on how women can serve in ministry, Beth Grant didn't become the first woman member of the Executive Presbytery until 2009 — elected to a newly created ordained female minister slot.
Melissa J. Alfaro
last year became the first woman elected to the top policymaking body without reference to her gender. However, Alfaro is in office as the designated under age 40 representative on the body.
"A group of men behave differently when a woman is on the team, just as a group of women behave different if it's not just women together," Barrett says. "Men and women don't observe, think, process, analyze, and communicate the same way. With both genders at the table, with all hands on deck, God can maximize all He wants to say."
Barrett is grateful for male mentors who gave her opportunities. She has worked periodically with Clay, former
Ohio Ministry Network
superintendent, and says her goal is to advance Clay's priorities, including
biblical literacy
.
Ohio Ministry Network Superintendent John R. Wootton has known Barrett since his youth ministry days three decades ago.
"She is a solid, competent, gifted leader who happens to be a woman," says Wootton, 51. "She will be an encourager to multitudes of women and men."
Wootton notes that Barrett respectfully voiced concerns years ago about a resolution that had the appearance of granting special treatment for women ministers. Barrett contended that leaders shouldn't be recognized because of their gender, but rather for their giftedness. Subsequently, the resolution underwent considerable vetting and delegates then elected Barrett to the Ohio Ministry Network Executive Presbytery as a general presbyter.
"Donna has the ability to say truthful things, even hard things, in such a way that they are covered in grace," Wootton says. "Her life has a consistent pattern of being marked by choices of what will honor and please the Lord."
Prayer has been a priority throughout Barrett's ministry.
"As a church planter, prayer has been the lifeblood of everything we do," Barrett says. "Prayer isn't a department of the church or an assignment for just a few in a group. Prayer is to the Christian what oxygen is to the physical body."
That prayer emphasis also can be a means of evangelizing non-Christians. On the National Day of Prayer earlier this month, Rockside organized seven prayer sites throughout the city of Independence.
"Prayer has been a connector for followers of Christ, but we also want to guide people who may not practice praying or who may not know how to pray," Barrett says. "Prayer even translates to secular culture. My prayer as a pastor has been to help people talk to God and to hear from God."