Chaplain Promoted to Brigadier General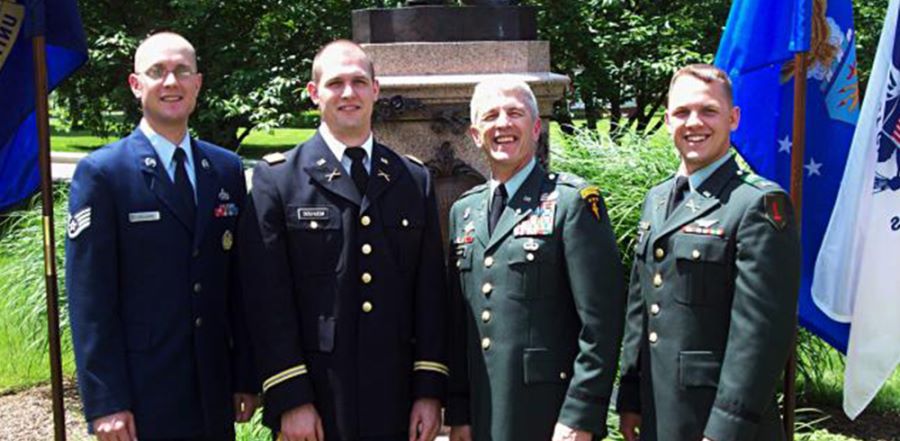 Don't miss any stories. Follow AG News!
Thomas L. Solhjem, a U.S. Missions Assemblies of God chaplain since 1988, is the new deputy chief of chaplains for the U.S. Army. Solhjem today is elevated to the rank of brigadier general after five years as a colonel, following the earlier appointment ratified earlier by Congress.
"Chaplain Solhjem is without question recognized as one of the finest senior chaplains in any branch of the military," says Scott McChrystal, AG U.S. Missions Chaplaincy Ministries military representative. "This is an extremely significant position and Chaplain Solhjem has a high quality of professionalism and is dedicated to ministry. He is spiritual, knowledgeable, relational, and energetic."   
Solhjem will be based at the Pentagon and report to the newly named Army chief of chaplains, Maj. Gen. Paul K. Hurley, a Catholic priest. He also will have oversight at the U.S. Army Chaplain Center and School at Fort Jackson, South Carolina. Part of the new job involves traveling extensively overseas, including in combat zones, to engage with senior leaders of installations, chaplains, and assistants.
McChrystal notes that Solhjem, with years of deployment experience, has conducted pioneering research on taking care of the families of military members. Solhjem sees tending to the religious needs of soldiers, families, and Department of Defense civilians -- particularly those who have been in war zones for a long time -- as a priority.
"Many have been fighting a protracted conflict for 14 years," Solhjem says. "Afghanistan is still here and Iraq is resurging."
The U.S. can't afford to ignore the religious realities of war zones, Solhjem says.
"It's imperative in the light of the resurgence of ISIS that we as a nation and as a military force understand the role of religion in conflict," Solhjem says. "It's political, it's local, it's ideological, and it can generate or exacerbate conflict."
Being in danger is nothing new for Solhjem. He has deployed a combined 68 months, including as command chaplain in both Operation Enduring Freedom in Afghanistan and Operation Iraqi Freedom. His awards and decorations include the Legion of Merit, Bronze Star Medal with four oak leaf clusters, and the Meritorious Service Medal with five oak leaf clusters.
"Soldiers today face unique challenges in an uncertain and complex world," Solhjem says. "Chaplains can step up and help provide stability and hope. That doesn't mean there isn't pain, difficulty, and challenges. But in the end, when you have the moorings of faith, family, and friends in life, you will be better for it."
A native of North Dakota, Solhjem enlisted in 1973 at the age of 17. After graduation from high school, he went on active duty, becoming one of the first to join the all-volunteer Army after the draft ended in the waning days of the Vietnam War.
Solhjem reported to West Germany in an era when the Army had a fair number of soldiers with alcohol and substance abuse issues. Racism likewise riddled the military.
But that didn't stop a black medic from befriending Solhjem and eventually sharing his faith with him. The medic introduced him to a chaplain at the installation, who mentored Solhjem in the Christian faith.
Yet Solhjem didn't care all that much for the Army, and looked forward to leaving as soon as he finished his initial tour of duty. However, Solhjem felt called to serve the Lord, and promised God he would be obedient even to the point of becoming a chaplain. In what he likens to a "heavenly affirmation," Solhjem says God convinced him to pursue military chaplaincy. Solhjem remained in the Army Reserve while pursuing further education.
In 1977, Solhjem married childhood friend Jill Walberg, who had been called to missions as a girl and who become Pentecostal as an adult. They attended North Central University together. Solhjem, upon becoming a licensed Assemblies of God minister, spent six-plus years pastoring Northside Assembly of God in inner-city Minneapolis.
"Our calling is to serve those in uniform and their families through incarnational ministry of presence," Solhjem says. "Jill has been an absolute partner in ministry, every bit as called and committed as I am. It takes a special wife with a special calling to sustain that in marriage. But Jill and I firmly believe we are stronger and better for it in so many ways. Because we've both sacrificed, we have more respect for each other than we could ever have dreamed."
The couple's three sons -- B.J., Thad, and Sam -- followed their father into the military. Thad will be promoted to major in the North Dakota National Guard in October; Sam is a captain at Fort Riley, Kansas. B.J. remains in the Air Force reserves.
Solhjem is the first AG Army chaplain to attain the position. Two AG Air Force chaplains, Cecil R. Richardson and David H. Cyr, both rose to become deputy chief of chaplains. Richardson eventually became Air Force chief of chaplains. He served as a two-star general, the highest rank available to a chaplain, from 2008 until his retirement in 2012.
Thomas Solhjem pictured second from right