Christian Baker Triumphs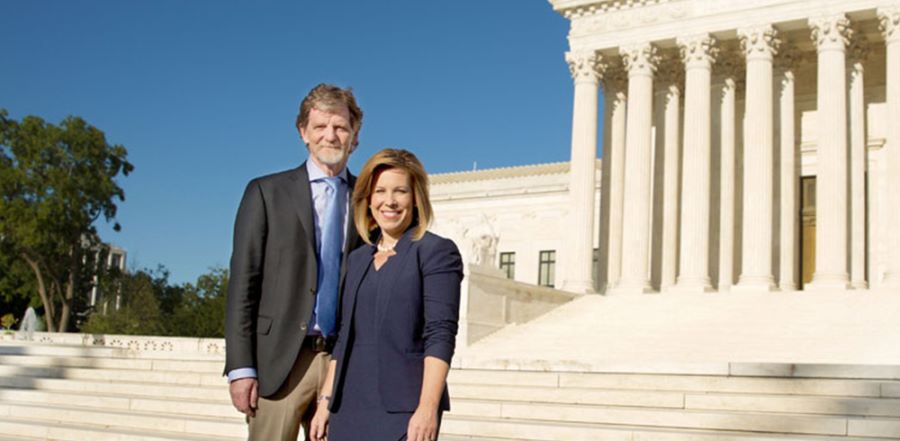 Don't miss any stories. Follow AG News!
The U.S. Supreme Court Monday ruled in favor of devout evangelical baker Jack C. Phillips, who had been sued for refusing to make a wedding cake for two homosexual customers. The 7-2 decision in Masterpiece Cakeshop v. Colorado Civil Rights Commission pitted a clash of freedom of religion against gay rights.
The ruling roundly faulted a decision by the Colorado Civil Rights Commission in 2014 that concluded Phillips violated the state's public accommodations law by refusing to create a cake celebrating a same-sex wedding. Subsequently, the panel's order required Phillips, owner of Masterpiece Cakeshop in Lakewood, Colorado, to stop making any wedding cakes. He lost 40 percent of his business and half a dozen employees. The Colorado Court of Appeals upheld the ruling in 2015.
Justice Anthony Kennedy wrote the majority opinion for the court. Kennedy has written every major gay rights ruling issued by the U.S. Supreme Court, including the 2015 landmark Obergefell v. Hodges 5-4 decision that legalized same-sex marriage throughout the land.
In Masterpiece Cakeshop, Kennedy wrote that the Colorado Civil Rights Commission violated the U.S. Constitution's Free Exercise Clause. He said religious or philosophical objections to gay marriage are protected views. Kennedy wrote that the Commission erred in the Phillips' case by showing "elements of a clear and impermissible hostility toward the sincere religious beliefs motivating his objection." The panel's consideration of Phillips' claims "was neither tolerant nor respectful of his religious beliefs," Kennedy stated.
"The law must be applied in a manner that is neutral toward religion," Kennedy wrote. "To Phillips, his claim that using his artistic skills to make an expressive statement, a wedding endorsement in his own voice and of his own creation, has a significant First Amendment speech component and implicates his deep and sincere religious beliefs."
Kennedy made it clear that religious liberty is protected in a confrontation with gay rights.
"When it comes to weddings, it can be assumed that a member of the clergy who objects to gay marriage on moral and religious grounds could not be compelled to perform the ceremony without denial of his or her right to the free exercise of religion," the ruling states. The case had been in the courts since 2012 — before same-sex marriage became legal in Colorado.
Kristen K. Waggoner argued the appeal in Masterpiece Cakeshop v. Colorado Civil Rights Commission before the high court in poised and reasoned responses to questions last December. Waggoner, 45, is senior vice president of the U.S. legal division of Alliance Defending Freedom, the nation's largest organization protecting religious freedom and the sanctity of life. She is the daughter of La Vonne and Clint M. Behrends, superintendent of Cedar Park Christian Schools.
Waggoner attended Northwest University, an Assemblies of God school in Kirkland, Washington. She now oversees all of ADF's U.S. legal and communications work, including a team of nearly 100 as well as a litigation network of 3,000 affiliated attorneys around the nation.
In a media briefing Monday, Waggoner said the high court correctly determined that the state of Colorado had been openly antagonistic toward Phillips' traditional Christian views about marriage.

"The court's decision today makes very clear that the government must respect Jack Phillips' beliefs about marriage," Waggoner stated. "If we want to have freedom for ourselves, then we must extend it to those with whom we disagree. The court's decision in a 7-2 broad ruling held that religious hostility has no place in our pluralistic society. No one should be bullied or banished from the marketplace for peacefully living out their beliefs about marriage."

With the 61-year-old Phillips prevailing in the case, Waggoner expects a potent cultural backlash. She anticipates that Phillips and ADF will be portrayed in the media as gay bashers. Waggoner notes that Phillips has employed gays and ADF wouldn't represent a client who merely wants to deny service to gays and lesbians.
Only Justices Ruth Bader Ginsberg and Sonia Sotomayor dissented in the Masterpiece Cakeshop ruling. In a concurring opinion, Justice Clarence Thomas warned that Obergefell v. Hodges set the stage for a cultural view that those who disagree with same-sex marriage on moral grounds are bigoted. He predicts more clashes between gay rights and religious liberty. Indeed cases are pending around the country involving Christian florists, photographers, and other professionals.
"In future cases, the freedom of speech could be essential to preventing Obergefell from being used to 'stamp out every vestige of dissent' and 'vilify Americans who are unwilling to assent to the new orthodoxy.'"

Assemblies of God General Superintendent Doug Clay is pleased with the ruling, but cautions that it shouldn't be viewed in a vacuum.

"Religious liberty issues will continue to be tested," Clay says. "While we enjoy this Supreme Court decision, let's continue to pray for our government leaders, our judicial system, and above all, act like Christ as we seek to always be salt and light in our culture."