Clay Urges AG Family to Celebrate God's Call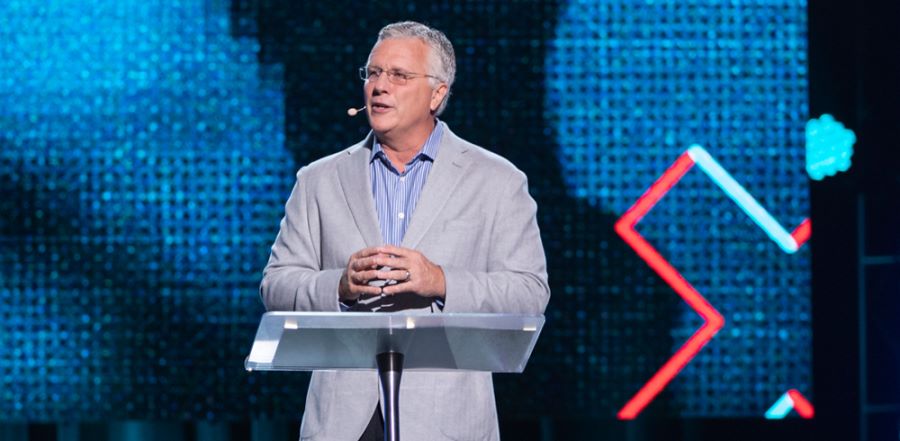 Don't miss any stories. Follow AG News!
ORLANDO, Florida — In a passionate, earnest message about understanding and celebrating the call of God, General Superintendent Doug Clay gave his keynote address to a General Council audience of nearly 7,000 Thursday night in the Orange County Convention Center.
"Our calling is not a job — it is so much bigger than what we do for a living," Clay stated. "It is the definition of God's intention for our lives."
Referencing
John 15:16a
, Clay went on to examine the cycle of God's call on a person's life and the typical experience with "the call."
Clay explained that God's call typically starts with revelation — the call, followed by hesitation — questioning the divinity of the call, motivation — putting yourself in a position to prepare, initiation — stepping out, rationalization — did I really hear from God?, and temptation — did God really know what He was doing when He placed me here?
And with that final step of the cycle, Clay pointed to
1 Corinthians 7:17a
—
where you are right now is God's place for you!
"I want to talk to you about letting the Holy Spirit renew the joy of your calling," Clay explained.
Following reading
1 Corinthians 1:24-31
, Clay observed that our calling is from God, which is a calling that gives light, creates vision, and even raises the dead — as Lazarus responded to Jesus' call.
Citing
Jeremiah 1:5a
(NCV) and
Ephesians 2:10
(LB), Clay continued: "Contentment in the ministry doesn't have as much to do with geographical location as it does vertical and horizontal relationships."
Clay then expressed his prayer that wherever a person serves, the literal place where God has placed them, that "you would fall in love with the place of your calling."
He urged AG members to not fall to the temptation to notice other pastures, but to learn "to mine the diamond opportunities where you are."
Changing direction slightly, Clay observed that a person's calling includes being a part of the Assemblies of God family.
"We can embrace the entire body of Christ, while at the same time stewarding our loyalty to our immediate family," Clay said. "I challenge us, if you carry the card, be all in."
What does it mean to be Assemblies of God? Clay provided a clear identity: biblical engagement, Spirit-empowered, and missions participation.
"I want to be known as the church that believes in the power and inspiration of Scripture, to be known as the church that believes in miracles, and to be known as the church that simultaneously believes and practices the gifts of the Spirit and the fruit of the Spirit," Clay declared.
Clay also directed attention to the fourth and subsequent generations of the church, which some say typically don't even know the faith of the first generation.
"I want the students of this Fellowship to know that our generation is passionately in love with Jesus, that we are all in on Scripture, Spirit, and missions," Clay said, adding later, "but I do want them to experience their own Pentecost."
Addressing the issue of people, Clay agreed that it takes the affection of Christ (
Philippians 1:8
) to love them as sometimes the unredeemed and redeemed are not easy to love.
Clay then made a powerful statement. "It's all about serving people. If serving is beneath you, then leadership is beyond you." He encouraged the audience to speak to God about people and to fall in love with the people God has called them to lead.
Acknowledging that some have struggles with their call, Clay explained that each person has a God-created uniqueness to handle the assignment of his or her call.
He urged believers not to let their self-talk to be louder than God talk, contrasting his personal discovery when reading the defeating self-talk in
Job 3:25
(NKJV) and the overwhelming power of God talk in
Joshua 1:5-9
.
Clay then illustrated his point, revealing how negative self-talk, whether it be the call seems to be impossible, scary, too difficult to figure out, or even if there is a sin factor, is transformed by God talk, which makes all things possible, reminds us the spirit of fear is not of Him, that He offers His understanding, and He is faithful to forgive.
"It's my desire for many of us to be baptized with a Spirit of enthusiasm for living out your calling," Clay concluded. Don't let common excuses the enemy uses, such as I can't, I don't know how, I don't have time, I'm afraid, I can't afford it, or I'm all alone keep you from operating in the enthusiasm of your calling!
In calling people to the altar, Clay said, "The enemy may be using one of those excuses to keep you from having joy in celebrating the people, the place or the assignment of your call . . . I believe the Holy Spirit wants to baptize you with the Spirit of joy for your ministry assignment."
Hundreds came forward to give God their excuses and claim God's promises and joy.
To watch the complete Thursday night General Council service, including the pre-service Backstage production, go to the Assemblies of God USA
Facebook page
.