Convoy, Districts Respond to Hurricane Ida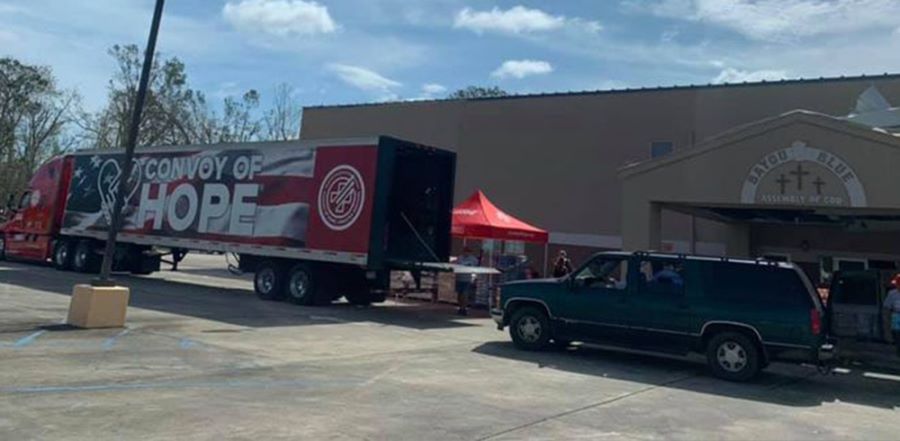 Don't miss any stories. Follow AG News!
Before Category 4 Hurricane Ida made landfall on Saturday,
Convoy of Hope
was already prepositioned with 19 different vehicles in northern Louisiana, prepared to move into disaster zones to aid victims once the storm had safely passed.
On Monday, Convoy started moving into the disaster zones with truckloads of food, water, and relief supplies. Reports have listed more than one million without power in Louisiana, including the entire city of New Orleans, with some hard-hit areas potentially to experience power outages for weeks.
"As we look around the affected communities, it's easy to see how both water and wind damage have devastated the areas in Ida's path," said Stacy Lamb of Convoy of Hope's Disaster Services team in a news release.
Convoy also dispatched three additional tractor-trailers of aid to join the original 19 vehicles as the need looks to be extensive and ongoing for some time.
"Right now, we have two distributions actively occurring, and another scheduled to take place tomorrow," Lamb said. "We're happy we can reach the people of Louisiana in their time of need."
According to the
Louisiana Network Ministry
, five AG churches have reported significant roof and/or water damage so far, including in the cities of Houma, New Orleans, Belle Chasse, Gretna, and Des Allemands. However, with power out in many areas and cell towers spotty, not all churches have been able to report. Network Superintendent Scott Holmes and Secretary-Treasurer Den Hussey are currently driving into the disaster zone areas to assess damages and connect with pastors.
According to Robert Bingham, the director of Team Hope, the
Mississippi District
Disaster Relief team, so far no Mississippi district churches have reported significant damages. However, he notes that more than 1,000 homes have massive flood damage, 150 roads in one county alone were underwater, and a portion of Highway 26 collapsed, killing two people.
Bingham says that Team Hope will first address any issues it learns about in the Mississippi district. After that, the team will move on to help the Louisiana Network in aiding victims.