Defusing Soldier Stress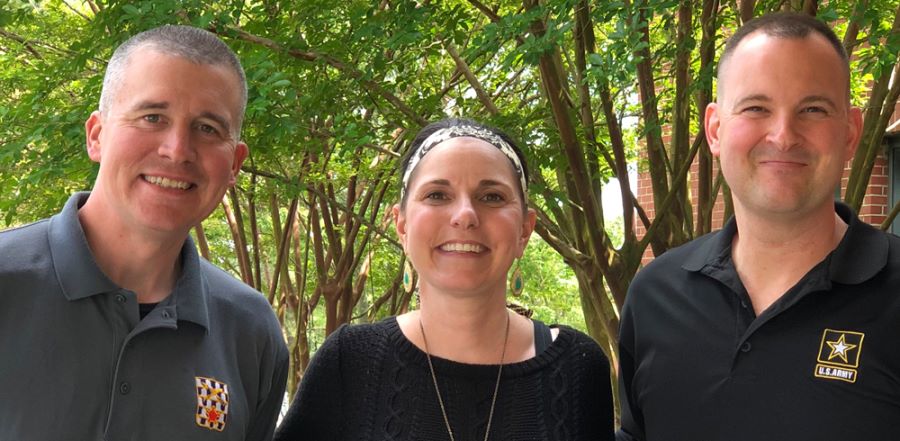 Don't miss any stories. Follow AG News!
FORT BRAGG, North Carolina — The basis for a strong U.S. military is a well-equipped and well-trained force. But in recent years, the armed services also have come to understand the importance of soldiers possessing a sound mind.
According to the
latest data
from the U.S. Department of Veterans Affairs, more than 6,000 veterans have committed suicide annually during the past decade. The rates have risen sharpest for soldiers under age 35.
Reasons include post-traumatic stress disorder after combat, longer deployments, and feelings of isolation upon returning to the U.S. The military has
devised studies
in an effort to reduce stress for personnel. Talking troubles over with a counselor is one key.
There are 100 chaplains among the more than 57,000 military personnel at
Fort Bragg
in North Carolina. Assemblies of God chaplains Christopher W. Weinrich and
Joshua J. Ziegler
, along with three other Army chaplains, work at the
Watters Family Life Center for Counseling and Resiliency
on the post.
The Waters Family Life Center offers free confidential counseling, to individuals and couples, for service members, veterans, and dependents.
"The big issues are deployment stress, anxiety in relationships, and anxiety about personal goals," says Weinrich, who is obtaining a second master's degree, this one in counseling, through a 17-month course sponsored by the center. "The image of what the Army was supposed to be doesn't always match their experiences."
The exuberant Weinrich, 40, and his fellow counselors help soldiers find remedies in areas such as setting goals, communicating effectively, and establishing healthy boundaries. Weinrich relies heavily on theories espoused by Charles Allen Kollar, who served three tours as a U.S. Navy chaplain. Kollar, who pastors
Innovation Church
in Cresco, Pennsylvania, is the author of
Solution-Focused Pastoral Counseling
.
"In sessions, the counselor asks questions to help soldiers come up with solutions on how to adjust behaviors," says Weinrich, a Central Bible College graduate. "This works particularly well with young soldiers, who often get into bad habits like alcohol abuse while trying to 'fit in' because they don't know alternative behaviors."
Chaplains who have faced the rigors of combat gain extra credibility with troops. Ziegler, a major, served five tours of duty as an enlisted soldier and a chaplain, including in Iraq and Afghanistan. His honors include the Bronze Star, the Army Commendation Medal, and the Combat Action Badge. Weinrich, also a major, deployed to Iraq in 2009 and again in 2011 and has been awarded the Bronze Star.
Once they graduate from the Family Life program, Zeigler and Weinrich will train other chaplains in family life skills and pastoral competency. Weinrich's wife of nine years, Rebekah, is a licensed professional counselor who at times assists him. Ziegler's wife of 21 years, Jamie, works as a volunteer pastoral counselor at the Waters Center as she gains experience toward becoming a licensed professional counselor. She has a master's degree in counseling and team teaches marriage conferences and workshops with her husband.
Jonathan L. Ginder, an AG chaplain and a former Waters Family Life Center trainee, is family life chaplain at Fort Bragg. Ginder's wife of 16 years, Kelly, is an ordained Assemblies of God minister who also is working on obtaining her marriage and family license through the Family Life Center. She simultaneously is counseling soldiers and their family members. Ginder, a graduate of
Southeastern University
, has been a worship pastor, children's pastor, part of a preaching team, and women's ministries director.
"The Lord has expanded my calling," says Kelly Ginder, 39. "I'm thankful for the opportunity to fulfill my calling alongside my husband." The Ginders have been at Fort Bragg for two years. In referrals by chaplains, she focuses on soldiers and family members with marriage and relationship challenges.
"By incorporating the Holy Spirit in counseling models it often leads to healing the complete person," says the extroverted Ginder.
Clients aren't necessarily Christian, but Ginder says she isn't restricted in sharing about the importance of making a commitment to the Lord.
"People know they are coming in for spiritual attention," Ginder says. "Clients can be atheist, pagan, nominal Christians, or dabbling with palm readers. I can show what isn't godly."