Derecho Hits Iowa AG Churches Hard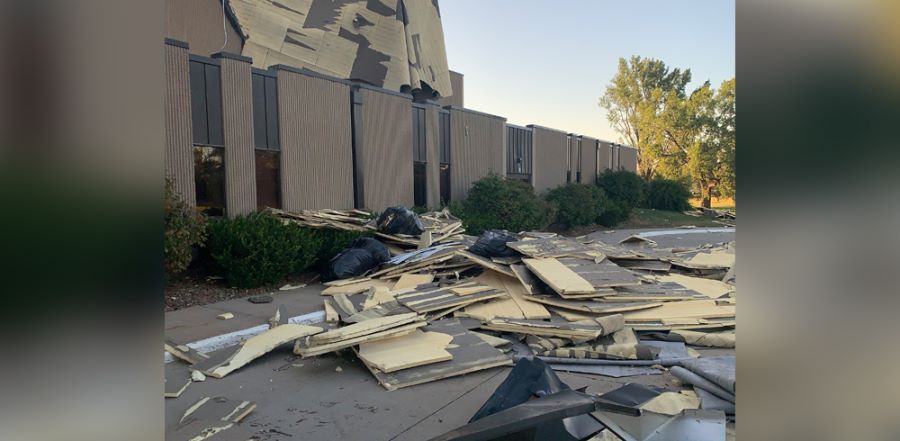 Don't miss any stories. Follow AG News!
At least two Assemblies of God churches — and likely more — were heavily damaged by a derecho (straight-line winds) that tore through central and eastern Iowa. Wind speeds exceeding 100 mph were reported, with homes, businesses, utilities, and crops experiencing a wide range of damage. On Monday, President Trump approved a disaster declaration for Iowa.
According to the
Iowa Ministry Network
office, as power is still out in many areas — with nearly 500,000 without power at the height of the disaster — they've been unable to confirm if additional churches experienced damage.
The two churches confirmed heavily damaged are
First Assembly of God
in Cedar Rapids, pastored by Brian Pingel, and
Faith AG
in Marshalltown, pastored by David Martin.
In Cedar Rapids, Brian Pingel, who has been leading the First AG congregation for the last four years, says that the storm took off the roof in pieces, with initial damage to the church estimated at $2.5 million, but he believes the final figure will be "far north" of that.
"Cedar Rapids is a city of about 200,000, and nearly every single home and business experienced at least some damage from the storm," Pingel says. "The crops are gone, the fields are flat — billions of dollars of damage to the crops."
Pingel's estimate is right on target. According to the
Des Moines Register
, the derecho damaged an estimated 10 million acres of cropland for $3.77 billion in losses from corn and soybean crops.
However, even though the church experienced heavy damage, Pingel has directed the congregation to take care of their homes, then take care of their neighbors, and then take care of their neighbor's neighbor.
"The building is a tool, the people are the church," Pingel explains. "Our people have the opportunity to communicate the love of Christ through what they do, and we're seeing that happen all over the community."
As First AG, which pre-COVID regularly saw 1,000 in attendance, has focused outwardly, God has brought help to the church from unexpected sources. Clean-up crews with chainsaws showed up and a Serv Pro team just "happened" to come down their street and decided to help the church. A friend also made contact with one of the top roofing companies in the state and sent them to help enclose the church to keep more rain from entering the facility.
"Serv Pro has connections that we don't have — they were able to secure a tent for us to meet under for services," Pingel says. "We invited the River of Life church (an independent, charismatic church) that sustained even more damage than we did, to join us . . . amazingly, we had 500 people attend the first service on Sunday."
Marshalltown, a city of roughly 28,000, is 60 miles directly east of Cedar Rapids. The derecho peeled off Faith Assembly's sanctuary roof, ripping out the rafters as it did. It also lifted and dropped a flat-roofed portion of the church, resulting in structural damage to the building. Torrential rains flooded the church sanctuary and basement, with the water damaging everything in its path, including instruments and sound equipment.
David Martin, who grew up in the church and returned to pastor it eight years ago, has 30 years of ministry experience. Just three years ago, the church of 120 (then 90) raised $52,000 in just three months to replace the roof — now destroyed.
"Two years ago, we had an EF-3 tornado go through our town," he recalls. "We were spared much damage and were able to partner with Convoy of Hope to feed about 8,300 people. This time, with the church damaged and so many of our people with trees on their homes, in the roads, and no electricity . . ." his voice trails off.
Martin says that a generator is what is allowing him to keep his phone charged and some lights on, but he was informed that it will be another two or three weeks before power is restored to the parsonage and church.
"Two Fridays prior to the storm, we had partnered with
Convoy of Hope Rural Compassion
and USDA to give out 20-pound meat boxes," Martin says. "The next Friday, we gave out 1,000 boxes of dairy product. Then the storm hit and people lost electricity."
However, as chaplain at the state capital, Martin does have a few connections. He was able to connect with a group that then brought down 350 meals-to-go Monday night to distribute in their neighborhood.
Martin says that Faith AG is located in the poor part of Marshalltown, where drugs, prostitution, and difficult family situations are commonplace. He doesn't want to move the church out of the area as he believes the church is called to serve that part of Marshalltown, but right now, due to the tornado of 2018 that took out so many buildings that have yet to be replaced, there are not a lot of available places to meet.
"Our main prayer is that we will have a place to worship for the next six to nine months," he says. "We're a small, but great church and we serve a great God and He's going to be able to take us through this."
Convoy of Hope
is also in Iowa, delivering food, water, and relief supplies to those affected by the storm. As COVID-19 restrictions are still in place, volunteer teams are advised to first check with the organization/ministry/community they are planning to assist as they may be required to be tested for COVID-19 prior to coming out.