Developing Future Worship Leaders with Buckets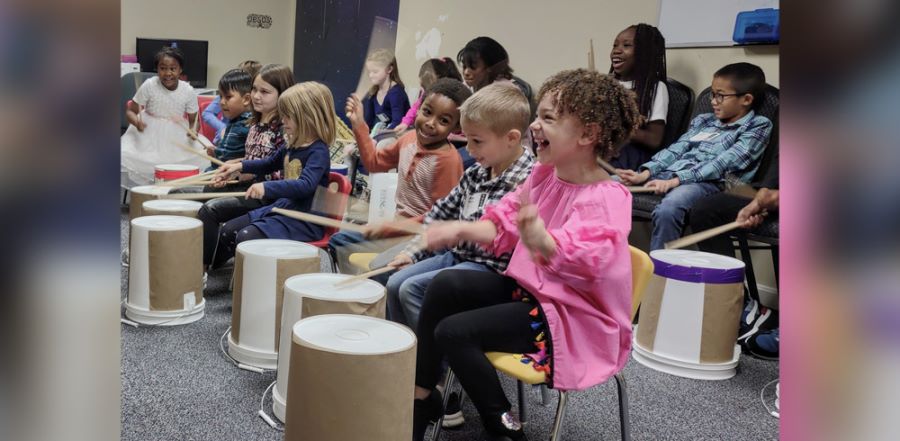 Don't miss any stories. Follow AG News!
This Christmas season at
Calvary Christian Center
(C3AG) in Louisville, Kentucky, the congregation will be treated to a very special rendition of "The Little Drummer Boy." During the children's Christmas programs as many as 60 kids, ages ranging from 4 to 13 and dressed as shepherds, will be using their drums sticks and self-decorated bucket drums to accompany the song.
Although there are sure to be many smiling parents, a flying drum stick or two, a potential for good-natured laughter, and possibly some spectators wearing ear protection, the purpose of the scores of drummers reaches far beyond a one-time Christmas performance.
Paul Johnstone is the discipleship pastor at C3AG, serving under the leadership of Darren Lewis, lead pastor. He is the director of the drumming choir he tentatively refers to as "Little Champion Worship Leaders."
Johnstone says that he and his wife, Robin, originally moved to Louisville about two years ago from Chicago, as Robin, who has a doctorate in the field of learning disabilities, was hired as the head of an independent school.
But it was even before they moved to Louisville that God started preparing their hearts for an unexpected service. While the couple was listening to a Christian recording artist being interviewed about raising up future worship leaders, the artist stated that it's best that churches identify musically gifted high schoolers and encourage them to attend Bible college, where they could receive training to become worship leaders.
The Johnstones disagreed with the artist's opinion.
"We concluded that if we wait to raise up worship leaders until they were in high school, we would be about 10 years too late," Paul Johnstone says. "We believe that, with few exceptions, elementary-age children have the potential and ability to be discipled into becoming active worship leaders."
The Johnstones wondered
why wait
to develop the passion or the skills that worship leaders need? Even if God doesn't call some of the children to be worship leaders, they will be discipled . . . and what an incredible skill set those children would have in their "back pockets," which could be an asset in multiple other callings and circumstances.
With those thoughts in mind, the Johnstones formed a plan and presented their idea to Lewis, who, to their delight, fully supported the idea.
"The program Paul and Robin put together (for the children) is one portion of how we are wanting to approach discipleship within the church," Lewis says.
Paul explains that the plan has three initial steps. The first step is to teach rhythm through the bucket drums. The next step, which is already underway, will be to teach the kids the most popular guitar chords (C, F, and G) through using ukuleles (already purchased). And finally, they're currently working to secure 60 electronic keyboards in order to teach piano to the children.
Every family in the church with young children will be given a bucket drum with drumsticks, a ukulele, and a keyboard by mid- to late-2022. The bucket drums are $5 and the ukuleles $45 each. The church is also currently purchasing all the used keyboards they can find for about $50 each.
"We expect the initial $100 investment in these musical instruments will pay huge eternal dividends," Paul says. "As we raise up little worship leaders, they will grow to become lifelong worshipers of God."
One of the keys that the Johnstones take to heart in this effort is the belief that the best ability anyone can give to God is availability. They recognize that not all children may be musically gifted — or at least not appear to be — but that pretty much falls in line with how God works. And the Johnstones know that firsthand.
"I don't know how to play drums, the guitar, or a keyboard," Paul admits, "but Robin and I have made ourselves available to God to see this dream He placed in our hearts come to life. I'm teaching myself how to play these instruments and, in turn, teaching the kids." In time, Paul says that music lessons and music theory will be added to the instruction.
Although that might seem like a big challenge for any church, C3AG is not your everyday church as it's home to four language groups and services.
"The kids in the choir come from all four of the church congregations, and some don't speak very much English," Paul says. "But music is a universal language that brings everyone together. In fact, one of the four kids (one from each congregation) who will play the ukulele at the Christmas program is blind."
"We have a French-speaking service on Saturday, English-speaking on Sunday morning, Kinyarwanda-speaking on Sunday afternoon, and Spanish on Wednesday night," Lewis explains.
"We're extremely diverse . . . and the Christmas program is one way we're pulling everyone together."
Lewis, who has been lead pastor for the past eight years and on the church staff since 2000, says he's received plenty of feedback on the drum choir and its purpose.
"The kids love it and the parents appreciate it," Lewis says, adding with a laugh, "though we've had to move their practice area a little farther away from the sanctuary."
Samantha, a 6-year-old participant fully agrees with Lewis. She says she enjoyed decorating her own bucket drum and playing it. "I want to be a worship leader when I grow up (and) I like playing for Jesus," she says.
Peace, who's 10 and attends the Kinyarwanda services, also enjoys being a part of the drum choir. "I like when we make the really loud sounds to make the walls fall down," she says.
Although developing future worship leaders is the goal, Lewis and the Johnstones agree, what is really happening throughout the process is discipleship.
"Essentially, the kids music is an aspect of how we want to do family-based devotions," Lewis says. "One way to disciple kids is to get them actively involved in ministry . . . and this is a very creative, but simplistic, approach that's not difficult, yet it is at the very heart of what Scripture teaches to do in discipleship."