Dream Center Shines on Atlanta Streets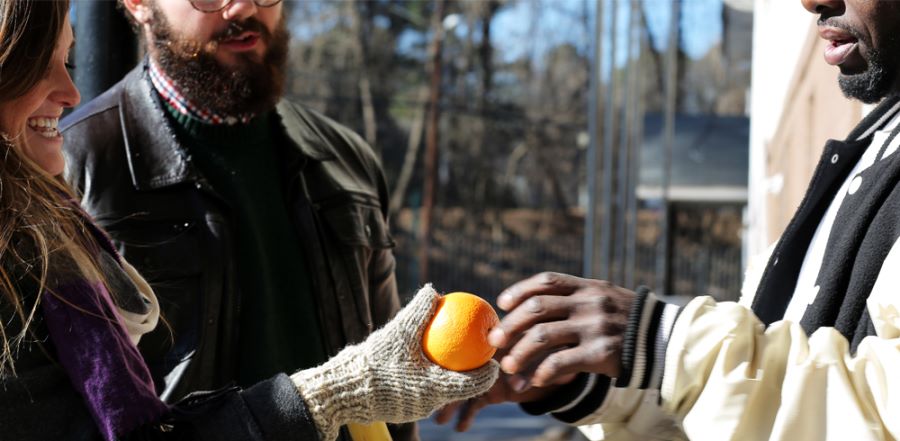 Don't miss any stories. Follow AG News!
Forty years ago, Paul V. Palmer was a drug addict on the streets of northern California, separated from his wife Patty and their two children.
But in 1979, Palmer walked into an Assemblies of God church in Grass Valley, California, where members of the congregation warmly welcomed him despite his straggling long hair and stench from marijuana. Palmer didn't have altruistic motives; his live-in girlfriend had left him when she accepted Jesus as her Savior because Palmer was married to someone else. Palmer showed up hoping he would be booted out because of his appearance so that he could prove to his former girlfriend that churches were filled with "a bunch of weirdos."
A former partying buddy had written the names of Paul and Patty on the church's prayer board, which Palmer noticed. Members of the congregation had been praying for them for two years. Later that month Palmer dedicated his life to Christ and quit drugs cold turkey. Two months later, Patty accepted Jesus at the church and cut off her relationship with her live-in boyfriend. The Palmers reconciled after being separated for three years. They subsequently had nine more children together to join the two they already had.
Now, at 63, Palmer is making a difference in the lives of hundreds of people as senior pastor of Atlanta International Church and founder of the Atlanta Dream Center.
"I'm in the kingdom of God because somebody loved me when I was unlovable," says Palmer, who is an AG U.S. missionary. 
The center, which Palmer describes as a church without walls, has been a bridge for homeless men and women, at-risk kids, and sex trafficking victims since 2003, connecting them with long-term care they need in a Christ-centered environment. It's one of dozens around the world that has opened since Assemblies of God pastors Tommy and Matthew Barnett opened the Los Angeles Dream Center in 1994.
Palmer initially balked when first approached about starting the center in Atlanta while pastoring a traditional church in northern California. But within a year the Atlanta International Church had started.
In its first seven years, the church moved to seven locations, among them a gym, a movie theater, a park, and a circus tent. But now, Atlanta International Church has been at its current location for four years and has seven campuses to provide locations for its services, dormitories, and a school of ministry.
Patrick Palmer, Paul's son and the center's executive director, says the Dream Center speeds up the process of helping those in need, which could otherwise take years. With daily street ministries and a 24-hour hotline, the center's programs can take people off the streets the same day they ask for help and begin searching for the long-term care solutions they need.
He says everything in the program is Christ-centered from the moment someone walks onto one of the campuses.
"You don't have to be a Christian when you come into our safe homes," he says. "But we've never had someone graduate without receiving the Lord."
One of the center's success stories is Lonnie Sutton. Six years ago, Sutton was homeless, separated from his wife Marleen and children, and broken by more than 30 years of drug addiction.
But from his first moments at the center, his life began to change.
"Pastor Paul shook my hand and grabbed me and held me and held me," Sutton recalls. "And he said, 'Well, Lonnie, come out and hang out with us.'"
In the following months, Sutton got his own apartment, a driver's license, and a new set of teeth. He reunited with his family, whom he hadn't seen for 30 years. He also accepted Jesus as his Savior.
Today, Lonnie and Marleen live together in Atlanta, the proud grandparents of nine grandchildren.
A year ago, Paul and Patty Palmer received the Phoenix Award for their work in Atlanta, the highest honor bestowed by Atlanta's mayor.
Vanessa Manley, special projects manager in the mayor's office, describes the Dream Center as a "jewel in the city of Atlanta."
"We're very blessed to have Pastor Paul and Patty in the city of Atlanta doing the work that they do," she says.
Last year, the center rescued 264 women from sex trafficking and brought 99 men off the streets.