Empowering Congregants, Reaching the Nations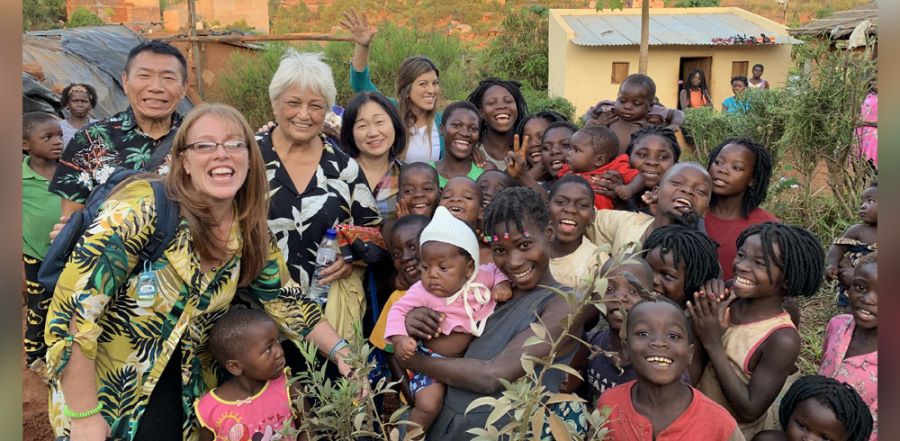 Don't miss any stories. Follow AG News!
In childhood, Janelle Marocco envisioned herself being a missionary to Africa. After all, her grandparents Dan and Esther Marocco served as Assemblies of God world missionaries to the Philippines and Southern Asia, birthplace of her father, James Marocco.
But her path veered from missions in 2004 when she joined the staff of
King's Cathedral
in Maui, Hawaii. Her father, as pastor of the church, has overseen its growth from an initial congregation of 80 people to a network of
360 extension campuses
in the U.S. and 16 other nations.
The continual launching vision of King's Cathedral and chapels spurred a need for leadership to oversee the international churches. In 2017, Janelle Marocco, then serving as the executive pastor and Maui district presbyter, stepped into the directorship.
At the 2020 AG
Hawaii District
conference Oct. 20, Janelle Marocco, 42, was elected district secretary. That makes her the first woman to be an elected official in the Fellowship's 47 geographic districts (there are an additional 20 language/ethnic districts, which currently have
two
women
elected as leaders.
AG Hawaii District Superintendent Klayton Ko https://hawaiiaog.com/leadership/ noted that the two candidates for the secretary post both were female.
"We didn't think anything of it," Ko says. "We never thought about her being the first female." Marocco succeeds
Don Yoshida Jr.
as secretary.
While still impassioned about sharing the gospel to the ends of the earth, as a pastor in executive leadership. Marocco has a vision to influence the district's congregants. She wants to empower ordinary churchgoers to fulfill the purpose of God on their lives, unhindered by gender, age, marital status, or ethnic origin.
"It doesn't matter what they've come from — drugs, alcohol, a horrible family — my goal is to elevate them to do what God's called them to do, to get them moving forward in God's plan," Marocco says. "If they can be equipped and empowered, more people will be saved. If they are walking in the fullness of God's anointing and power, through their sphere of influence, we can touch the world."
That's what she's seen at King's Cathedral, where most of the leadership has come from people in the pews. In particular, she doesn't want congregants to allow age — young or old — to limit their vision.
"Many older believers, once past the age of 70, think they can't do anything for God," Marocco says. "It's not about just missions, but about empowering everyone to do what they're called to do."
Regarding young people, Marocco is grateful for the leadership of the district superintendent, who also pastors
First Assembly of God
of Honolulu.
"
Pastor Ko
has done a phenomenal job of bringing up the next generation," she says. "He's allowed young people to have a voice, be heard, and be seen. He's encouraged youth ministries, allowing young people to do more, elevating them, bridging the gap for the next generation."
Meanwhile, King's Cathedral is reaching an array of ethnic groups with its extension campuses in the
South Pacific
,
Far East
,
North America
,
Latin America
,
South America
,
Europe
, and
Africa
. In 2019, Marocco visited the 16 countries where King's Cathedral has a presence.
She is also completing a
doctor of ministry
degree from
Assemblies of God Theological Seminary
.
"To have her on board as a part of the district leadership is a sign that God has great things in store for our district," Ko says of Marocco. "To have her as a young woman on the executive team is a sign of a new season, the next generation rising up to lead our district."