Encouragement During Crisis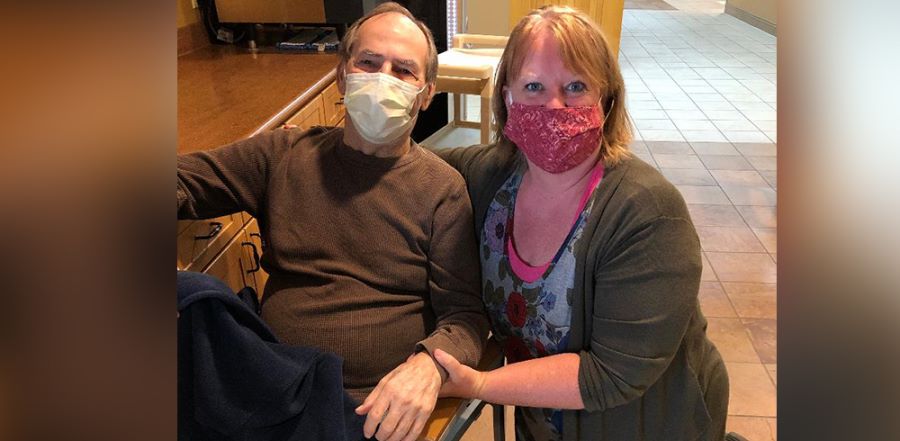 Don't miss any stories. Follow AG News!
For many families of nursing home residents, the COVID-19 crisis has been the stuff of nightmares. Not only do they hear dire news of outbreaks in some facilities, but strict regulations have concerned relatives envisioning their loved ones growing more and more lonely and confused.
Along with
correctional facilities
and
meatpacking plants
, nursing homes have become among the most dangerous places to be during the pandemic. Lockdowns have prevented even close relatives from visiting.
Assemblies of God nursing home chaplain Dorthy Tufte is working hard to make sure patients still have a compassionate and spiritual connection. Tufte has served
United Living Community
in Brookings, South Dakota, for four years.
Tufte, 59, a credentialed minister for 21 years, previously served as district women's director and in interim church ministry in South Dakota. Now, she's focusing on the spiritual, social, and emotional needs of residents at the 83-bed long-term care facility.
She is grateful that ULC leadership proactively set priorities during the early weeks of the pandemic. Facility goals included maintaining a safe and healthy environment as per Centers for Disease Control guidelines. Tufte's additional objectives are to ensure personal spiritual care for each resident and to keep the schedule and activities as consistent as possible — a huge factor in preventing decline and confusion.
Families can FaceTime and video chat, see residents through windows, and leave gifts, but not visit personally. Tufte has increased her one-on-one visits to help pick up the slack caused by the restrictions. To help ensure safety for residents and staff, she has chosen to remain isolated in her personal life, utilizing services such as shopping online. To stay connected to her local church family,
Brookings First Assembly of God
, she hosts an online hymn sing.
In response to the crisis, smaller "neighborhood" nursing home gatherings initially replaced large group chapel services and group Bible studies. Then, as CDC constraints tightened, the allowable get-togethers changed to hallway hymn sings. Residents join in from the doorways of their rooms, many easily remembering the words to beloved tunes. The silver lining for Tufte is that some residents who did not previously attend the group event are now participating.
Tufte also prepares Bible study packets for each resident and, assisted by recreational staff, reads the material to those who require help. She follows up with a personal weekly visit to every resident to discuss the lesson, a major commitment in addition to her regular monthly one-on-one visits.
"After we read the study, they are ready for thoughtful discussion," she says. Some didn't feel comfortable speaking up in a large setting.
"I appreciate how Dorthy has completely revamped meeting the spiritual needs of the residents," says ULC administrator Kaleb Hight. "She is seeing some who didn't participate in the group starting to engage with her individually."
Tufte's involvement at ULC's assisted living and senior apartments is currently restricted for safety precautions. To address this, she prepares weekly Bible study packets and Sunday devotionals with songs and prayers for those residents.
According to Tufte, many elderly people struggled with feelings of isolation even before COVID-19, due to changing phases of life experienced prior to entering nursing home care.
"Residents mourn the loss of independence and lessened family involvement," she says. "COVID may exacerbate this." She cautions relatives to be encouraging on the phone, rather than voicing regrets or anger about the crisis which can leave even normally upbeat residents discouraged and sad.
Tufte is happy to chat with families about concerns.
"I want to help calm their very understandable fears," she says. "Everyone is learning to be flexible."