Engaging the Next Generation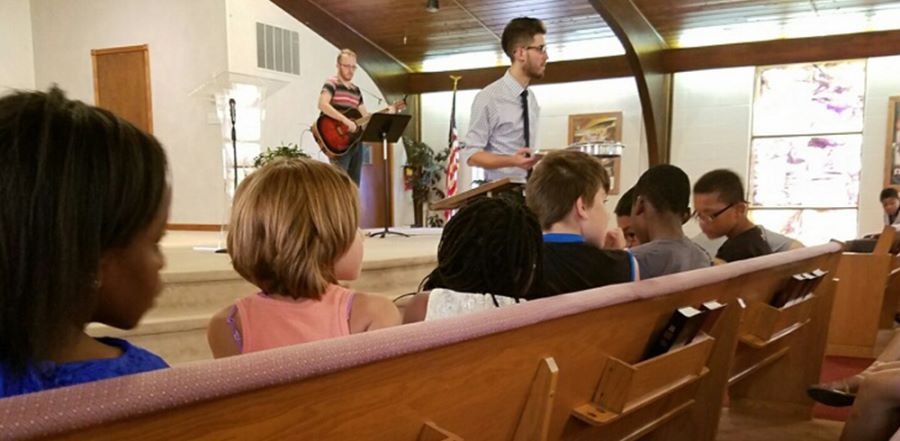 Don't miss any stories. Follow AG News!
During the Sunday morning offering at Iowa City First Assembly of God, everyone receives a couple of cents to put into a plate at the front of the sanctuary.
The church began the practice earlier this year to allow everyone, including the growing number of children who attend services by themselves, to participate.
"We do two pennies per person so that we can all embody the widow that Jesus told us to emulate," says Joseph M. Lear, lead pastor. "It's kid-friendly because it involves a motion, using your body to walk up and engage in that act of worship."
The offering is among many ways the church is working to integrate its growing children's ministry into the fabric of its church services. In the past 10 months, about a dozen children have been baptized and even more have made professions of faith. While attendance fluctuates, the number of grade-school students and teenagers coming Sunday and Wednesday services has nearly doubled.
"God has just really blessed the ministry," says Abby Anderson, the children's pastor who has headed the church's children and youth ministries with her husband, Kyle, for the past five years. "They just keep coming."
Iowa City First AG sits on the south side of the city of 71,000, in an area where many people live in low-income housing. At a nearby elementary school, 79 percent of the students receive free or reduced lunches.
"Iowa City is a very diverse and very transitional community," Anderson says. "We have a lot of students who come from inner-city Chicago and a lot of immigrant students, specifically from (Democratic Republic of) the Congo."
Anderson says while children come and go, a majority don't have parents attending church, and many have been homeless at some point. To get them to church, Iowa City First AG operates a bus ministry, picking up the children from their homes and serving Sunday morning breakfasts and Wednesday night dinners.
Lear and his wife, Holly, arrived in January, appointed by the Iowa Ministry Network to lead the congregation through a revitalization process. Lear says when he first arrived, children spent much of their time apart from the adults during services and other events.
Services now incorporate the children as much as possible. Every service starts with the congregation singing a children's song with motions. Kids also lead the adults each Sunday in a recitation: "Christ has died. Christ is risen. Christ will come again." Youngsters return from children's church at the end of each service for Communion.
Abby Anderson says youth are becoming more and more engaged as a result, and teenagers aging out of ministries geared toward young people have remained involved.
"They know that when they come here that they're respected, they're loved, they're a part of this family," she says.
Adult attendance at the church has also increased during the course of the year, rising from 30 in January to 50 now.