Feeding the 5,000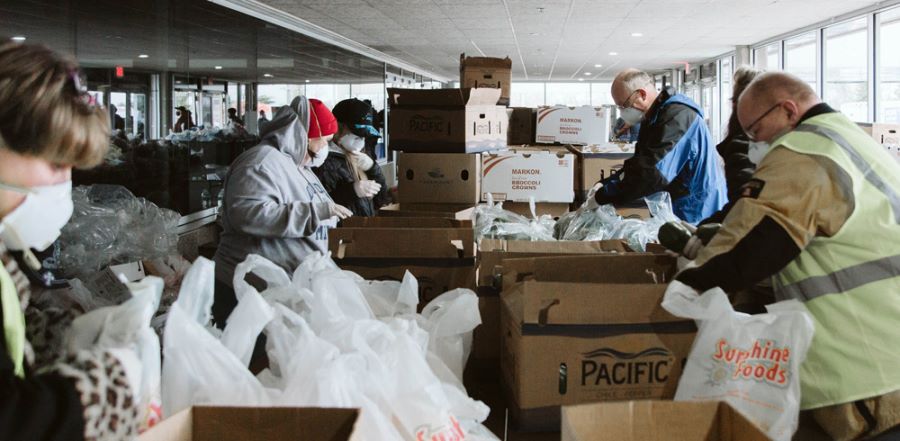 Don't miss any stories. Follow AG News!
In 2017, Journey Church in Kenosha, Wisconsin, created a volunteer disaster response team (DRT) to handle potential emergencies in the area. In the ensuing months, the team has handled the aftermath of catastrophes such as structure fires and flooding.

"COVID-19 is the first large-scale incident," says DRT team leader Jeff Berard, 64, a program manager at GE Healthcare.

During the past two Sundays, as the church has held online worship services, a team of volunteers has distributed groceries to feed 5,000 people, Berard says. Recipients drove their vehicles through the church parking lot. The line stretched for two miles.
Nearly 100 volunteers — 80 percent of them adherents of Journey Church — are part of the team. However, because of the physical distancing requirements in place due to the pandemic, only 30 could gather to carry off the mass distribution of food March 29 and April 5.

Berard says the crews — 15 people to set up on Saturday and another 15 to hand out on Sunday — already had passed background checks so they could quickly mobilize for the emergency. The church gave away 80,000 pounds of food to 1,700 families in the span, nearly all of them unconnected to the church.

Executive Pastor Bob W. Griffith began thinking about forming a disaster response team a decade ago after flooding occurred in Kenosha, a city of 100,000 residents midway between Milwaukee and Chicago.

"When disaster hits, if we don't think about it ahead of time, we'll always be in reactive mode," says Griffith, 44. "Response must be a coordinated, multifaceted approach with the community."

The church partnered with Kenosha County to secure credentials for volunteers to help in such a scenario. Other congregations, businesses, food pantries, and emergency services personnel are all part of the effort. Convoy of Hope donated supplies when the DRT got off the ground 2½ years ago. The church of 3,000 regular attendees has a reputation in the community for leadership in such areas as foster care.

"We had been planning for a moment like this, when the whole world changed in a weekend," says Griffith, who has been on staff at the church for 12 years. "We quickly received approval from the county and the state to gather and distribute food, an essential resource."

Because schools and restaurants had a surplus of food in the wake of canceled classes and the elimination of dine-in eating, Journey Church procured mass donations of groceries. Feeding America, a food bank, and Gordon Food Service, a grocery chain, trucked in the giveaway items.

Word about the distribution spread on social media, being shared 650 times, more than anything the church had posted on Facebook in the past. About 1,770 people received groceries the first Sunday and more than 3,000 the second. A pair of church members offered curbside prayer at a distance to vehicle occupants after they picked up items.

"We gave each car a grocery cart full of food," Griffith says.

Perhaps not coincidently, the church also had its highest online attendance ever, 2,000 viewers, over the past weekend. Pre-COVID, Journey Church conducted four weekend services on three campuses.

Griffith says the church is evaluating the possibility of future distributions, which will depend largely on food availability from suppliers.